Five great talks by five great artists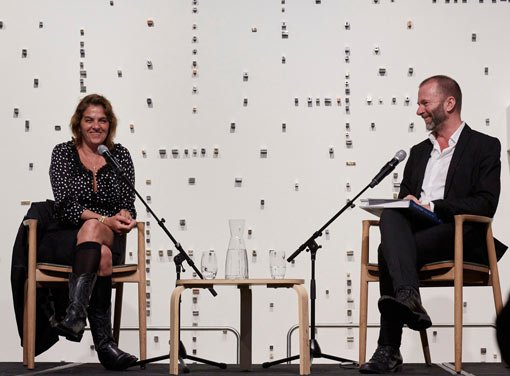 Tracey Emin, in conversation with Wayne Tunnicliffe at the Art Gallery of NSW in 2018, seated in front of Prabhavathi Meppayil's sb/eighteen 2018 from the 21st Biennale of Sydney. Artwork © Prabhavathi Meppayil
Working at home is an odd thing for a public programs team. We're used to being 'on the floor' – out in the galleries or theatres, producing talks, workshops and performances, bringing creative artists and thinkers together with audiences. All that seems like a distant memory now, our live programs having been suspended since mid-March due to COVID-19.
For this post, we've taken a trip down memory lane and selected some great moments from the hundreds of artists' talks we've presented over the years. There's a story behind every one, so we've shared our recollections from behind the scenes. The videos make great watching, but they aren't really reliant on images, so you can simply listen to them, podcast-style, while you bake your lockdown loaf.
We miss the frisson of the live event, of being there on the floor with the artists and with you, and we can't wait to see you back at the Gallery eventually. In the meantime, we're enjoying our virtual life 'together in art', and we hope you enjoy these blasts from the past.
---
Tracey Emin, in conversation with Wayne Tunnicliffe, Art Gallery of
NSW

, 2018

In her art, Tracey Emin gives us her whole self. It's no surprise then that her artist talks are much the same. In 2018, 500 fans crammed into the Gallery's entrance court for one of the most generous, personal and engaging talks I've had the privilege of producing. Emin shared everything from hilarious stories of Wayne Tunnicliffe, our head curator of Australian art, to the intimate reasons for why she makes art. We even got a glimpse of her tattoo! Behind the scenes – and orchestrated by her equally generous studio manager Harry Weller – Emin signed over 200 copies of her book. The energy that night was electric. My favourite quote from the talk: 'Galleries are places where you can feel a soul'.

– Alexandra Gregg, public programs producer
---
Wäka Munuŋgurr, Yirrkala, 2013
In 2013, a small team from the Gallery travelled to Yirrkala in north-east Arnhem Land in preparation for Yirrkala drawings, an exhibition of the exquisitely complex, vibrant and significant crayon drawings on paper created by senior artists in 1947. None of us will forget the experience of interviewing Wäka Munuŋgurr, senior custodian of the Djapu clan and son of the great artist Woŋgu Munuŋgurr, who powerfully outlined the link between his clan designs and the law. 'I have that painting all the time in me, wherever I go. I can't lose it… It is our power. It is our backbone.' Looking down the barrel of the camera, in a challenge felt directly by our camera operator, who looked around at us in consternation, Munuŋgurr demanded to know why parliament still won't recognise Yolŋu law.
– Amanda Peacock, senior producer, Aboriginal and Torres Strait Islander art programs
---
William Kentridge, in conversation with Dr Michael Brand, Art Gallery of
NSW

, 2018

In this conversation with Gallery director Michael Brand, William Kentridge talks about 'the less good idea' as a force in his practice. He also discusses the Centre for the Less Good Idea that he established for artists in 2016 in Johannesburg. The phrase comes from an African proverb, 'If the good doctor can't cure you, find a less good doctor'. I know that sounds a little terrifying in this current climate, but Kentridge unpacks the idea so beautifully when describing the need for making mistakes and risk-taking in art. He says work should be done without an agenda. 'When grand ideas no longer work, hope has to be for things in the margins, in the peripheries that can show us different routes forward.'

– Clare Willcox, public programs producer
---
Lindy Lee, in conversation with Fenella Kernebone, Art Gallery of
NSW

, 2011

Lindy Lee is a deeply thoughtful artist with a warm and generous spirit. This makes her a great teacher, speaker and interviewee. Here, she speaks with radio and television presenter Fenella Kernebone about the contradictions of her Chinese-Australian identity, her grounding in Zen Buddhism, and what motivates her to be an artist – 'you claim the world by drawing it,' she says. She shares stories of the physical act of making art (like throwing molten bronze in the tradition of Chinese 'flung ink' calligraphy, as she does in her work Cosmos – a life of fire) and her family history (including her grandmother's harrowing experience during the Cultural Revolution and subsequent healing through art). 'None of us will ever fulfil the ideal … and where we don't meet that ideal is where we live, where we exist.' In the midst of a global pandemic, when we're frustrated with the world and ourselves, I find it both a challenge and a comfort to consider simply 'existing' with our imperfection.

– Josephine Touma, manager of public programs
---
Takashi Murakami, in conversation with Justin Paton, Art Gallery of
NSW

, 2019

There was certainly a buzz in the Gallery when artist Takashi Murakami and his entourage of Kaikai Kiki staff arrived in Sydney for the opening week of the Japan supernatural exhibition. One of the most prolific Japanese artists of our time, Murakami has exploded into contemporary popular culture with a line-up of A-list clientele, from high-end fashion brand Louis Vuitton to 18-year-old prodigy musician Billie Eilish. In this candid interview with the Gallery's head curator of international art, Justin Paton, Murakami unveils much more than the grinning kawaii sunflowers and hypnotic kaleidoscope of colours in his art. His wise, nonchalant charms coupled with his cheeky sense of humour gave audiences a rare glimpse into the life of a celebrity artist. Perhaps his eccentricities are best summarised by my colleague Clare Willcox, who produced the event, as she recalls listening to Murakami 'meow' into the mic during soundcheck while staff eagerly awaited the arrival of guests to this hotly anticipated event.

– Yuki Kawakami, youth programs producer and assistant curator, Japan supernatural

Previous post: Self-portraits for strange times

Next post: Dali made home movies too

May 06 2020, 12pm
by Together In Art