Google Art Project 2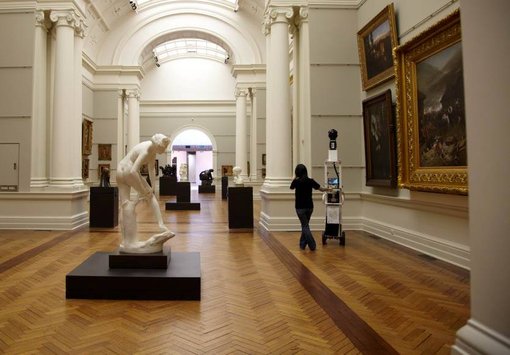 The Google Art Project first launched last year with 1000 works from 17 museums in Europe and the US. Last week the Google Art Project 2 went live and the numbers swelled to 32 000 works from 151 museums worldwide. Four hundred and fifteen of the 32 000 works mentioned are from the collection of the Art Gallery of NSW. I was fortunate enough to be in Paris to attend the launch of Art Project 2, during which one of the key works in our collection, Arthur Streeton's Fire's on, was projected onto the walls of the Musée d'Orsay where the event took place.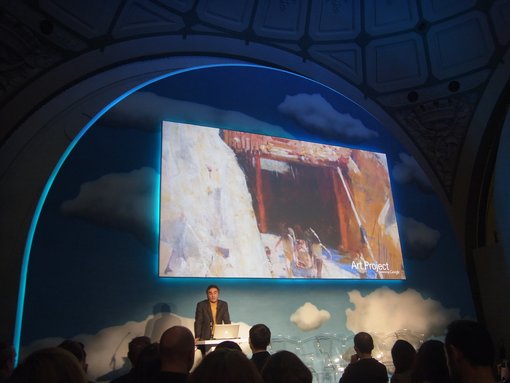 So how did Fire's on end up being projected onto the walls of the Musée d'Orsay? Six months ago Google offered three ways in which our collection works could be displayed on the Art Project:
1. As high-resolution images of objects
2. From within a 3D walkthrough called museumview
3. One key work, in our case Fire's on, as a gigapixel resolution image
In September a special camera capable of filming a 360-degree view of our physical gallery spaces arrived from the US with an operator from Tokyo (see the photograph at the start of the post). It was a surprisingly complex task to schedule filming times when our gallery spaces would be completely empty. We weren't completely successful so when you click through museumview you might spot a few people now immortalised on the site.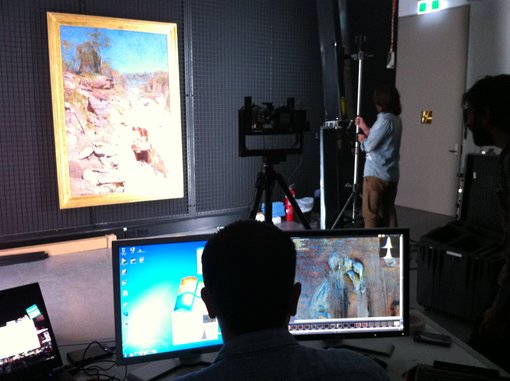 In October the Gallery welcomed another Google team from Madrid who spent a day capturing Fire's on in gigapixel resolution. This painstaking process involved setting up a computer-controlled camera to photograph every inch of the painting in billion-pixel detail. The resulting mosaic of images was then stitched together and the resulting whole work is available to view at incredible resolution on the Art Project site.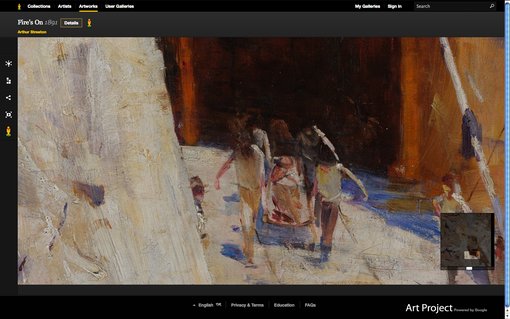 For the Art Project 2 launch the Gallery was able to upload 415 high-resolution images of objects from the collection and accompanying metadata. The plan is to keep adding works to the growing Art Project database. While it is wonderful to see highlights of our collection on the Art Project, it is astounding to have the ability to search for an artist across other museum collections as well. I searched for Australian artist Arthur Streeton and on top of the 12 Streeton works we've uploaded found 16 works from the National Gallery of Australia, Canberra and 1 from the National Gallery of Victoria.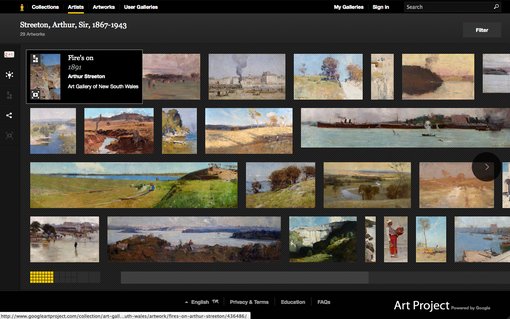 You can also filter your search results by title and medium and spend hours creating your own collections that can be shared with others, so go play and explore.
Next post: A fish tale

April 09 2012, 3pm
by Francesca Ford
Manager of digital content