Give them back their names and their dignity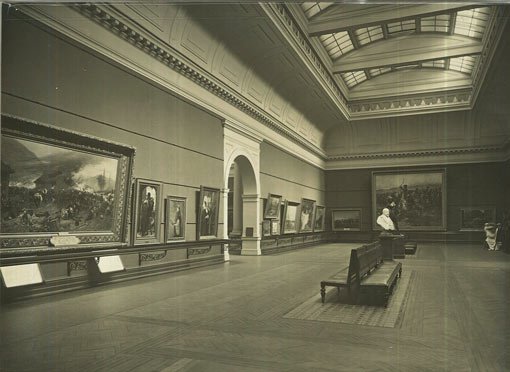 Alphonse de Neuville's The defence of Rorke's Drift 1879 1880 on display in the Art Gallery of NSW around 1900, on the far left, with three extended labels
Like most public galleries, the Art Gallery of NSW keeps a log where people can leave comments about their visit. Food and its cost is a popular subject, as are toilets. But not far behind is signage, particularly labels for artworks.
So what is good labelling?
As Gallery archivist I have in my care a box of labels that testify to changes in taste — even philosophy — around labelling. In the past a little plaque was attached to each frame with the barest of details: name of artist, title and date of work. Only a few works were given something more. In the late 19th century, the dramatic tale depicted in Alphonse de Neuville's The defence of Rorke's Drift 1879 was lifted from the pages of the Sydney Morning Herald and framed alongside the work.
These days many works have extended labels and descriptive titles. There are some people who prefer minimal labelling, but I appreciate the extra information. What I do not appreciate, however, is when labels are used to drive an ideological agenda and, alas, the Art Gallery of NSW shamelessly does this in one area.
Take Arthur Murch's portrait of Suzanne Crookston with her Manchester Terrier as an example. It is one of the most charming works in the collection, voted painting of the year in 1935. It is currently on display with the title Portrait of Miss Suzanne Crookston. Has nobody noticed that this is a double portrait, with each subject given equal weight by the artist? The donor of the painting, Miss Crookston, always knew the work as Portrait of Suzanne and Penelope.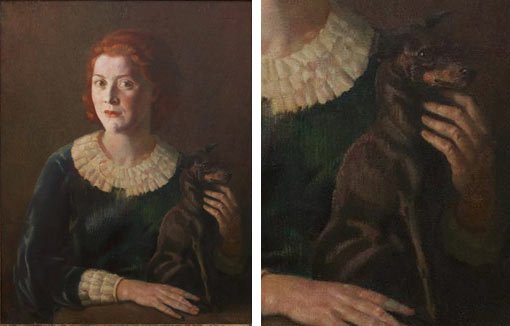 Marshall Claxton's The Dickinson family, as it is currently titled, is a little better. The definition of family can often include a pet. But this title was not chosen by the artist. It is a later descriptive tag. In the Gallery's archive there is a letter from the young girl in the painting, writing as a woman in her 40s, gifting the work. She is at pains to identify each person in the painting: her father Sir John Nodes Dickinson, his wife Lady Helen Dickinson, Helen Mary and Tiny the dog. Surely this is a better title for the work?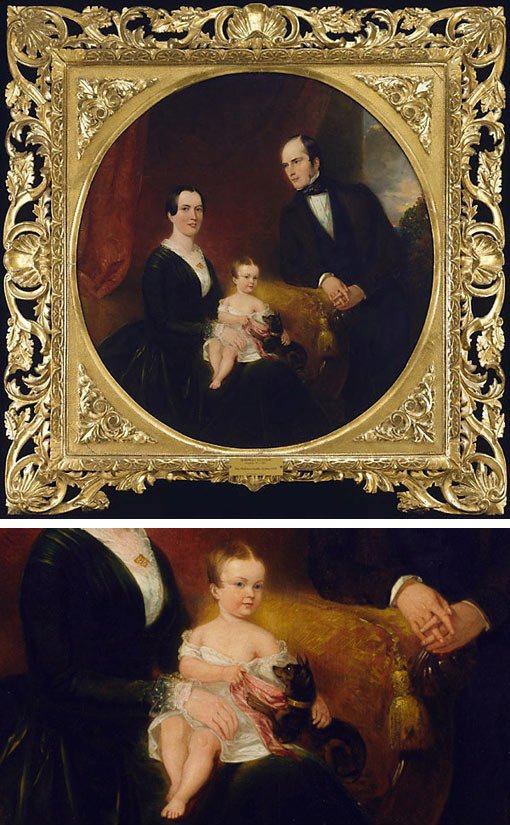 We do not know what Nicholas Chevalier titled his Race to the markets, Tahiti but it probably was not this. We do not know anything about the rowers, but we do know the name of the terrier in the bow of the canoe: Twopenny, Chevalier's constant companion. If we are looking for a descriptive title, what could be better than Twopenny's chase?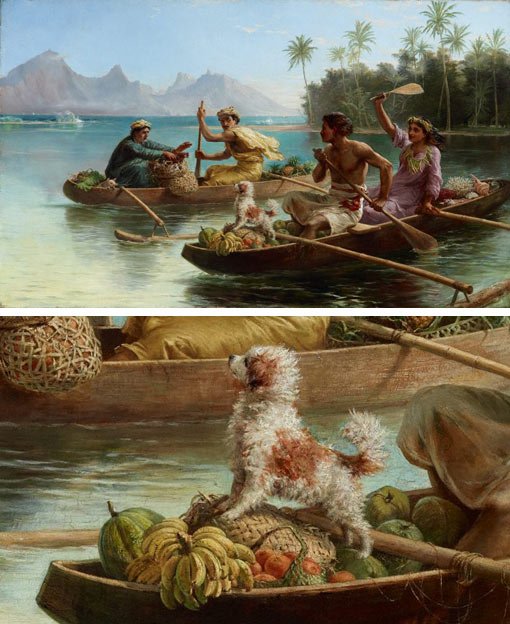 These random examples show that our furry friends are being airbrushed out of Australian art history. I do not normally believe in conspiracy theories, but surely this is evidence of a feline revisionist agenda at play in the Gallery. Be vigilant about it. In the meantime, I ask that Penelope, Tiny and Twopenny be given back their names and their dignity. Why not restore the long label for Rorke's Drift as well? It was written before the revisionist plot. It at least notes that at the centre of the painting Dalton is shown having his wounds dressed by Surgeon Reynolds 'as fearless of peril as his own bull-terrier'. Only let's add: his own bull-terrier Pip.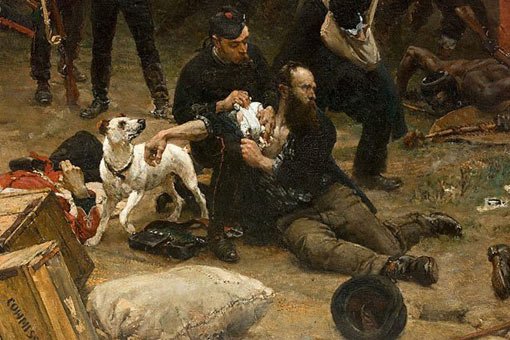 Previous post: Gorilla tactics
Next post: A Stella return

October 06 2015, 9am
by Steven Miller
Head of the Edmund and Joanna Capon Research Library and Archive