Ghosts in the walls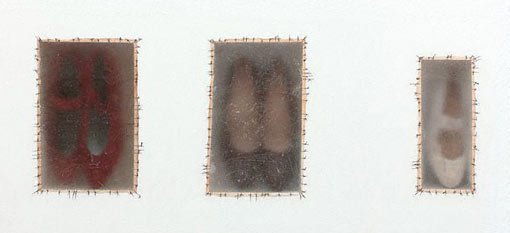 Detail of Doris Salcedo's Atrabiliarios 1992, 1997 © Doris Salcedo
If you're a regular visitor to the Gallery, you might have a sense of déjà vu at times, or pick up on a subtle haunting. Like an old house, a gallery can feel like it embeds the reactions, observations and the physical experience of viewing artworks within its walls to become barely perceived memories.
Some of this sensation is the result of multiple visits creating a mental amalgam of overlaid images and spaces – 'what was hanging on this wall the last time I was in?'; 'whenever I come into this space I recall that piece in the Biennale 20 years ago…', that sort of thing.
But at times you may be picking up on a little-known fact, if one just as imperceptible: there are works within the walls.
When preparations began for our new exhibition When silence falls, the inclusion of a work by Colombian artist Doris Salcedo reminded us that there are secrets in the walls, that some artworks are not packed away at the end of an exhibition, but are immured like time capsules to be revealed at some moment in the future.
Salcedo's Atrabiliarios 1992, 1997 was first installed in Sydney in the Bond Stores in The boundary rider: 9th Biennale of Sydney in 1992 before entering the Gallery's collection. It was also a key work in the landmark exhibition The body in 1997, and has remained fittingly entombed ever since, barring a couple of brief reveals, the last time in 2011. (Of course this has very specific resonances for Salcedo's installation, as the work itself entombs objects in a wall, in memory of those traumatised by political violence.)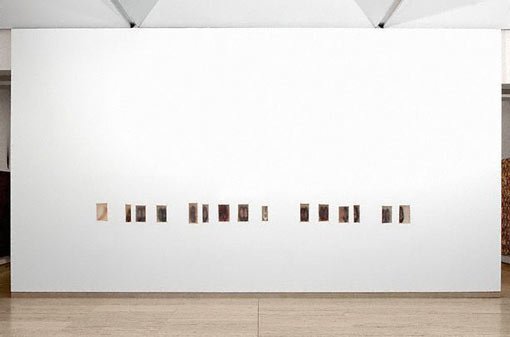 Did you know that behind the Gallery's walls right now lies the enormous mass of Anselm Keifer's Von den Verlorenen gerührt, die der Glaube nicht trug, erwachen die Trommeln im Fluss 2004?
The infrastructure needed to hang the German artist's extraordinary work here the first time was so extensive, and the work so heavy – the two concrete stair sections, even before adding the three heavily painted canvas elements, weigh in at well over 3000kg – that it was felt wiser to enclose it in a false wall rather than move it to storage.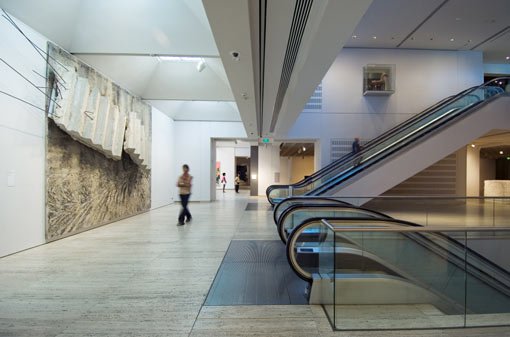 Such works pose innumerable problems for museums around the world, with the ever-expanding field of contemporary art throwing up challenges to their traditional role as carer of material collections.
And while storage may be the issue in some cases, in others it is the directness of the work's creation that begs for it not to be moved. Visitors who saw Richard Long's mud drawing Southern gravity 2011 in the John Kaldor Family Gallery may have wondered what would happen to it when the exhibition was over. The artist's energetic gestures, made directly on the fabric of the building, could hardly be destroyed, so again, they were hidden away behind a new wall until a time they too might be reactivated.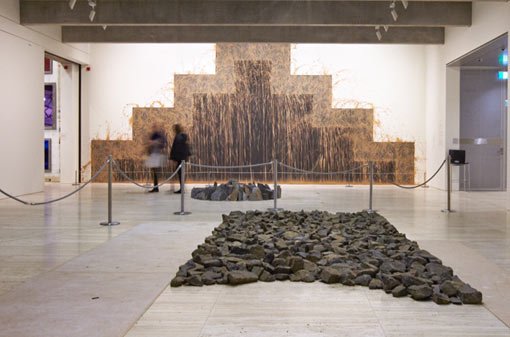 Previous post: It's beginning to look a lot like Christmas
Next post: News from the bat cave

December 21 2015, 11am
by Jackie Dunn
Writer and exhibition researcher