Up close and personal with America: painting a nation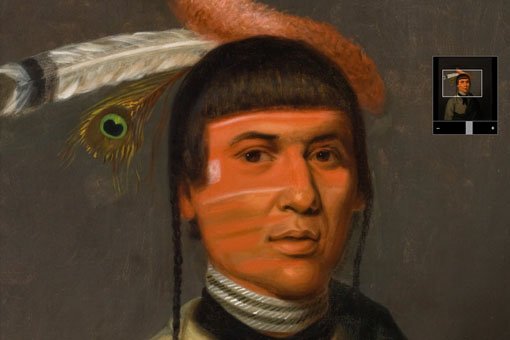 Zooming in on Henry Inman's portrait No-Tin (Wind) 1832-33 using Google Art
In association with our summer exhibition America: painting a nation we've created our own curated sample of artworks on the Google Art Project. The paintings in the exhibition come from the impressive collections of some of America's major art institutions, most of which are conveniently represented on the Google Art Project. Having located several of the works in the exhibition on the site, we were fascinated to see and compare them in incredible Google zoom detail with other works by these same artists in these same collections.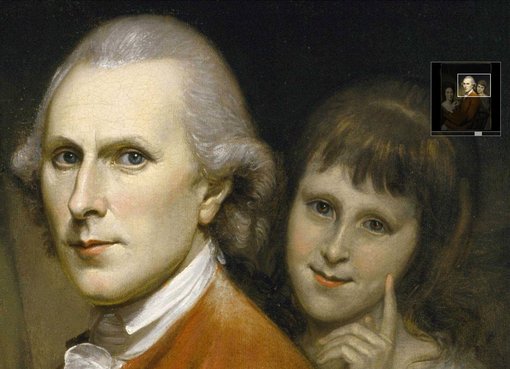 There is a startling self-portrait by Charles Wilson Peale with his wife and daughter in the Museum of Fine Arts in Houston's collection, for example. When compared to Peale's portrait of the Cadwalader family in the exhibition, we can see that these ideas of family domesticity and family enterprise actually extend to his own beliefs as well.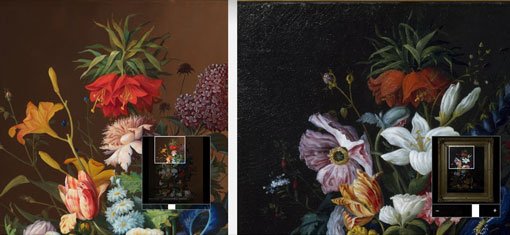 We were also surprised to find an almost identical still-life by artist Severin Roesen in the Philadelphia Museum of Art's collection. Like his painting in the exhibition that comes from the Museum of Fine Arts in Houston's collection, the wonderfully luscious flowers fill the entire canvas and spill out into the viewer's space, also hinting at America's bountiful wealth and good fortune. Looking closely you can see that many of the flowers, like the red lily above or peonies on the left, are exactly the same. Roesen must have used the same bouquet. If you're up for a challenge, the magic of the Google zoom also reveals a hidden insect in each of the paintings.
The selection of paintings in our Google Art Project gallery is by no means a comprehensive list of works by these artists within these collections, but they help to situate some of the works in the exhibition within the artists' oeuvres. It also helps us to see the company these paintings keep when they're at home in America.
Enjoy!
Previous post: Get around the Gallery on a scooter
Next post: Illuminating installation

November 04 2013, 12pm
by Alexandra Gregg
Coordinator, contemporary programs