From first contact to cannibal tours: PNG on film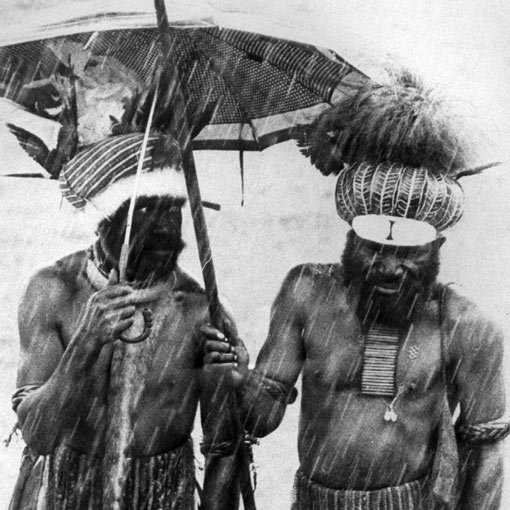 Detail of film still, Yumi yet 1976, directed by Dennis O'Rourke. Courtesy CameraWork
The people of Papua New Guinea's highland region were unknown to the outside world until 1930, when Australian gold prospectors revealed vast populations living in the mountainous interior. Following the Second World War, the region became a magnet for anthropologists, missionaries, tribal art enthusiasts… and filmmakers.
During the first half of the 20th century there had been a history of Australians documenting PNG's frontiers. In the early 1920s, a silent, black-and-white film called (note the title!) Pearls and savages recorded two trips by adventurer, photographer and filmmaker Frank Hurley to the New Guinea coast. In 1944, Tom Gurr directed a notable propaganda film, Jungle patrol, presenting the story of eight Australian soldiers in New Guinea during WWII. The lavishly shot New Guinea Patrol from the 1950s, directed by Peter Dimond, followed an Australian patrol officer and his team as they set off into the highlands. And the Australian Government's National Film Board and Commonwealth Film Unit made a host of short and feature-length documentaries, such as District Commissioner and Native earth (narrated by Peter Finch, who would become a major Hollywood star).
These films took a didactic approach and usually represented the people of PNG in a paternalistic light, which is probably not surprising since its territories were under Australian administration for some 70 years. Films, afterall, usually reflect the values of their times.
With independence proclaimed in 1975, a new breed of documentarians from Australia sought to reflect Papua New Guineans' complexity of thought, language and culture. The country is one of the most culturally diverse in the world. The new nation was still struggling with issues of cultural fragmentation between the highlanders and the people from the coast as well as institutional instability and poverty. All the ingredients existed for recording great stories.
Australian filmmakers were inspired by the American and Canadian direct cinema movement – a new approach to documentary in which the director and crew impartially observe and record events without attempting to interfere with, or change, the outcome. Bob Connolly, Robin Anderson, Dennis O'Rourke and others took the art of the observational documentary to a higher level.
These are truly landmark documentaries yet they are rarely seen. We'll be screening several of them in our film series Papua New Guinea stories in conjunction with the exhibition Plumes and pearlshells: art of the New Guinea highlands.
Bob Connolly (who also made Rats in the ranks and Mrs Carey's concert) will be in conversation with Margaret Throsby on 11 June 2014 in an Art After Hours event and will introduce his Academy Award nominated documentary First contact. Here's a preview.
You can also watch previews and clips for some of the other films in Papua New Guinean stories including:
Previous post: Cracking culture with Contempo
Next post: Craftershock!

June 05 2014, 4pm
by Robert Herbert
Curator, film (until June 2017)