Forty-two-year-old psychedelic bread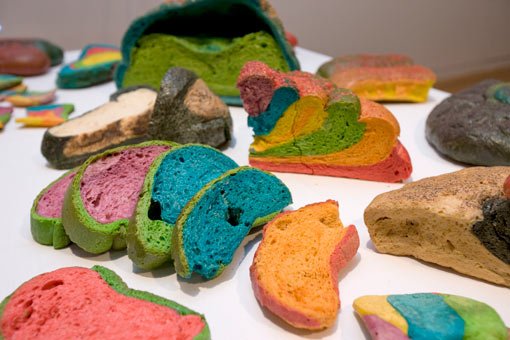 Miralda Coloured bread 1973 (detail) © Antoni Miralda/VEGAP. Licensed by Viscopy, Australia
Other than in some rather psychedelic shades of mould I rather regret having experienced, bright colour and bread are not really things we normally think of together. Yes, Latvian black bread, supermarket white bread – unnaturally white – maybe even the rich brown tones of some good German rye all seem reasonable. But not purple, green, orange… a veritable spectrum of acid colours.
Well, in the late 1960s and 70s, the Spanish single-name artist Miralda (born Antoni Miralda in 1942) started making some pretty funky baked goods.
His edible sculptures and landscapes seem so contemporary. In the past decade or so we've been in the grip of 'relational aesthetics', a rather loose yet endlessly interrogated term coined by French curator Nicolas Bourriaud in 1998 (the English translation in 2002 spread like wildfire through the ranks of young artists). Bourriaud was trying to categorise an aesthetic for the art he was seeing all around him, art that valued the encounter, interactivity, participation. One of the artists he championed as exemplary of this new spirit was Rirkrit Tiravanija, whose breakthrough works were the action of serving and sharing soup with gallery visitors.
That was the early 90s. Miralda was here in Sydney in 1973!
He was invited here by John Kaldor to create Coloured feast, serving multi-hued foods to guests at the launch of the new John Kaldor Fabricmaker showroom. Daniel Thomas, then senior curator of the Art Gallery of NSW, was a guest at that feast and arranged for Miralda to present another new work as part of the fourth Kaldor Public Art Project, Coloured bread. You can read and see more about this project on the Kaldor Public Art Projects website.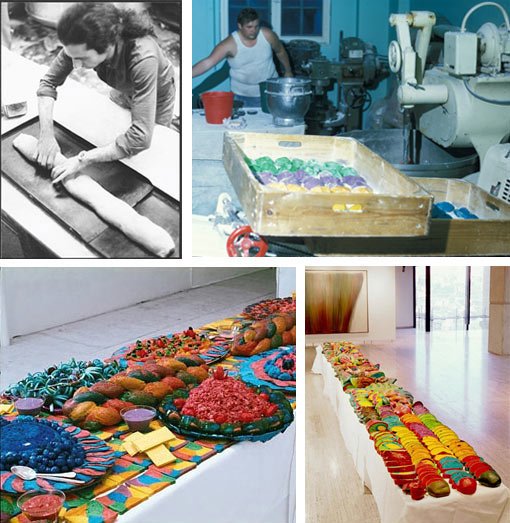 It's been 42 years this week since Miralda's 8.5-metre-long table of dyed breads, created with local bakers, was first shown in the Gallery's entrance court. Soon after, the work and some of its documentation entered the collection. Today, you can see some of those very same loaves on display in the Colourwheel exhibition in our contemporary galleries (this time, in a glass display case) and, remarkably, no special conservation treatment has been required.
Though Bourriaud was theorising recent works that seek relations with our neighbours, surely there can be few more intimate and neighbourly art events than Miralda's edible ones. Was it Miralda who was ahead of his time, or we who are harking back to the 1970s for a more sociable and connected approach to art and life? A little (yeasted) mixture of both, I suspect.
Previous post: The desktop photographs
Next post: Gorilla tactics

September 21 2015, 9am
by Jackie Dunn
Special exhibitions curator