Encountering Grayson Perry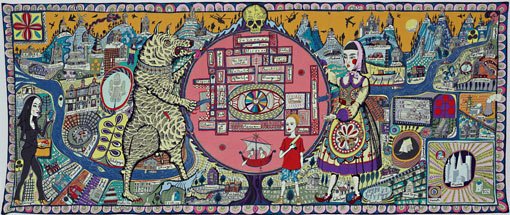 Grayson Perry Map of truths and beliefs 2011 © the artist
The first time I saw Grayson Perry I didn't see Grayson, I saw Claire. Like millions of others on news services worldwide I watched Claire, the British artist's alter-ego, accept his 2003 Turner Prize in full party dress – that is, in full child, female child's, party dress.
For a brief while it seemed Perry's cross-dressing would eclipse his wonderfully eccentric art practice, but of course he soon became more widely known for his art – mainly then ceramics that shocked not for the heck of it, but because they married classical forms with electrifying contemporary themes. He won the Turner as a mad potter and said at the time, 'Well, it's about time a transvestite potter won the Turner Prize' – but he now works increasingly in textiles that see him continuing to delve into auto-biography, sexual perversion and life in the UK.
Today Perry has a CBE and has proven to be not only that fascinating figure and increasingly interesting artist, but an insightful cultural commentator.
Perhaps you saw his 2012 documentary, All in the best possible taste, which was rightly lauded internationally for its insights into taste and social class. I loved the affectionate yet profoundly perceptive way he explored the how and why of our decisions about what we wear, collect and love. Working with people from different classes, Perry used the interviewing and research project to develop six revealing tapestries, The vanity of small differences.
In the new doco Who are you?, which screens in Australia next week, Perry turns to portraiture and identity – an exploration that also results in the creation of new artworks, including tapestry. In an interview with UK's Channel Four, Perry said he works in tapestry 'because of its associations really, which are mainly with big posh houses. You see them hanging in the saloons of stately piles and they depict grand events of national import or mythological narratives and I thought it would be nice and poignant and maybe a little bit ironic to tell a commonplace tale of social mobility in average Britain in some ways with that grand medium.'
We're a bit chuffed, because one of our new acquisitions currently on display in the contemporary galleries on lower level 2 is a major tapestry by Perry. It'll still be on view when the new documentary airs later this month. Map of truths and beliefs is an extraordinary achievement: Perry has well and truly captured the richness and grandeur of a Gobelin or Aubusson in his map – indeed, he declared he wanted to make 'a sort of altarpiece, a map of heaven' – but he's made a heaven for the here and now, with images of the rampant consumerism and conflict of contemporary Britain.
The viewing of a huge yet exquisitely detailed tapestry like Map of truths and beliefs needs to be in the flesh. Up close I've been endlessly surprised by the finer imagery – from iPhones to teddy bears – that makes this such a fabulous map of our lives.
You can catch Who are you? on ABC TV from Tuesday 26 May – or on iView
Stay tuned too for the Museum of Contemporary Art's solo Perry show coming up in December as part of the Sydney International Art Series which includes The Greats: masterpieces from the National Galleries of Scotland at the Gallery from October.
Previous post: A joint effort
Next post: Who is Guido Valdez?

May 26 2015, 2pm
by Jackie Dunn
Writer and exhibition researcher