Drawing stories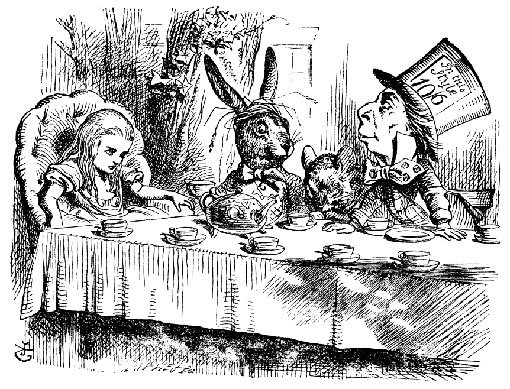 A John Tenniel illustration for Lewis Carroll's Alice's Adventures in Wonderland 1865
When I was a kid I was notorious for disappearing for hours to read. Whether at home, on holiday or even at friends' birthday parties, other people's bookshelves were intoxicating to me. I didn't have the Hardy Boys series, but the boy across the road did, and reading his neglected novels was far more exciting than pretending to enjoy kicking a soccer ball around the backyard. Unsurprisingly, those parallel-playdates soon came to an end, but I wasn't sorry. I'd managed to get through quite a few volumes of those boys' own adventures by then, and fresh pastures were opening up: Noel Streatfield, The Famous Five, E Nesbit's Edwardian children – all the treasures of my childhood that set me on my path as a lifelong lover of stories.
One thing I do remember from those paperback books were the illustrations. Black-and-white line drawings, most of them, easy to reproduce and read. I can remember the map of Milly Molly Mandy's little English village more clearly than I can recall her exploits; Quentin Blake's drawings are inseparable from Roald Dahl's dark and marvellous world; and the late Victorians CE Brock and John Tenniel brought the lives of children from a century before to vivid and immediate life. Arthur Ransom's spare, amateur line drawings took me straight to the thrilling world of child pirates and explorers, even though he drew all his figures from behind (faces were just too hard). When I got a bit older I would scour old copies of Punch and The New Yorker in the local library for the cartoons; I still get a daily social media feed from the latter.
I am sure all those black-and-white drawings gave me an early education on the power of drawing to tell a story, and not just as illustration, but as its own powerful language. Many years later when I first read British artist Dame Laura Knight's declaration on drawing – As in the fourteen lines of a sonnet, a few strokes of the pencil can hold immensity – it clarified for me the poetic power of drawing and its potential to suggest a world of meaning that words cannot express.
The six artists in the exhibition Close to home: Dobell Australian Drawing Biennial 2016 are all telling stories in their own way. Each has produced drawings that range in levels of figuration and abstraction, of sharp realism versus pared-back suggestion. There's not a ton of colour, but within every one of them runs a golden thread of narrative that comes from deep within their lives and experience, from their memories and their imagination, to tell profound personal stories that have a greater, universal resonance.
For me, that is one of the greatest powers of drawing, and of art. I am grateful for those adults that indulged my anti-social tendencies as a child, leaving me be to inhabit the world of literature and learn my first lessons in drawing stories.
Previous post: Who's who at this year's Archie
Next post: Restoring a Ramsay

August 01 2016, 10am
by Anne Ryan
Curator, Australian prints, drawings and watercolours