Dr Ever-Hard's dirty little book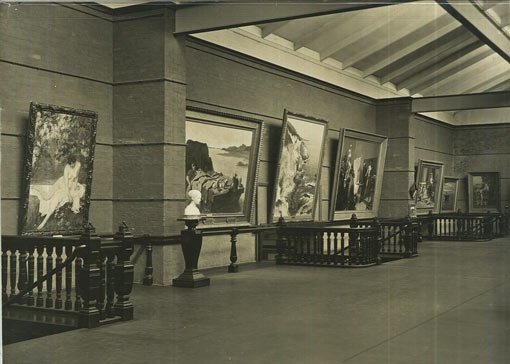 Entrance to the Art Gallery of NSW c1906, showing one of the nude pictures that shocked Mr Maxwell
In the library and archive at the Art Gallery of NSW, we often joke that everything is well signed, apart from one section of the collection popular with users. You can easily find Australian sculpture, Italian painting, Chinese ceramics, international photography. But where is erotica? Even the dewey number is a bit obscure. Notwithstanding this, researchers manage to find the naughty books, sitting, as they do, only a few shelves away from art theory. They pretend to be searching for Clement Greenberg's multi-volumed Collected essays and criticism, whilst really looking for Taschen's multi-volumed Erotica.
The size of our erotica collection is modest. One of the earliest purchases was the catalogue to the First International Exhibition of Erotic Art, written by that raunchy academic couple Dr Eberhard and Phyllis Kronhausen and shown in liberal Sweden and Denmark during 1968. We purchased the catalogue in 1969. Our director at the time, Hal Missingham, affectionately dubbed it 'Dr Ever-Hard's dirty little book'. Today it is locked away with the rare books, not because it is likely to offend but because it has become something of a rarity. In 1969 it was officially locked away by order of the government. As a prohibited publication, the Gallery had to get clearance to import it. Then it could only be shown to researchers with the express permission of the director.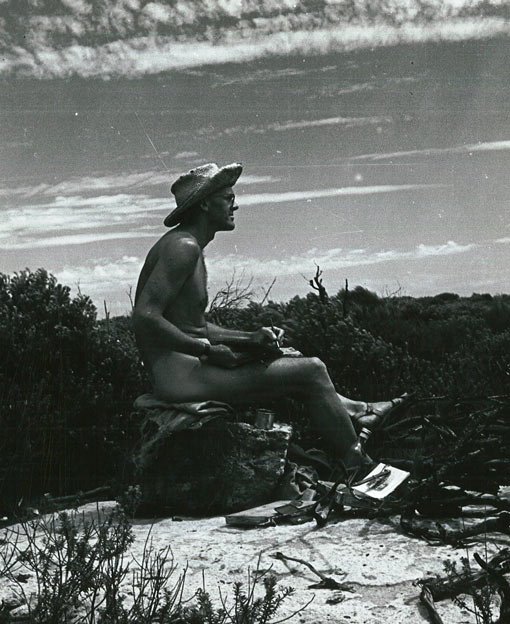 Hal Missingham was not a prude — he was happy to leave a photograph of himself painting in the nude on his file in the archive — so we can imagine that he interpreted his custodianship of the catalogue liberally.
All gallery directors are challenged at times by the issue of art and censorship. Dramatic events like the 1982 police seizure of Juan Davila's painting Stupid as a painter during the Biennale of Sydney are relatively rare. More difficult to negotiate are the shifting boundaries between what is considered challenging, provocative, offensive and obscene. The general public often has different ideas about these things to those working in the arts.
In the archive there is a 1906 letter from Mr Alex Maxwell. He writes of his pleasure at visiting the Gallery, but adds 'the naked pictures of females that hang on the left on going in, stirred in me feelings that were not easily kept down. That was the strongest temptation I met with in all Sydney. I could have written to one of the papers, but I deemed this the most straightforward and manly way. A friend of mine, who was with me, said they were a work of art and therefore were allowable. Such pictures cannot be thus excused in my estimation. They should not be there.'
One of the works which so stirred Mr Maxwell was Herman Richir's Salon painting Après le bain. It was purchased in 1905 and deaccessioned in 1997. Today it would be considered 'vanilla', only offensive to the most delicate of souls. But I suppose the challenge around censorship is judging these sensitivities. One of the most intelligent pieces written on this subject was the foreword by Justice Michael Kirby to the publication Moral censorship and the visual arts in Australia. He argued that law-makers and law enforcers needed to tread lightly around the 'portrayal of the beauties of the human body and the wonders of sex.' Taking a verse from Yeats, he ended 'Tread softly, because you tread on my dreams.'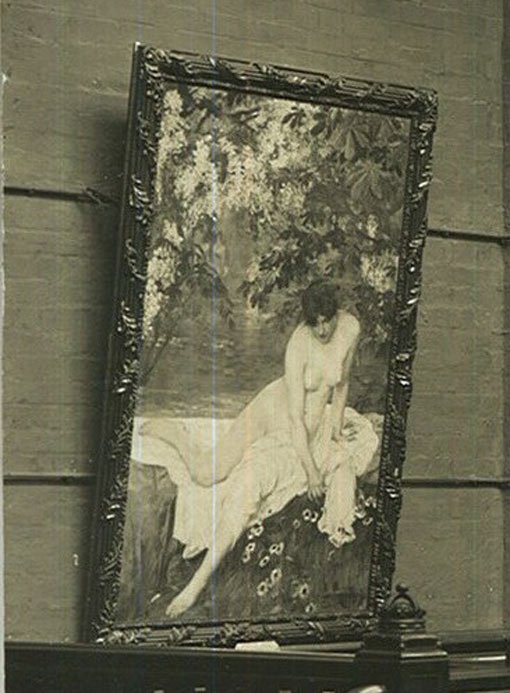 Postscript: On Thursday 19 January, there's a discussion on vulgarity as part of The School of Life's Naked ideas program
Previous post: A recipe for art
Next post: Just the two of us

December 19 2016, 9am
by Steven Miller
Head of the Edmund and Joanna Capon Research Library and Archive