Do I know you?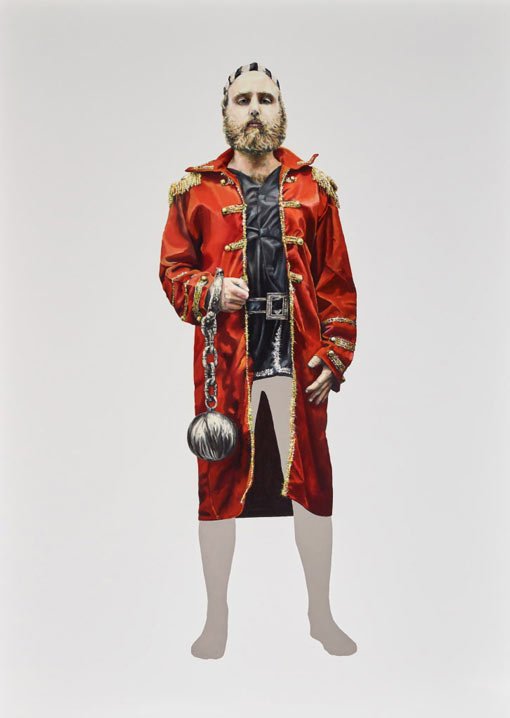 Tim Gregory Self-portrait as ancestors, a first-time finalist in the Archibald Prize 2015
As always, there are artists in this year's Archibald, Wynne and Sulman Prizes who we probably recognise.
Painters like Jaiwei Shen, whose work we've seen previously in 13 Archies and three Sulmans (including a 2006 Sulman win), or Aida Tomescu, who has been in 12 previous Wynnes (taking the prize in 2001) and six Sulman (winning in 1996).
There's the veteran Noel McKenna, our 'most hung' finalist this year, who has previously been in 15 Sulman (winning in 1994) and 21 Wynne (in which he won the Trustees Watercolour Prize in 1997, 1999, 2002 and 2005).
And, of course, there's Robert Hannaford, who we all feel we've come to know – an Archibald finalist on 23 previous occasions (winning the People's Choice three times) and also a finalist in five Sulman and one Wynne competition.
But there are new faces too this year, including Robert's daughter Tsering Hannaford, who – like her father – painted a self-portrait.
She's among 34 artists showing in the Archibald, Wynne or Sulman for the first time.
Then there are those who debuted in the 2014 competition and are backing it up this year with another work (or two). They include Jason Phu, a finalist for the first time in last year's Sulman, who returns this year with another work in the Sulman – for which he's been awarded the prize by judge Lindy Lee – as well a painting in the Archibald.
It's one of that group – Rebecca Hastings – who has provided my favourite title for the year with her Sulman work She left us at Ikea and went off to find herself.
See you at the exhibition, or perhaps in the ball-room.
Previous post: Back in black
Next post: What's behind the wall?

July 21 2015, 10am
by Kirsten Tilgals
Online producer