Did you see that?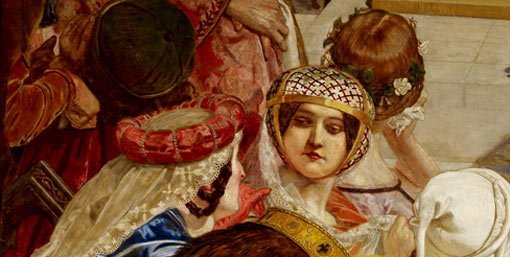 Detail from Ford Madox Brown Chaucer at the court of Edward III 1847-51
If you've seen the recent feature film Mr Turner, you may have noticed a special guest appearance from a familiar painting – the Gallery's own Chaucer at the court of Edward III by Ford Madox Brown.
Directed by Mike Leigh, the film looks at the last few decades in the life of JMW Turner (1775-1851), arguably Britain's most celebrated painter. Several scenes are set at the Royal Academy of Arts, with a focus on preparations for their annual exhibitions – the most prestigious and talked-about annual art shows in 19th-century London. You can see some of these in the film's trailer.
The Royal Academy has published an article that identifies some of the artists that appear in the RA scenes and presents a fascinating video telling the story of how these scenes were recreated.
Although not included in these online videos, one of the scenes is set at the RA's 1851 exhibition and shows Turner's less-than-favourable reaction to several paintings in the style of the Pre-Raphaelites, including Ford Madox Brown's Chaucer at the court of Edward III.
The Pre-Raphaelites were the bright young things of the art scene in the middle of the century. The Brotherhood was formed in 1848 by John Everett Millais, Dante Gabriel Rossetti and others. Brown was never officially a member of the group, but shared some of their ideals and indeed proved an inspiration to them. Brown's Chaucer is a perfect example of their style – bright, clear colours and very intricate naturalistic detail, and an interest in historical (particularly medieval) subjects.
The Pre-Raphs and their circle were controversial at the time, but are now recognised as one of the most innovative movements of 19th-century British art. Their approach was quite opposite to Turner's own highly expressive, turgid, painterly style, so well-embodied by Timothy Spall in the movie (he violently daubs and smears his paint – at one point spitting at the canvas).
The scene at the 1851 show not only demonstrates Turner's personal distaste for the Pre-Raphaelite style but also anticipates his death later that year and the rise of a younger generation of Victorian painters who didn't share his romantic vision.
After the 1851 RA show, Brown's painting was seen at other exhibitions, including the Universal Exposition in Paris in 1855, and was widely commented on in the press.
The Tate has a related work but the original is at the Art Gallery of NSW in Sydney and hanging in the Grand Courts. It was bought by an earlier incarnation of the Gallery in the 1870s, directly from the artist.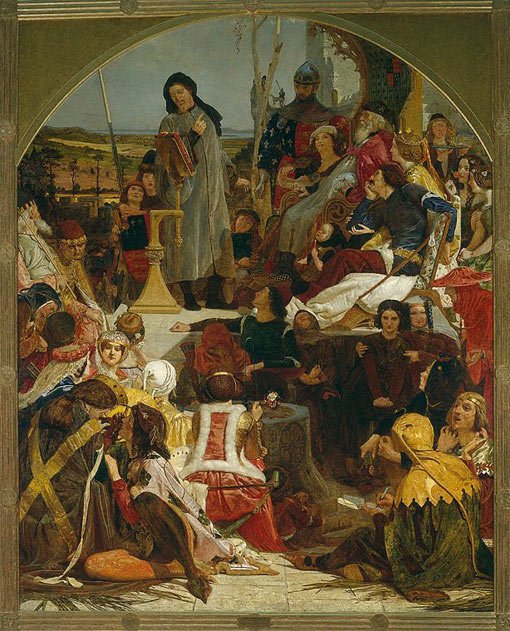 And do we have any Turners? Over 180 of them – one watercolour and the others works on paper.
Previous post: I'm not good at art but...
Next post: An art tour that's like a dinner party

February 26 2015, 9am
by Josephine Touma
Senior coordinator, public programs