David Strachan's salmon fricassé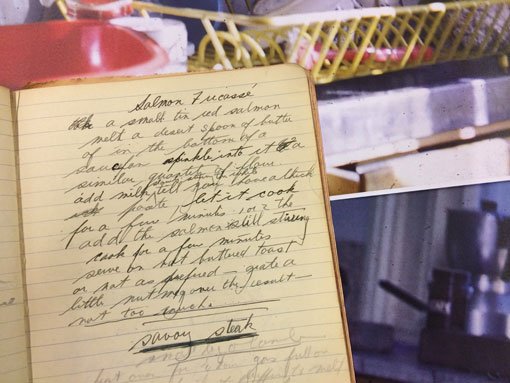 David Strachan's salmon fricassé recipe with a backdrop of his kitchen in 1963.
No, we aren't trying to jump on the celebrity cooking show bandwagon, we're Cooking for Copyright. You too can join the social media campaign to reform archaic laws.
One of the most limiting aspects of current copyright law in Australia is that, for unpublished works, copyright lasts FOREVER compared with 70 years after the death of the creator for published works. And that means – if we can't locate the creator or the estate for permission – there's lots of incredibly interesting and socially valuable material – letters, diaries, even recipes – forever locked away in archives, which can't be made accessible online or published.
There's a campaign now to change that, under the umbrella of FAIR (Freedom of Access to Information and Resources), led by the Australian Library and Information Association. As part of that, they're asking people to cook, photograph, tag and share their favourite recipes on 31 July (or soon after).
Here's our contribution from the Art Gallery of NSW Archive, courtesy of sleuth extraordinaire and visual resources librarian Eric Riddler.
The story
Artist David Strachan died in 1970 as the result of a road accident. Three years later the Art Gallery of NSW mounted a memorial exhibition in tribute to his work as a painter, printmaker and draughtsman. David Strachan 1919-1970 was shown at the Gallery from 15 June to 15 July 1973. Curated by Daniel Thomas, it included 49 paintings, drawings, etchings, illustrated books and ceramics. In preparation for the exhibition, Thomas and David Strachan's sister, Veronica Rowan, sorted through the artist's papers for relevant material, such as correspondence, photographs, clippings and manuscript notes by the artist, in support of the exhibition and its catalogue. This material was then loaned to the Gallery for the duration of the exhibition. At the end of the exhibition some correspondence, press reviews and other records were left to the Gallery and in 1995 these papers were moved into the Gallery's archive. In 1998 Veronica donated the rest of Strachan's papers and other material to the Gallery so that a complete archive of David Strachan could be established.
The recipe
Ingredients
1 small tin red salmon
1 dessert spoon of butter
1 dessert spoon of plain flour
small quantity of milk
bread for toasting (optional)
extra butter (optional)
grated nutmeg (optional)
Method
Take a small tin red salmon. Melt a dessert spoon of butter in the bottom of a saucepan. Sprinkle into it a similar quantity of flour. Add milk [while] slowly stirring [this] till you have a thick paste. Let it cook for a few minutes, 1 or 2 [minutes]. Then add the salmon, still stirring. Cook for a few minutes. Serve on hot buttered toast or not as preferred – grate a little nutmeg over the result – not too much.
Find out how you can be part of Cooking for Copyright on the FAIR website
Previous post: What's behind the wall?
Next post: Bringing sound to silence

July 28 2015, 2pm
by Steven Miller
Head of the Edmund and Joanna Capon Research Library and Archive