Creating a self-destroying work of art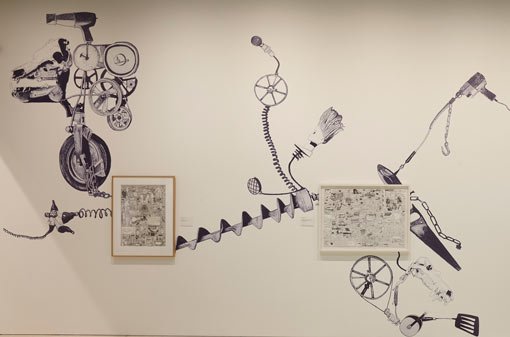 A section of Michael Landy's artist room in Seven artists from the John Kaldor Family Collection
Michael Landy is fun.
Saints alive, his exhibition at the National Gallery in London, was full of madly moving sculptures of saints recreated from scavenged cogs and bits of machinery, and a highlight of my trip to Europe in 2013.
I was lucky to have worked on Acts of kindness in 2011, Landy's Kaldor Public Art Project #24, in which he collected stories from the people of Sydney and reproduced them on huge jigsaw pieces placed around the CBD.
So earlier this year I was thrilled to be working with the Art Gallery of NSW's curator of international contemporary art, Nicholas Chambers, to realise the latest installation of Landy's work in Sydney – one of seven complete artist's rooms that are part of Seven artists from the John Kaldor Family Collection.
As Nicholas describes it: 'Over many years collector and philanthropist John Kaldor has assembled a very impressive collection of Michael Landy's work. Parts of it had been shown in previous installations of the Kaldor Family Galleries but there were numerous works on paper that hadn't been exhibited. We wanted to find a way to display those works that captured the energy, and the sense of play, that often characterises Michael's solo shows. So, we contacted Michael in January 2015, without a firm idea in mind, and he responded by creating a collage.
'It comprised several A4 pages, in which works in John's collection (reproduced at thumbnail-size) were linked together by screws, body parts, wheels and various other elements that had, in turn, been scavenged from one of Michael's works. Michael's idea was to translate the collage into a room-sized installation where the individual elements were larger than life but still retained a sense of having been drawn…'

Clearly more fun was to be had on this new Landy project, and it involved everything I love about working with artists: translating a thought into something concrete; working across countries, back and forth via email; a rough concept, four huge blank walls, intense handwork and a solid deadline (opening night party three months away).
Step 1: brief from curator
Talking through Michael's ideas and concept A4 collages with Nicholas, we discussed a few ways of approaching the project, and researched Michael's past installations and the best way to produce such large wall pieces. The technical and production challenges of maintaining the hand-drawn quality at such scale from quite small originals were considerable.
Step 2: work out our measurements
BIG! Our walls are up to 10m wide and 4m high. Some of the details would be 2m wide (over 10 times original size). Unfortunately Michael had no existing scan or image of a work large enough to blow up to these sizes so…
Step 3: find a big enough image
We sent a request for high-resolution details to Michael's London gallery who commissioned photographs based on particular sections I sent across, with overlaps to allow for piecing the details back together. The most accessible work was Machine created to destroy Tinguely Museum (2) 2010, a framed drawing in a corridor, although the photographer couldn't shoot the centre section due to reflections so bits were missing. Testing a full-size piece on the wall confirmed that the hand-drawn quality would hold at this massive size, so it was full steam ahead.
Step 4: get the design right
In Photoshop I retouched out elements that weren't needed, pieced shapes together then deep-etched each one, and matched the tone and colour of the line work across all the images (additional retouching would be done by our pre-press expert later). Hours flew by as I created complex jigsaw puzzles on a flat 1:10 scale plan of the walls, arranging individual pieces or 'connectors' as Michael called them (including drill-pieces, hairdryers, cords, springs, lightbulbs, wheels, motorbikes, skulls, dolls) so they touched or passed through the framed Landy works that were to be on display.
Version after version was created until the connectors did their job and the overall effect was balanced. Nicholas then sent our preferred layouts and visuals of the room I'd created to Michael for feedback, and I adjusted as Michael requested – slightly less dense on this corner, another vertical piece here, and so on – until we finally achieved the right combination of rhythm, density, connection and variety. I'd also placed some test pieces in the exhibition space to check the sight lines from the entrance points and the corridors.
Step 5: print
I triple-checked the measurements, marked out the artworks' frame sizes with blue tape and positioned a few final full-size pieces on the walls in the space for a final check. The adhesive paper we were printing on was exactly the same colour as our walls so the final effect really would be of a drawing direct to the wall – exactly what Michael had envisaged. The massive rolls, delivered a couple of weeks later, were exciting and daunting in equal measure. Even ganging the individual pieces to save space, we ended up with 34 metres of paper – about three bus lengths.
Step 6: install
I had realised early on that machine laser-cutting around each shape would not be possible and the best result would be hand-cutting, which would be totally out of our budget if outsourced. Setting aside three days to cut, trim, position and install, I set myself up in the exhibition space with a box of scalpel blades, huge tables and – a quick driving lesson later – a scissor lift.
There's a meditative quality to tracing, cutting, positioning for hours on end… working with your hands instead of staring at a screen, finding a rhythm with the scalpel slicing through the paper. I was totally immersed in the task and physically exhausted at the end of each day.
You can watch a timelapse video of the installation, in which the process looks easy and the pieces seem to fly across the walls.
In fact, the enjoyment is in the slow, steady repetition, in the details – the slight adjustments needed as each element is fitted around an artwork, into a corner, around a wall return or cut into a ceiling – and, finally, in the magic that is created as the design grows along the wall, piece by piece, bringing the room to life.
Take a look at this slideshow for a further glimpse into the process – starting with Michael's original collage. Click on one of the small images to begin.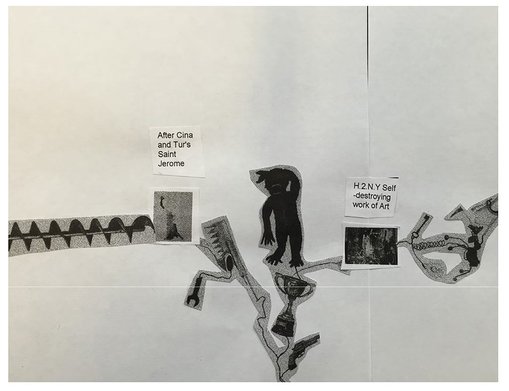 1/15
One of the A4 sheets Michael Landy sent through with his collage concept.
2/15
Another of his A4 sheets.
6/15
This shows Michael's drawing Machine created to destroy Tinguely Museum (2) overlaid with the photographed details.
The monkey was one of the incomplete images, but I couldn't not use him, so I had to find a corner that would work without his tummy.
7/15
One of the visual mock-ups produced to give an idea of final scale and to send to external suppliers for production quotes.
8/15
An elevation drawing showing just one of the many designs we tried out. The pink marker represents the 1.6 metre average centreline for hanging artworks in the Gallery.
9/15
Michael sent his feedback and we adjusted the designs accordingly.
10/15
Starting the slow installation process, with curator Nicholas Chambers lending a hand.
11/15
The long printed rolls were both exciting and daunting.
12/15
To get positions accurate, we used blue tape to mark out the framed artworks on the walls and the placement of Michael's 'connectors'.
13/15
Part of the finished installation. Take note of the scythe to the right of the entrance.
14/15
The next section of the finished installation.
15/15
The final section of the installation, finishing back at the scythe.
You can see the spot I found for my tummyless monkey at the top left of the entrance.
Previous post: New transmissions
Next post: Chalking one up to the public

November 10 2015, 8am
by Analiese Cairis
Senior graphic designer