Conserving Clement's Flippant Flurry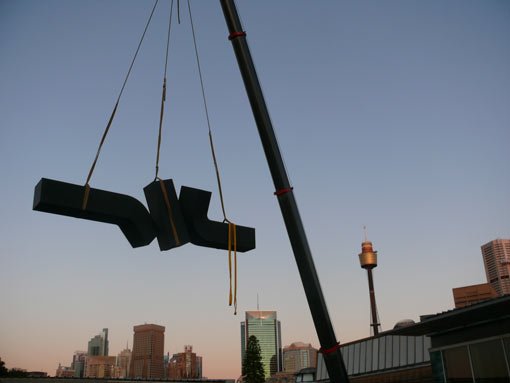 Removing Clement Meadmore's Flippant flurry 1977-78 from the Gallery roof for conservation treatment. Artwork © Clement Meadmore/ARS. Licensed by Viscopy, Sydney
As works of art, Clement Meadmore's massive outdoor sculptures appear to effortlessly defy both gravity and the weight of their steel forms.
As a practical challenge, however, getting Meadmore's one-tonne, seven-metre-long, structurally-weakened Flippant flurry off the top of our busy public gallery in Sydney and down to Melbourne for conservation treatment has been far from effortless.
Meadmore is one of Australia's most important and highest profile sculptors, and the Art Gallery of NSW has a number of his works in our collection, including the outstanding Flippant flurry. Unfortunately, most visitors wouldn't have seen that work for a while.
The Gallery acquired the sculpture in the 1970s, choosing it from photographs submitted by the artist. In 1979, it was shipped from New York, where Meadmore was then based, to Sydney and installed in what was then our ground-level sculpture courts. In ensuing decades it was relocated to various sites around the Gallery; most recently, in 2002, to a position on the roof, where it could be seen for many years until a reorientation of our gallery spaces hid it from view.
Time and the outdoors have had a regrettable effect on Flippant flurry, resulting in serious corrosion. As part of a new conservation partnership with the Gallery, Macquarie Group has sponsored much-needed treatment of this important artwork, which has now begun.
To see a slideshow introduction to the project, click on one of the small images…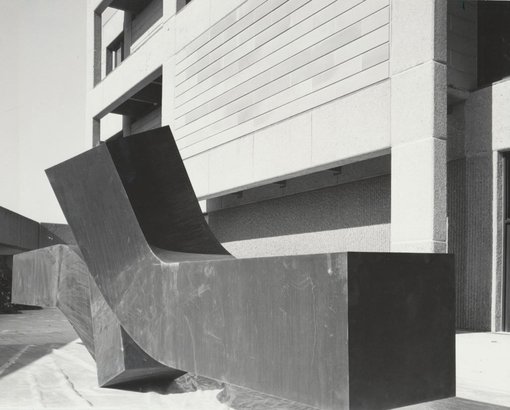 1/8
Clement Meadmore's Flippant flurry first installed in 1979 at the Gallery.
3/8
On the move again in 1988.
4/8
Being prepared for the 2014 move, which started before dawn.
5/8
Craned off the roof in the early morning before most Gallery workers and visitors arrive.
6/8
Resting on supports on the back of the truck that would take it to Melbourne for treatment. Experts there have worked successfully on other Meadmore outdoor sculptures that had suffered similar problems.
7/8
Part of the problem has been that rainwater does not drain adequately from the sculpture, causing internal corrosion. Suitable drainage points will be installed as part of the treatment to avoid future blockages.
Photo: Paul Hopmeier
8/8
Corrosion at the joints made craning particularly problematic. Heavily corroded parts like these will be replaced as part of the treatment.
Photo: Paul Hopmeier
Previous post: A Pearce of his art
Next post: Drawing in the Dandenongs

November 10 2014, 9am
by Carolyn Murphy
Head of conservation