Come together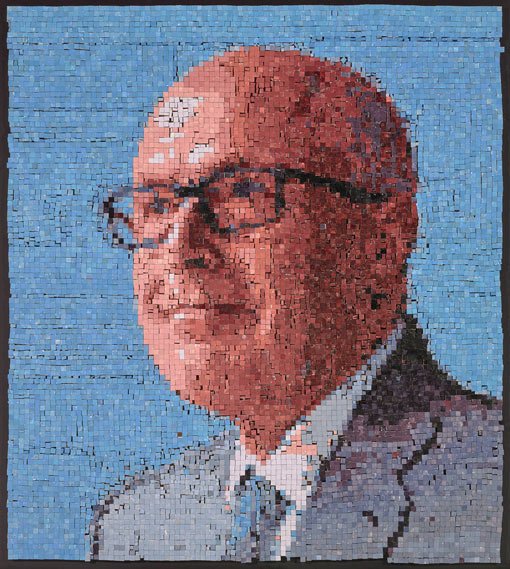 Boys of Sydney Grammar Edgecliff Preparatory School Goodbye, Sir!, Archibald Prize 2017 finalist
It's probably influenced by last year's Wynne Prize being awarded to the Ken Family Collaborative – five sisters from the Aboriginal community of Amata in South Australia – but the number of collaborative works and works from Indigenous artists in the 2017 Archibald, Wynne and Sulman Prizes is certainly noteworthy.
Fellow Amata artists Mona Mitakiki and Naomi Kantjuriny are first-time Wynne finalists for their Seven Sisters painting, as are Mumu Mike Williams, Willy Muntjantji Martin and Sammy Dodd for a land rights work that incorporates Australia Post mailbags, a spear, kangaroo tendon and resin made from spinifex grass.
These collaborations are among 15 works by Aboriginal artists in the Wynne, three in the Archibald and one in the Sulman. Take a look at them all.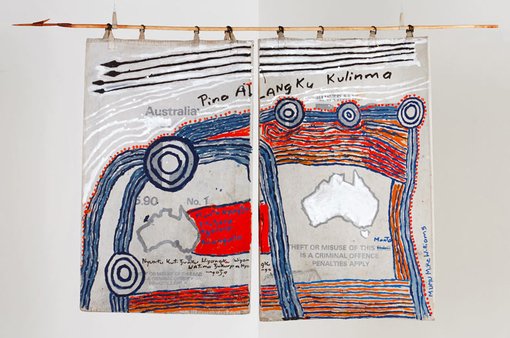 No less than 301 student artists, aged five to 12, had a hand in making Goodbye, Sir!, using painted woodblocks to create their take on a pixelated computer image. They have been selected for inclusion in the Archibald – undoubtedly both the youngest artists ever to take part and the largest number.
However, it's not the only time that students have had their portrait of their principal on display: the 1990 exhibition included the work of 20 students from the Julian Ashton Art School, made with Hadyn Wilson to honour Julian Ashton, the school's founder, and his great-grandson Paul Delprat, who was the school's principal at that point.
The final collaboration this year is by Robert Malherbe and Philjames in the Sulman – the result of what Philjames describes as an 'online fanboy moment'. Malherbe, a six-time Wynne finalist and 2010 Archibald finalist, also has a self-portrait in this year's Archibald.
Other artists who will have you seeing double are Marc Etherington and Kim Leutwyler, who both debuted in the 2015 Archibald, with works in the Archibald and Sulman this year, and prize veterans Nicholas Harding and Lucy Culliton, who are in the Archibald and Wynne.
Almost half the works in the exhibition are from first-time finalists.
Among them is Andrew Lloyd Greensmith. If his name sounds familiar it's not from art world circles. Greensmith is a plastic surgeon and the recent ex-chief of the Department of Craniofacial Surgery at the Royal Children's Hospital Melbourne, where he co-headed the team who successfully separated conjoined twins Trishna and Krishna in 2009. This year, he's made the Archibald with a portrait of 102-year-old Eileen Kramer – on display with all the other finalists from 29 July.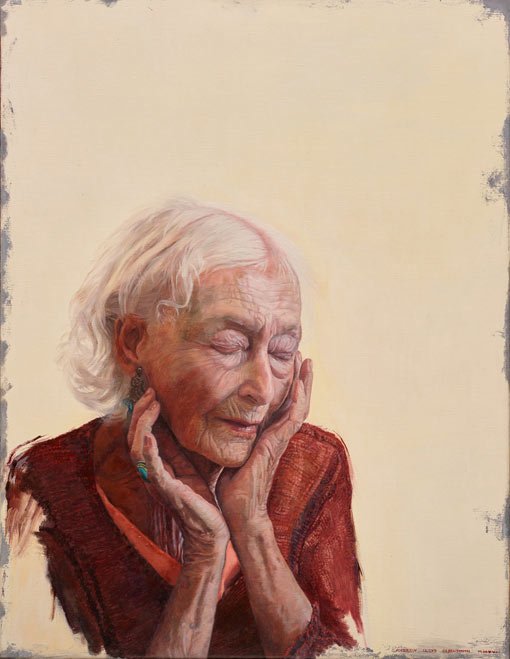 Previous post: From inside the asylum
Next post: Not the selfie as you know it

July 25 2017, 3pm
by Kirsten Tilgals
Online producer