Colour by numbers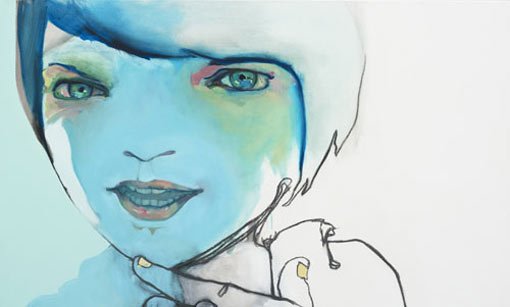 Abbey McCulloch Nell, Archibald Prize 2009 finalist
I was walking through the Archibald exhibition several years ago when I was struck by how perfectly one of the paintings had captured the colours and textures of Wednesday. It was Abbey McCulloch's portrait of Nell Schofield – watery blues and tinges of yellow, edged with translucent pink; both drowning and glowing. Melancholy and refreshing at the same time, it was Wednesday, both the word itself and the personality that the weekday had in my head. I visited that painting a lot in my lunch breaks, basking in the glorious feeling that a little piece of the universe had clicked into place for a while.
Synaesthesia – a condition of 'joined' sensations – is part of life for what is now estimated to be around 4 per cent of people. There are many different forms of this cross-perceptual phenomenon, and synaesthete artists and musicians particularly have tried to capture experiences including 'seeing' noises, 'tasting' sounds and 'feeling' numbers and time. One of the most comprehensive books on the subject, Wednesday is indigo blue lists the two most common forms as experiencing 'coloured' numbers and letters and 'coloured' weekdays and months – hence my bluey-yellow-pink Wednesday, in contrast with the 'indigo blue' of the book's title.
The delightfully frustrating part of synaesthesia is that it is so individual. There are parallels across the synaesthetic experience, but most synaesthetes' perceptual links can feel bizarre in their level of distinctive detail. The difference, for me, between the letter O and numeral 0 is an example: the letter is flat shiny black paper, while the numeral is cold, semi-opaque black Pyrex. It was never something I made a decision about, and for years I had no idea it was anything out of the ordinary.
In my teens, I'd have discussions about the personalities of numbers with a friend who had a similarly wired brain. While we agreed on some (9 would stab you in a dark alley; 4 would plot your downfall from a conspicuously blameless distance), there were others that held completely different roles in our minds. She couldn't fathom my appreciation of 3 (aquamarine blue! Cheerful and clear-headed! What's not to like?) and I had no patience for her overinvestment in 7 (canary yellow but a boring conversationalist).
It didn't strike me as anything odd until years later, when I wrote a poem for a uni assignment that required colourful imagery. My presentation to the class was met with confused faces. The poem had no trace of colour description, just an overabundance of the letters 'f' and 's', which I know as orange and blue. The penny dropped – nobody else could see my goldfish in the ocean. (The poem was also, unrelated to the synaesthesia, really embarrassingly bad.)
Working in the Gallery, the unique associations of synaesthesia feel very natural. Artists like Vasily Kandinsky and Roy de Maistre make clear links between sensory experiences like colour and music, and the interplay of texture, time and light in exhibitions like Conversations through the Asian collections mean that synaesthesia feels like just another facet of interaction with the artworks. In the space of a single work, a viewer might appreciate the brushstroke technique, have an emotional response to the scene, and connect the painting to the historical events of the day. A synaesthetic viewer might just also experience the sensation of crunchy toast or hear a mental foghorn – maybe even both.
The Gallery has just unleashed its rehang of the 20th-century Australian collection and I'm looking forward to seeing what new associations pop up for me. If I discover a Friday, I'll be chilling out nearby in the afternoons. If I spot anything that embodies 9, however, I'll be steering clear, and I strongly suggest you watch your back.
Previous post: We're back and louder than ever
Next post: Is this the ultimate selfie?

May 04 2015, 11am
by Holly Bennett
Creative and content coordinator