Chance of afternoon Spowers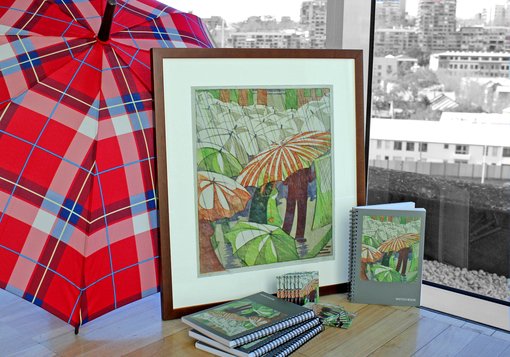 Rainy days are busy days at the Gallery. Downpours outside mean floods of people indoors, and there's always a holiday buzz despite the drizzle.
At this time of year, there's also the danger of entering the Gallery when skies are brilliantly blue, immersing yourself in the exhibitions and hours later stepping outside to find you're now mid-thunderstorm. Sydney is a capricious city when on the verge of Spring – even longtime residents are caught out by its surprise soakings.
On days of unpredicted precipitation the Gallery's forecourt resembles one of our most beloved artworks, Ethel Spowers's Wet afternoon. Blooming with umbrellas and lively chatter, the impromptu portico party awaits the arrival of a procession of taxis, while the brave break away across the Domain to the shelter of station or car.
Through working in the Gallery Shop, I've realised a lovely silver lining to these sudden deluges. Every unexpected cloudburst sends visitors dashing to the Shop in search of a rescue brolly, and even the already-prepared have been known to indulge in a beautiful new piece of equipment 'just in case'. Because every purchase from the Gallery Shop goes towards supporting the Art Gallery of NSW, it's highly likely that when you're gazing upon a recent acquisition you're seeing all those showers and umbrella sales translated into art – a cosying thought for the next time you step outside into a drenching curtain!
Wet afternoon merchandise available from the Gallery Shop online
Previous post: In space, no one can hear you read
Next post: The eyes have it

September 02 2014, 12pm
by Holly Bennett
Creative and content coordinator