Bringing sound to silence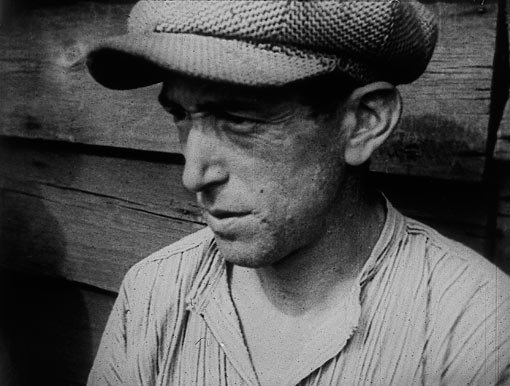 Still from Misère au Borinage
Made in the early 1930s, on the cusp of the sound era, Misère au Borinage is considered one of the most significant works of early political cinema, but screening it posed a particular challenge to the Gallery, which saw us creating a voice-over and musical soundtrack to accompany this silent classic.
Misère au Borinage was made by two leading figures of the film avant-garde, Belgian Henri Storck and Dutch Joris Ivens, and filmed during the aftermath of a bitter two-month long miners' strike which occurred in the Belgian Borinage region in 1932.
The filmmakers arrived with their camera after the uprising had been crushed by police. They immediately embarked on creating a semi-fictional propaganda film in which staged re-enactments and actual documentary footage would flow seamlessly together. Of course, tensions between the authorities and the workers were high and legitimate filming was officially forbidden. Undaunted, the filmmakers worked covertly and in constant fear of police intervention – but they had the workers and their families on their side. One of many dilemmas was coercing the workers to play police officers or mining officials in the re-enactments – no-one wanted to be cast as the enemy!
In curating a film series on social and political struggle, Misère au Borinage is an important inclusion. However, prints of films from this period are rare and difficult to source and often do not have an integrated soundtrack. This is how they were distributed when first released, but it should be noted that silent films were rarely screened in silence. During this era, cinemas ranged from primitive halls to luxurious picture palaces. Most accompanied their screenings with music performed on a range of instruments: a humble upright piano, a monumental Wurlitzer organ or even a 30-piece orchestra. Often the choice of music was left up to the performers, who would improvise as the story unfolded on the screen.
Misère au Borinage first appeared in 1933 as a silent film with intertitles (the once familiar full-frame cards which flash on the screen between shots to provide narration or dialogue). Undoubtedly it would have had many different styles of musical accompaniment as it toured. In common with many silent films, there were also numerous versions produced: a Russian sound version was made under Ivens' supervision in 1934, a version with music by André Asriel created in 1984. The print we are screening is a version modified in 1963 by Storck, who removed the intertitles and added voice-over narration by André Thirifays (in French). Included inside the film-can we received was a script translating the French into English, presumably intended to be read 'live' as the screening progressed. Our first thought for the Gallery screenings was to do just this – but would it work?
In consultation with Mark Taylor, audiovisual technician at the Gallery, we decided instead to pre-record the English voice-over. It is spoken by Anne Gerard-Austin, the Gallery's assistant curator of European art, who is also a French speaker. The resulting simple, unadorned soundtrack concurs with the original intention of the filmmakers to present the film in a stark and sober style. We have taken the liberty of adding short sections of music by two Melbourne musicians, double bassist Nick Tsiavos and saxophonist Adam Simmons. Theirs is a suitably sombre, melodic accompaniment to Stork and Ivens' powerful images of defiant miners, impoverished families, slag heaps and ruthless evictions.
If you want to see – and hear – the film, we're screening it on Wednesday 5 August 2015 at 2pm and 7.15pm and on Sunday 9 August at 2pm as part of our Wild in the streets film series in association with the exhibition See you at the barricades.
Previous post: David Strachan's salmon fricassé
Next post: Chinese artists in the Archibald

August 04 2015, 2pm
by Robert Herbert
Curator, film (until June 2017)