Would you wrap yourself in your best friend?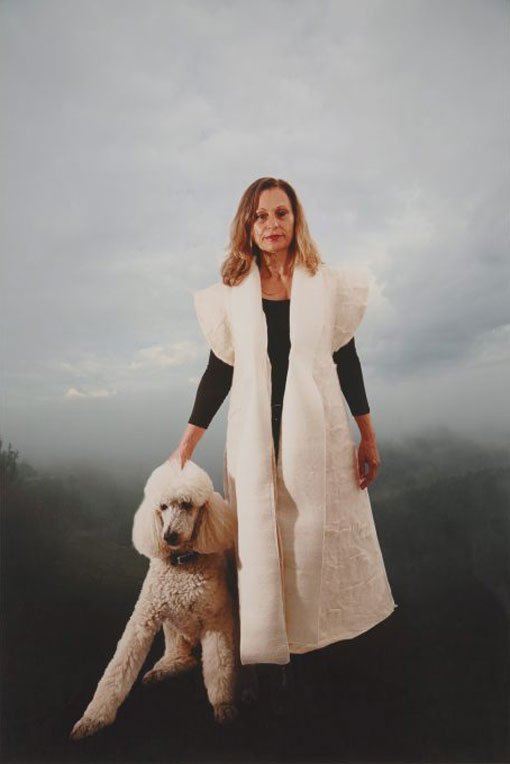 Julie Rrap and her dog Cloud in a detail from Anne Graham's Julie and Cloud, Art Gallery of New South Wales © Anne Graham
Would you wrap yourself in your best friend?
Artist Anne Graham proposes just such an idea in her series of felt coats and hats – made from a combination of sheep wool and dog hair – displayed alongside photographs of curators and artists wearing the garments, with their pet dogs in tow.
In Julie and Cloud, artist Julie Rrap appears with Cloud, a type of poodle, while Joni Walka, the director of ART in Japan, appears with his Irish wolfhound, Bacon, in Joni and Bacon.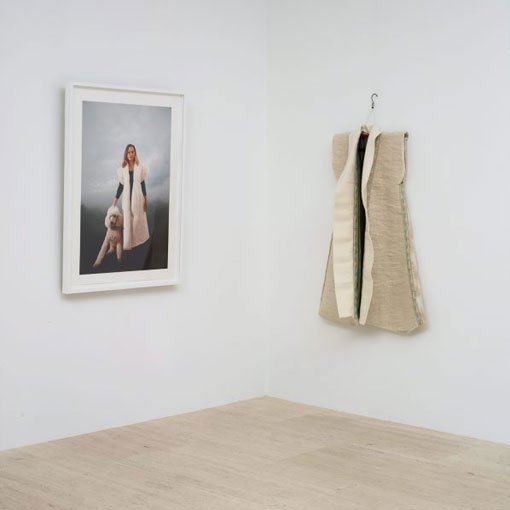 Making felt from animal hair is an ongoing tradition dating back to around 6500 BCE, and people in cold, harsh climates, including areas of Mongolia, southern central Asia, Scandinavia and Russia, still use this functional, flexible form of textile to make tents, blankets, footwear and clothing.
Felted fabrics can be made in various ways. Two common techniques are:
- Wet felt process. The animal fibres are softened with warm water, rubbed against each other and pressed together in layers. With this heat, the outer scale on the fibres open and slide over one another to become entangled, forming a physical bond, and the keratin or protein in the fibres also bond chemically together.
- Dry felt process This process, using needles, is generally restricted to smaller, more decorative elements of felting rather than larger widths of cloth.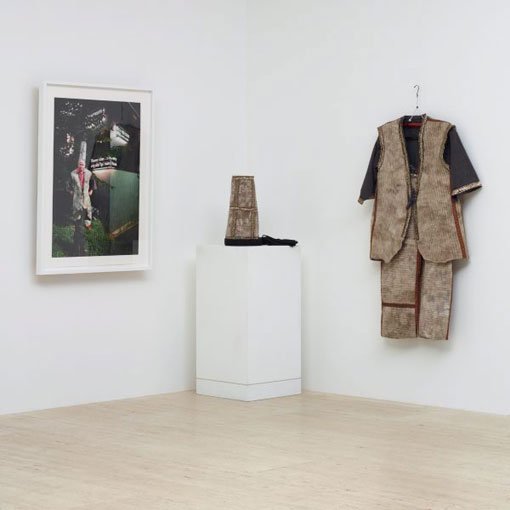 The use of dog hair in combination with other animal fibres is traditionally found in places where mountain dogs – breeds such as the Irish wolfhound, Bernese, Georgian, Armenian, Caucasian, Pyrenean and Himalayan Mountain dogs – are native. Dog hair is reported to be 80% warmer than wool!
Adapting to the conditions, mountain dogs have developed two types of hair: a softer undercoat, which is used for insulation, and a tougher upper coat, comprising stiff hairs that repel water and shield the underlayers from dirt.
The physical structure of dog hairs differs from those of a sheep. Dog hair fibres are generally shorter, and they also have a ridge on the outer cuticle. They do not form a strong physical bond when felted onto similar dog fibres so, to reduce the amount of shedding from the felted fibre, they are generally mixed with sheep wool.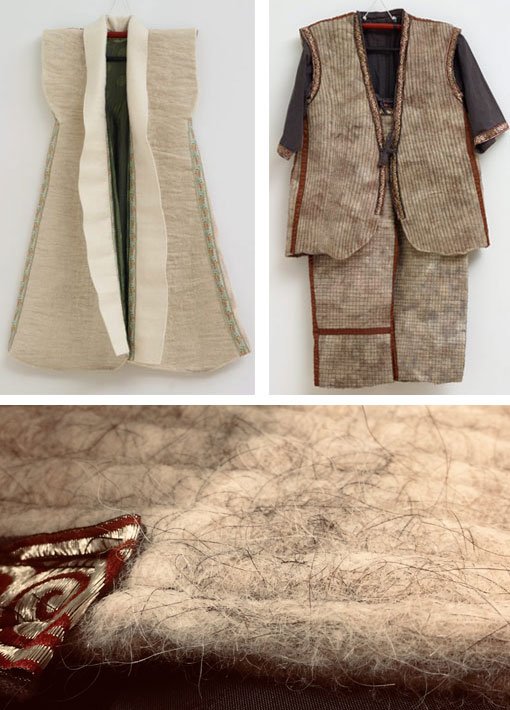 In Graham's work, the artist has reinforced the felted fabric further by machine stitching a grid-like structure over the felted fibres. She has also used decorative brocade ribbon to bind some of the open edges and seams to reduce fibre loss, and lined the clothing with recycled, factory-made garments.
Due to the thickness and weight of the felted garments, it is necessary to provide inner padded supports to the arms, legs and body for storage and display so that they retain their shape. Archival materials are used so the supports do not deteriorate the fibres they are in contact with over time. The original coat hangers supplied by the artist have been padded at the shoulders to support the weights of the coats. The original suspender straps are not weight bearing. Instead, additional straps have been added to support the weight of the pants more evenly. These additions have been discreetly hidden for display.
It is also necessary to check the garments after they have been on open display for signs of insect infestation. The protein fibres used in the felting technique are a source of food for insects such as the casing moth Tinea pellionella, clothes moth Tinea bisselliella and many types of carpet beetles such as Anthrenus varbasci. Before returning to storage, the garments are fumigated to ensure that they do not harbour insects that can hatch out and destroy the integrity of the artworks.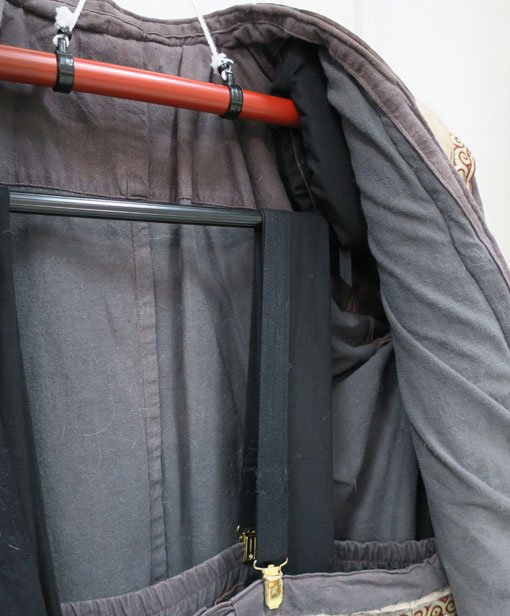 'My coats have a rather ceremonial quality and when worn by the owner of the dog, they indicate the close connection and bond between human and dog,' Graham told Janet McKenzie in an interview for Studio International.
'Dog hair is another waste material, but when combined with merino it makes felt, the oldest fabric known to man. My mother was a tailor and, as a child, I was surrounded by construction, I watched flat pieces of fabric transformed into 3D garments. I love the versatility of soft materials.'
Another inspiration was Joseph Beuys, who in 1974 wrapped himself in a felt blanket as he shared a caged space with a coyote in Coyote: I like America and America likes me.
Like Beuys, Graham uses materials to draw connections between nature and culture, asking questions about the nature of our memories and our relationships with animals and personal possessions.
Julie and Cloud and Joni and Bacon, from the Art Gallery of NSW collection, are featured in Exploded textiles, an exhibition of contemporary textile-based works at Tamworth Regional Gallery featuring works from both galleries.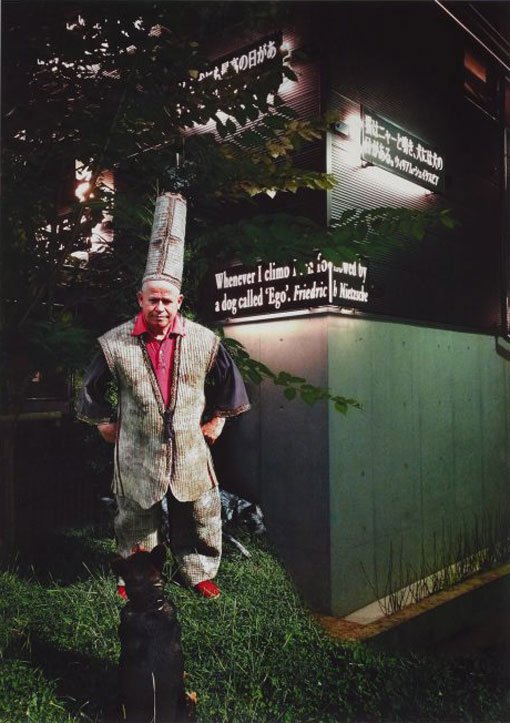 Previous post: Kimsooja in conversation
Next post: Matters of life and death

October 08 2019, 1pm
by Kerry Head
Conservator