Ben Quilty etching to say thanks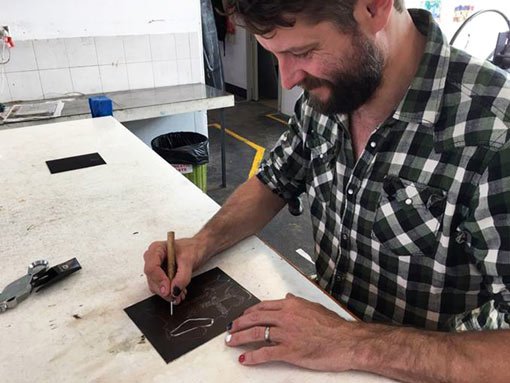 Ben Quilty at work on the etching
Artist Ben Quilty has created a poignant etching, which the Gallery's Foundation has published as a limited edition print and presented to long-term supporters as a gesture of thanks and gratitude.
Early last year, Quilty – who is also a trustee of the Gallery – travelled with Australian author Richard Flanagan to Greece, Serbia and Lebanon. There they witnessed the devastating impact of the refugee emergency that has engulfed the eastern Mediterranean since the Syrian crisis. One day, as they walked along a beach on the Greek island of Lesbos, they encountered a long line of discarded life vests, which Quilty later described as a 'high-tide mark of bright orange'. These had been left by Syrian refugees as they disembarked from the boats that had carried them over the water to safety. Those people were the lucky ones; the vests remained as markers of their survival. Many had not been so fortunate.
Quilty and Flanagan travelled to the region at the invitation of World Vision with the aim of gaining a deeper understanding of the plight of refugees and asylum-seekers, an international phenomenon with compelling and urgent resonance in Australia. The trip resulted in a collaborative book – Notes on an exodus – as well as two exhibitions by Quilty, at Tolarno Galleries in Melbourne and a group show at the Art Gallery of South Australia. It has now also resulted in a modest, but poignant, etching – Lesbos 2017 – published by the Foundation.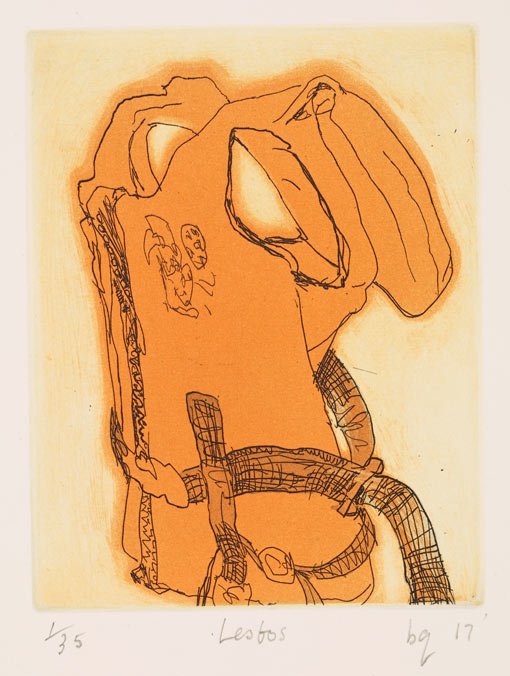 Lesbos depicts a child's life jacket, standing upright with its buoyant rear collar rearing high like the wings of an angel. The simple linearity of the image is infused with a bright, saturated orange in aquatint, bringing the viewer straight to the Greek island beach of Quilty's memory.
Quilty visited the near-deserted campus of UNSW Art + Design, Paddington on a hot January day to work at the Cicada Press. Headed by Michael Kempson – artist, master printer and senior lecturer and convenor of printmaking studies at the art school – Cicada produces prints with artists from around Australia, working closely with them to make and edition etchings and lithographs with the help of students and studio staff. It is an exceptional collaborative teaching model that extends the practice of artists while at the same time furthering the skills of young printmakers in the intricacies of making prints.
Quilty drew on an etching plate with a life vest standing in front of him as a model. The drawing and etching of the plate took just a few hours; once he left, it was over to the folks at Cicada to finish the work.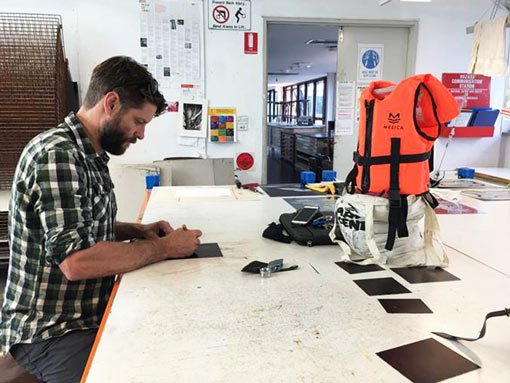 Quilty generously donated his time and creativity to make this special limited-edition print for a select group of people who were honoured for 25 years or more of continuous support and membership of the Foundation.
At a special dinner on 9 March to unveil the latest major donation to the Gallery – of Michael Parekowhai's monumental sculpture The English Channel 2005, bought with funds donated by Peter Weiss AM – each of these 29 long-term supporters were given a certificate of thanks as well as an etching.
The Foundation would like to thank: Lenore Adamson & the late Ross Adamson, Antoinette Albert, Timothy Allen & the late Prue Allen, Kate & Bill Anderson, Christine Bishop & the late Alan Bishop, Peter & Margaret Cary, Charles Curran AC & Eva Curran, Rowena Danziger AM & Ken Coles AM, Jane Douglass AM & the late Gordon Douglass, Peter & Robyn Flick, Rosemary Foot AO, Brian France AM & Philippa France, Judith Friend OAM & the late Jim Friend, Neville Grace, John Grant AM & the late Inge Grant, Ginny & Leslie Green, Ian & Rosemary Harper, Judy Joye, Ray & Diana Kidd, Elizabeth & Philip Ramsden, Alison Sandow & the late Max Sandow AM, Penelope Seidler AM & the late Harry Seidler AC OBE, Vivienne Sharpe & Tim McCormick, Gene Sherman AM & Brian Sherman AM, Gay Voss, Isaac & Susan Wakil, Peter Weiss AO, Carolyn Ward & the late Des Ward, Ray Wilson OAM & the late James Agapitos OAM.
And we can think of no better way to thank them, than by making art.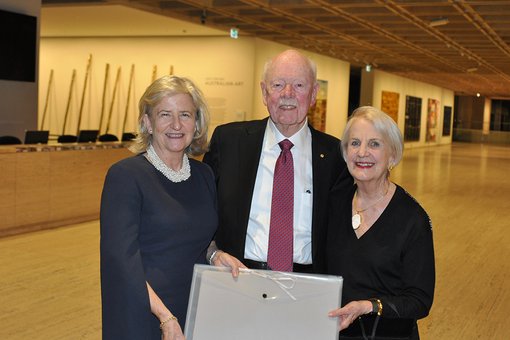 The Art Gallery of NSW Foundation is the Gallery's major acquisition fund and the umbrella philanthropic organisation for all the Gallery benefactor groups and funds. Find out more
Previous post: Digital natives in a post-analog world
Next post: Operation Art in its 19th year at the Art Gallery of New South Wales

April 10 2017, 12pm
by Anne Ryan
Curator, Australian prints, drawings and watercolours