We're back and louder than ever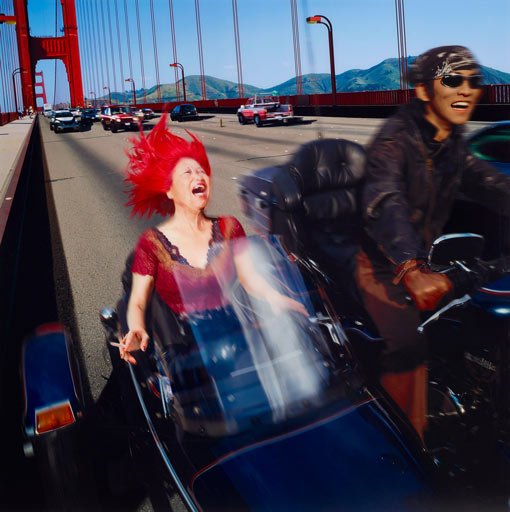 Miwa Yanagi Yuka 2000 from the series My grandmothers, type C photograph, 160 × 160 cm, purchased with funds provided by Geoff Ainsworth AM 2014 © Miwa Yanagi
2015 is the 40th anniversary of International Women's Year, and at the Art Gallery of NSW we're celebrating with the exhibition Loud!, which is followed by Rosemary Laing's solo installation then Julia Margaret Cameron: from the Victoria and Albert Museum, London.
Of course as a public gallery we need this level of representation every year, and we would stage these exhibitions regardless of it being this special anniversary for women.
Deciding what to do in the photography gallery concurrent with our major exhibition The photograph and Australia was an interesting process. If we did an Australian show, it would have appeared as an appendix of some sort. It had to be international and not related to The photograph and Australia's concerns, though it crosses over with portraiture and does indicate the sheer mindboggling diversity of the medium
We were also keen to show our recent acquisitions and to show photography as a medium and as a broad field of practice in context. With the exception of two works by Miwa Yanagi, which were in the 2002 Biennale of Sydney, we haven't been able to show any of the other works in Loud! since we acquired them – that's an indication of the backlog due to limited display space.
Thankfully, we have a dedicated photography gallery, launched in 2011. Loud! is our first exhibition back in the space as part of a major refresh of the floor following the Pop to popism exhibition.
Loud features four artists who are women and nine works – two series of three photographs plus three individual works – all made between 2000 and 2009. Half are framed and the other half not: those framed emphasise an interiority, the frameless emphasise colour saturation and gloss. All use photography and its relationship to the real as a tool and platform for the construction of possible personas; all have a demonstrable interest in excess, irony (if not humour) and absurdity; and, importantly, all have come to the Gallery through benefaction. The walls would, therefore, be bare if we didn't have that support.
Previous post: The compound lens project
Next post: Colour by numbers

April 25 2015, 9am
by Judy Annear
Senior curator, photographs (until July 2016)