Artist interview: Sara Hughes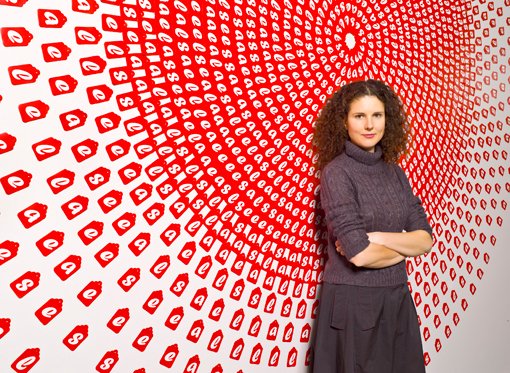 Sara Hughes with her work Torpedo, first installed at Gow Langsford Gallery, Auckland, 2008. Photo: Simon Harper
The dynamic painting Torpedo 2008 by New Zealand artist Sara Hughes took shape in New York against the backdrop of imploding financial markets. It is currently on display in the exhibition Out of the ordinary: works from the ARTAND Emerging Artist Collection.
Your work often explores issues central to contemporary culture – digital technologies, the global economy, consumerism, for example. How does Torpedo tap into these themes?
Torpedo reflects a variety of economic transactions from the stock exchange to the garage sale. It was created after spending a year in America, from 2007 to 2008, where I completed two international art residencies – at the International Studio and Curatorial Program (ISCP), New York, and McColl Centre for Art + Innovation, Charlotte, North Carolina. At the time I became influenced by the political climate in America, particularly the impending economic crisis and Democratic primary elections. I was interested in how colour was being used for both economic and political means, from supermarkets to CNN, and began looking at different configurations of consumerism, at patterns relating to wealth distribution, power structures and currency values. This led me to create new works such as the installation Scales of economy 2007 for an old bank building in Newark, New Jersey – a city once known for commerce, but now for a high crime rate and cheap dollar stores. I also created a series of works painted on found objects, including Mourn 2007 which included 300 clear plastic disposable food trays.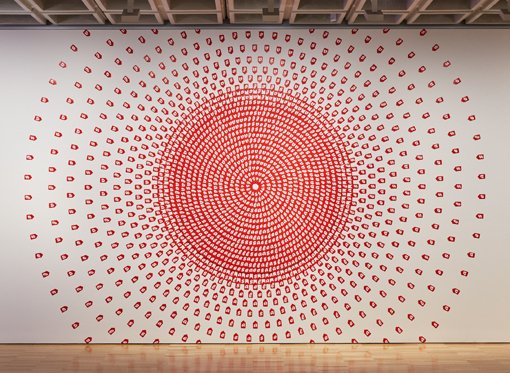 Torpedo also uses found objects – paper price tags – which are arranged in a manner that generates a feeling of intense energy.
The ISCP residency was in the Garment District in Manhattan, and the paper price tags were bought from a store on 37th Street that I passed every day on my way to the studio. For me, they speak of an earlier time – a stark contrast to today's barcode and digital economy. I was also interested in the contrast between the local garage sale that was common to the streets of Brooklyn where I lived, and the atmosphere of corporate, global collapse when getting off the subway at Wall Street. In the work, the repeating letters of S-A-L-E never spell out the word but I have brought them together, in a whir of red and white paint, as emblems of today's dizzying consumerism. The title also hints at the destruction that was left in the wake of the banking crisis.
Both your paintings and installations show a sustained interest in colour and pattern. What made you want to move from canvas and engage with architecture and space?
I am continually fascinated by the possibilities of painting and my practice is entangled in investigating its forms and functions. I am interested in the way we navigate and understand the world we live in and the effect that code and pattern have on our visual cognition. I am also interested in colour's unique position: on the one side, it is linked with taste and frivolity, and on the other, it is clearly linked to issues of power and identity. I have an ongoing concern with the relationships between colour and everyday life. Colour is a complex entity, constantly oscillating between emotion and content. I trained as a painter at art school and its history and materiality has continued to inform my practice ever since. For the past 17 years, I have been interested in ways to extend painting, looking at painting methodologies, what it can be and how it can engage with space and people. I frequently make use of devices from abstraction's historical framework, yet it is my aim to reinvestigate its modes and methods through contemporary culture and image-making.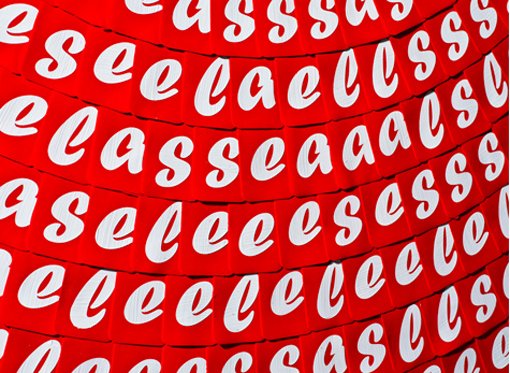 I was surprised when I realised each tag in Torpedo had been hand-painted. From a distance they look to have been mass-produced, or machine-cut from plastic.
It was important that Torpedo was 'painted'. The tags were dipped into thick acrylic house paint and the white letters were painted with a thick impasto white paint. It was my aim to allude to the mass-produced – the ever-present allure of the 'sale' – but to allow, upon close viewing, for the subtleties of the work to be experienced and open up further layers of reading.
Looking back at Torpedo, do you see the work as marking a particular moment in time for your practice?
Torpedo was strongly affected by the time I spent in New York. The experience led me to create further bodies of work that examined the deepening banking crisis, as seen in my exhibitions Feedback runaway 2009, which came out of a residency at Künstlerhaus Bethanien in Berlin, and Colour codes 2010, which investigated colours on banking websites. Currently I find myself gathering information on quite different topics, but I often find myself returning to the questions of 'what we see' and 'how we see' and interrogating the structures through which information is transacted.
Read other artist interviews from Out of the ordinary
Previous post: Souvenirest and dearest
Next post: One in five Australians

November 21 2017, 10am
by Lisa Catt
Assistant curator of international art