Artist interview: Jonathan Jones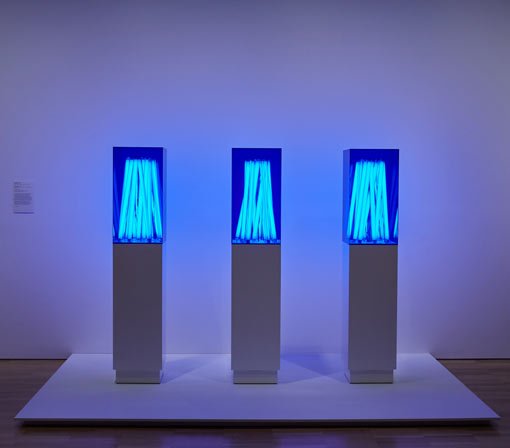 Jonathan Jones blue poles 2004, installation view, Art Gallery of New South Wales © Jonathan Jones
The Gallery's collection work blue poles 2004 by Sydney-based artist Jonathan Jones is currently on display, as an installation, in Out of the ordinary: works from the ARTAND Emerging Artist Collection.
The exhibition presents works by Australian and New Zealand contemporary artists who engage with everyday materials and imagery in surprising and transformative ways. Each work was created in the early stages of the artist's career and demonstrates a keen spirit of experimentation, while also illuminating the direction and development of the artists' current practice.
A member of the Wiradjuri and Kamilaroi nations of south-east Australia, Jonathan Jones often works with a variety of everyday materials, repurposing and reimagining them into artworks of striking formal quality and cultural resonance.
The title of your work blue poles appropriates that of a 1952 painting by American modernist Jackson Pollock, which has become part of Australian cultural history since the National Gallery of Australia acquired it. What exactly are you tapping into here – the artist himself, the history of modernism, art in Australia?
The title blue poles makes particular reference to a work by Jackson Pollock to highlight the role of appropriation within Western art movements. (Pollock's appropriation of First Nation ground works is widely critiqued.) But it also captures a number of interconnected ideas. For example, blue poles also considers the extraordinary work of the late artist Gordon Bennett, who was the leading Aboriginal voice on appropriation in Western art and often looked at Pollock's practice.
It also looks to the Australian modernist painter, curator and former Art Gallery of NSW director Tony Tuckson. Tuckson, much like Pollock, was inspired by Indigenous art movements. However, he actually owned his modernist point of inspiration and spent much of his life dedicated to Indigenous art. Not only did he provide the Art Gallery of NSW, but all Australian galleries, with a foundation to understand, display and curate Aboriginal art. The level of dialogue with 'primitive art' – as Tuckson called it at the time – achieved within his practice is unparalleled.
And then, as you mention, the title also references Pollock within an Australian context. The Whitlam government acquired the painting for the National Gallery of Australia in 1973. During his term, Whitlam generated important reform for Aboriginal people. So thanks to Whitlam, and Tuckson and Bennett, Aboriginal people will always be in dialogue with the western canon and not just a subject. This work thinks about these national works, issues and people to generate a better understanding of them.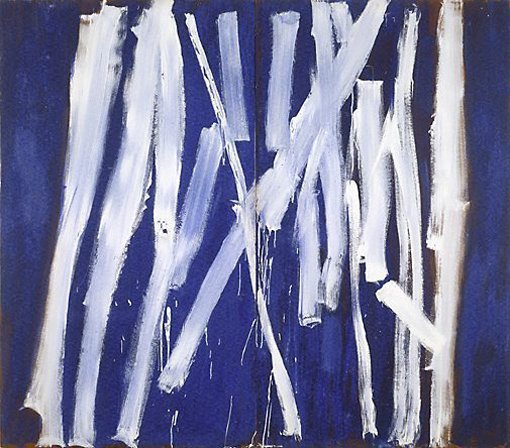 There is a strong formal connection between the arrangement of the fluorescent tubes in blue poles and the line work in a painting by Tuckson in the Gallery's collection.
Yes, the work leans on Tuckson's painting White lines (vertical) on ultramarine 1970-73, which can be read as an ode to Tiwi tutini. Tuckson was particularly interest in the Tiwi artists as well as master bark painters from Arnhem Land.
The lines of light I create in my work are also connected to the Aboriginal line designs specific to south-eastern Australia. In this region the line is used to create patterns and designs, often carved into wood, skin and the ground. These designs are best illustrated by the region's carved wooden shields and the works of Tommy McRae and Uncle Roy Kennedy. This work is based on continuing this cultural vernacular.
Light is just one of the many mediums you work across. What initially drew you to using light as part of your practice?
As a medium, light works well to explore the core objectives of my art practice – the mapping of relationships and the representation of knowledge in ephemeral yet connected ways. I'm interested in the way light transgresses space and operates within and beyond the physical constructs of its environment.
I was initially drawn to light to represent how communities can be defined by their collective knowledge, while individuals can be defined by their knowledge within the community. This relationship is realised through the grouping of lights. In blue poles, groups of individual fluorescent tubes create overlapping light, a shared space that becomes one body of light.
Since blue poles, which you made in 2004, you have continued to work with light in more ambitious and expansive ways.
Within a Western, or mainstream, construct, artists are predominately encouraged to work within a gallery space. This is something I find uncomfortable. blue poles was an attempt to create a gallery work that responded to the 'site' of the gallery. The work is restrained within the tight formation of a traditional gallery plinth yet the light permeates the space and works beyond the plinth, while critiquing the history of the gallery as constructed by the west. My more recent works are less appeasing to the gallery context.
Related works on display
Visit the Australian galleries to see Tony Tuckson's White lines (vertical) on ultramarine 1970-73 as well as Tiwi tutini and Arnhem Land bark paintings he commissioned for the Gallery.
Related videos
Watch videos online, featuring Jonathan Jones, created for the 2015-16 exhibition Murruwaygu: following in the footsteps of our ancestors, about carved wooden shields, 19th-century Koori artists including Tommy McRae and self-taught Koori artists including Roy Kennedy
Previous post: Grace Cossington Smith and the Macquarie Galleries mystery
Next post: None of these women are naked

August 24 2017, 2pm
by Lisa Catt
Assistant curator of international art