Who's that artist in the window?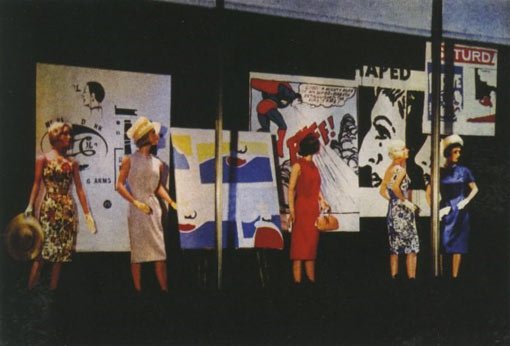 Andy Warhol's window display at Bonwit Teller department store, 1961. Photograph by Nathan Gluck © Estate of Nathan Gluck. Courtesy of Luis De Jesus Los Angeles
Before pop, Andy Warhol was an award-winning commercial artist. Not just an illustrator, he also created window displays for some of New York's leading stores including Bonwit Teller on Fifth Avenue.
But Warhol wasn't alone. As he once recalled, 'Everybody… was doing window decoration.'
Emerging artists like James Rosenquist and Roy Lichtenstein produced store displays, as did Jasper Johns and Robert Rauschenberg. The latter didn't use their own names and worked under the collaborative name 'Matson Jones', for fear of tarnishing their reputations as avant-garde artists – and, probably, for fear of revealing their homosexual identities. ('Window dressing' for the feminised world of shopping was considered effete, a 'camp' activity done by gay men – though Warhol never minded owning his work.)
Most of these artists – who would soon become the most famous names in American art – were commissioned by the legendary Gene Moore, who had been appointed display director at Bonwit Teller in 1945. Moore usually asked them to design windows on specific themes or products, but sometimes he gave them the opportunity to exhibit their own work.
In 1955, Sari Dienes – one of the few women to be commissioned by Moore – made a display of her 'Sidewalk Rubbings', and over the next couple of years, Jasper Johns showed some of his ground-breaking flag paintings for the first time – including Flag on Orange – in the Bonwit Teller windows.
Elsewhere, at Macy's, in the early days of his career, industrial designer Raymond Loewy dressed windows, and the wonderful (and wonderfully famous) Christmas windows at toy store FAO Schwartz were created by children's book author and illustrator Maurice Sendak.
It had all started years before when, at the tail end of the Depression era, the idea of stimulating retail activity through eye-catching window displays took on a desperate edge. In 1936, Bonwit Teller had created a famous display with works by Salvador Dali and Rene Magritte – starting a trend of surrealist-inspired window dressing that would dominate for the next decade.
Dali came back to the store in 1939 to create what Time magazine called 'Manhattan's screwiest window display'. His semi-nude mannequins had store officials running scared but their last-minute decision to 'dress' them was a mistake. An angry Dali appeared in the window and suddenly he, and the fur-lined bathtub that was a focal point, came hurtling out of the window. Dali was charged with disorderly conduct.
It was Dali's efforts (the windows, not the disorderly conduct) that inspired Moore, who truly valued the creative approach to display that artists brought. Moore developed that approach beyond Bonwit Teller, in 1955 kicking off a nearly 40-year stint as store vice president for window display at Tiffany & Co. He went on to make Tiffany's store windows – several also designed by Warhol – world famous.
The only surviving photographs of most of Warhol's windows are by Virginia Roehl, a dedicated window display news service for 'upscale' stores. They are preserved in the archive of Dan Arje – a designer and later display director for Bonwit Teller – in the New School Archives.
Nor did the Bonwit Teller building survive: it was demolished in 1980 to make space for Trump Tower.
The exhibition Adman: Warhol before pop is on now at the Gallery. Or delve into Warhol's pre-pop world online.
Previous post: Vale Sydney Ball
Next post: Digital natives in a post-analog world

March 16 2017, 12pm
by Jackie Dunn
Writer and exhibition researcher