ARTEXPRESS is...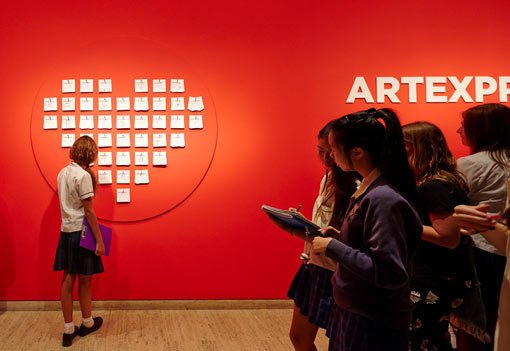 Featuring a selection of student artworks from the previous year's HSC, ARTEXPRESS is one of the Gallery's most popular exhibitions. The talent, creativity and passion of the young artists is inspiring.
This year, we've been giving visitors an opportunity to express what ARTEXPRESS is to them via a message board at the start of the exhibition. We've reproduced ten of our favourites below. (Click one of the small images to start the slideshow.)
Visit Inside ARTEXPRESS to see all the works from this year's exhibition online and listen to the students speak about their work.
You've got until 5pm on 11 May to see the exhibition for yourself, and perhaps let us know what ARTEXPRESS is to you.
Previous post: Not your average jewels
Next post: Hole lot of fun

May 01 2014, 12pm
by Leeanne Carr
Coordinator of education programs and ARTEXPRESS curator