An art tour that's like a dinner party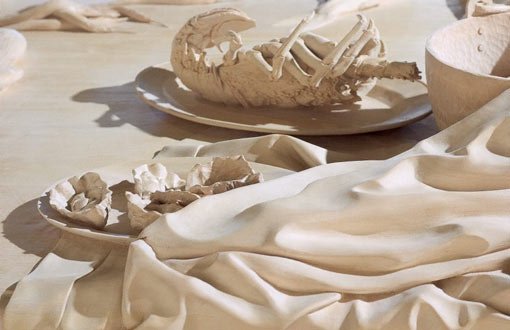 Ricky Swallow Killing Time 2003 (detail)
Interacting with art can be more than just enjoyable, it can be therapeutic, even transformative.
In Australia, there are more than 342,800 Australians living with dementia and an estimated 1.2 million people involved in their care. I'm one of 40 trained volunteer guides who assist with the art and dementia program at the Gallery. On each of our tours, we offer people with dementia and their carers a structured way to experience three works of art. We help them look at and interpret these works so they might make connections to their own lives, recall stories of the past or create new stories.
It's an illuminating process for us guides too. Here are some of the things I've learned along the way.
1 Treat the tour like it's a dinner party
Think of it as participants coming to your home for dinner and sitting around the dining table, having a great discussion, laughing, learning and engaging with each other. It's about using the artworks to facilitate conversations, peppered with artistic facts. Just like at a dinner party, you get some people who talk a lot and those who need some coaxing. I find artwork is a great conversation starter.
2 Sometimes the best way to get people to talk is to say nothing
I try to give participants my undivided attention, a sense that they are respected and that what they have to say is valuable. Most importantly, I give them the time and space to think and then respond. After asking a question, we can easily sit quietly for a long time, just to let everyone process their thoughts and formulate their responses. This is crucial to the success of a tour.
3. Repetition is the sincerest form of flattery
It's an adaptation of an old adage but it really does help if I repeat what participants have said so that everyone in the group can follow the thread of the conversation. It gives them a feeling of being alive and creates the right environment for a purposeful and meaningful discussion. It also helps if I use the individual's name repeatedly. This seems to make people feel acknowledged and validates their opinions.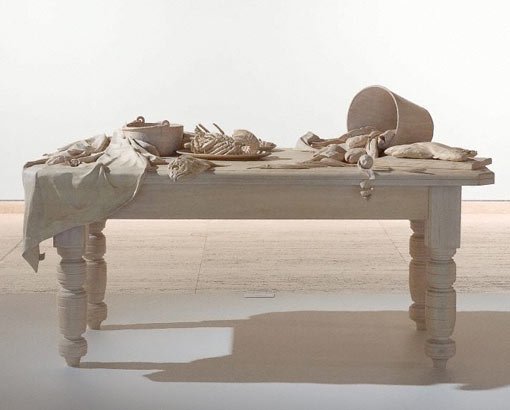 To illustrate how these ideas work in practice, and what a difference these tours can make, I'll share just two of countless stories.
There was a gentleman on one tour whose body language was quite closed. His arms were crossed around his chest and he did not speak at all as our group discussed the first artwork on the tour. The second artwork was Ricky Swallow's Killing Time – a table with different types of seafood lying on it, all beautifully handcarved in wood.
Now food is always a good talking point and this was a fantastic example of an engaging piece of art, yet this man was still not showing any interest in the discussion. So I asked him, 'If it was your birthday party, what sort of food would you like to see here?' All of a sudden he cracked a huge smile and said he would like a homemade orange and poppy seed cake on the table. After that, I could not keep him quiet. In fact, it sparked a lengthy and heated debate among all of the participants about what was the best flavour of birthday cake!
From then on, the man talked and talked and talked. We learned how he used to love to paint as a boy and how he would enjoy painting again. Also, his body language completely changed. He was using big hand gestures, smiling and laughing with the other participants.
What made the experience most fulfilling for me, as a guide, is that when the tour was over, his caregiver pulled me aside and said this was the first time this gentleman had said anything in eight months!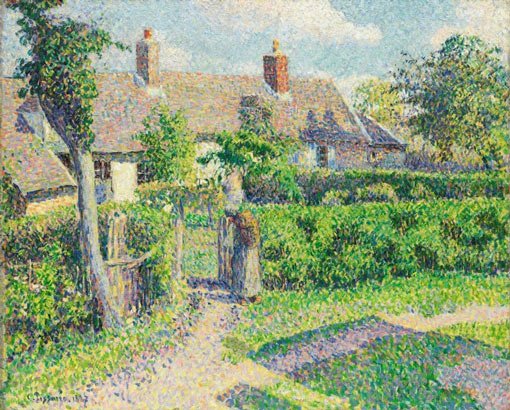 On another art and dementia tour, we were joined by a woman and her son. She started off very distracted and demonstrated no interest in art at all or in what we were talking about. I then took her to Camille Pissaro's Peasants' houses, Eragny, which shows a beautiful garden out the front of a thatched cottage. All of a sudden, this woman began speaking fluent French. She was animated and incredibly excited to see the painting.
I asked her son, what was she saying in French, what memory was this unlocking? He said as a young woman she had spent a few years in rural France and it was a very happy time in her life. While there, she learned to make flower arrangements. What's more, the woman shared with us that she recently started painting flowers and described what an enjoyable activity it was for her.
My own background is in corporate banking and I also have a masters degree in museum studies, specialising in education. I can emphatically say that working on the art and dementia tours is the most rewarding work I have ever done.
State Street is principal sponsor of the Gallery's art and dementia program. Find out more about our access programs including our art and dementia tours
Previous post: Did you see that?
Next post: The compound lens project

March 19 2015, 10am
by Kica Saar
Volunteer guide