Art Stuff: our blog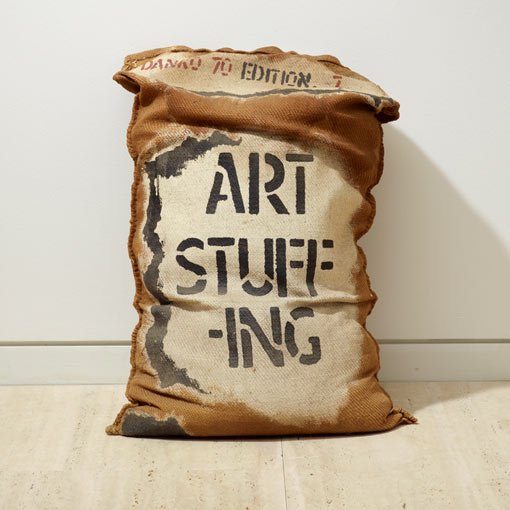 Aleks Danko Art stuffing 1970 © Aleks Danko
Are you a subscriber to the Art Gallery of NSW blog? Not yet a subscriber? Well, either way, we all agreed 'Blog' is not such a great name for a blog. A bit like 'Newspaper' for a newspaper.
We wanted to christen our blog with a name that better reflected its identity as the site of a whole host of exciting content. A place for stuff, art stuff.
It's a place to read the thoughts, feelings and opinions of a range of Gallery people, from those in the Gallery Shop to exhibition managers, from curators and educators to conservators.
So welcome… Art Stuff!
Where did the name 'Art Stuff' come from? Well, given that it seemed to suggest itself to several Gallery staff at the same time, we think a certain sculpture, on display in the John Kaldor Family Gallery in 2011, may have had a subconscious influence.
In his first show in 1970, while still a young Adelaide art student, Aleks Danko created a work that summed up his humorous take on the pomposity – and near ineffability – of the artworld: Art stuffing.
Danko's wit was already biting hard by the early 1970s, and it was the artworld that was most often its target. His earliest pieces reveal a forensic scrutiny of its structures, agendas and sacred cows, and still today his practice remains a sustained critical analysis of culture.
Early pieces such as Art stuffing were quickly snapped up by the eagle-eyed John Kaldor, then building his extraordinary collection of Australian and international artworks – and Danko became part of the John Kaldor Art Project 2: Harald Szeemann in Australia, staged at the Bonython Gallery, Sydney and the National Gallery of Victoria that same year.
In an interview with James Gleeson in 1979, Danko said he makes work with a: 'kind of nonsense approach or apparent nonsense approach to [people's] kind of very serious attitude towards art making or art objects or whatever or aesthetics…'.
Sounds like the perfect artist – and artwork – to inspire a blog registering the thoughts, feelings and opinions of a range of Gallery people.
Previous post: Ai Weiwei: an archive
Next post: Back in black

July 07 2015, 9am
by Jackie Dunn
Writer and exhibition researcher