Art gives energy to our dreams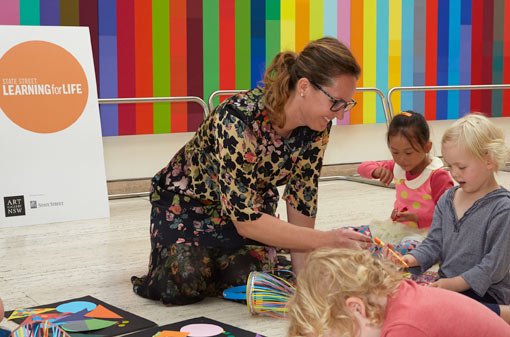 Del Kathryn Barton with young Gallery visitors in front of Robert Owen's Cadence #1 (a short span of time) 2003
Facilitating ways for people of all ages to experience art in all of its rich and splendid diversity insures and grows the life-blood of our Australian – and indeed global – culture.
Yesterday, I was at the launch of an important new education partnership between the Art Gallery of NSW and State Street – Learning for Life. I was there because art means everything to me. I believe it fundamentally underpins what it means to be human. Creativity is what sets us apart.
One of the reasons that I was moved to support this partnership is my deep love for, and personal history with, the Art Gallery of NSW. It simply is one of my favourite public gallery spaces in Australia. Looking at great Australian and international art within these walls has, at times, allowed for moments of personal revelation, informing and energising not just my creative practice, but the deeper urgency of my emotional and intellectual life.
Essential to any gallery education program is the adventure of bringing children into art spaces. This exploration is something that, as an art mother, is very close to my immediate life experience and heart. What a gift it has been following my two children with their clean, brutally honest, unwavering eyes around many galleries across the world. The immediacy with which my children (and, I believe, all children) engage in art experiences has indeed intensified and enriched some of my encounters with art.
In the context of considering what I would say at the launch, I asked my eight-year-old daughter why she liked learning about art. She said: 'Mummy, looking at art gives energy to my dreams'.
The manifold joys and benefits for children within art experiences are too great for me to even begin to cover here (and I am no expert on education) but I would like to share a couple of my own observations.
Firstly, I believe one can never underestimate the importance of programs (like the ones provided here at the Gallery) that offer children opportunities to engage in diverse aesthetic experiences. Looking at art, talking about art and making art is, for children, pleasure of the highest order. Within this, children can connect to the inestimable power of the imagination and understand how art continues to shape, document and celebrate our shared human experiences.
Lastly, and perhaps for me most importantly, within these types of educational structures children can develop confidence and conviction in their own very personal responses to the wildly diverse and often non-linear narratives offered up by the art within the walls of world-class art galleries, like the Art Gallery of NSW.
Some of my early art education indeed happened within these walls. I drew obsessively as a child and my only dream was to become an artist. Growing up in rural bushland, the extremely rare visits to Sydney and to the Gallery impacted me on a very deep level. Because my exposure to galleries was very limited throughout my childhood, those moments became extremely pivotal and indeed remain so heightened in my memory.
At the core of the Gallery's education program's philosophy is the belief that a vital engagement can come from the direct experience of the original work of art. This inherent belief is something I am also very passionate about. At best, one should encounter art with all the intended authenticity consciously offered by its maker. I believe (and forgive me if I am sounding too idealistic) that these kinds of art encounters bring us more fully into our bodies, minds and hearts. For me, great art across all disciplines offers us glimpses into life's inexplicable mystery.
I am going to end with a quote from one of my art heroes – Louise Bourgeois – who quite simply said: 'Art is a guarantee of sanity'.
Previous post: Art is you
Next post: Perplex yourself

March 26 2014, 10am
by Del Kathryn Barton
State Street Learning for Life ambassador (2014)