An art of gold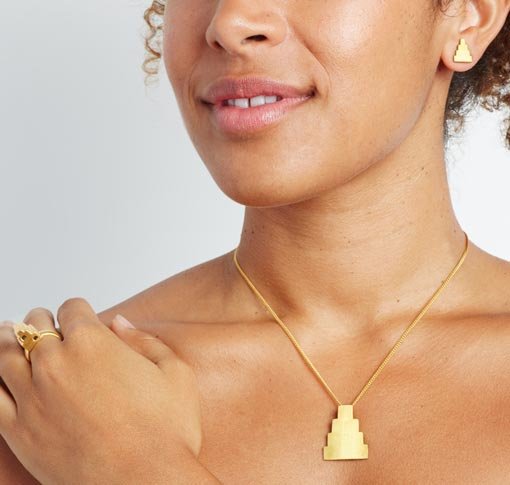 If you have a golden gleam in your eye after visiting the Gallery Shop recently, chances are you've been spellbound by the PUSHMATAaHA jewellery range custom-made to complement the exhibition Afghanistan: hidden treasures from the National Museum, Kabul.
I chatted with Maryanne Marsh, the Gallery Shop's product developer, and Virginia Rouse, creative force behind PUSHMATAaHA, in the cafe to find out what went on behind the scenes to produce the collection.
One of the first steps was to seek permission and feedback from the National Museum's collection custodians, who were enthusiastic in their support. The creative process then kicked into gear for Virginia. 'Maryanne gave me the catalogue of the exhibition and I went through it for a week, spending a long time just sitting quietly, letting it go through my head. Then I went through and said, "OK, we'll use these motifs" – it was literally within four hours.'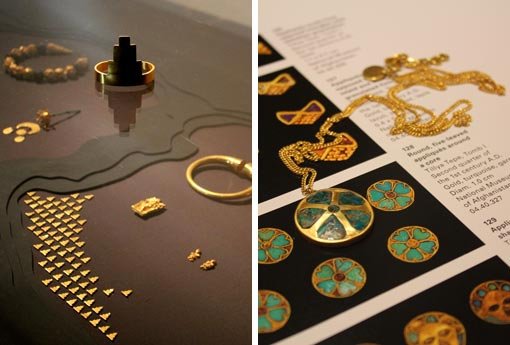 The next stage involved Virginia drawing up the design specifications and bringing them in to peruse with Maryanne and Gallery Shop manager Rebecca Allport. What happened then?
'Well, they were very polite,' Virginia begins, as Maryanne makes disbelieving noises across the table. 'No, they were! Because the initial designs were there, and they were saying "I like these motifs, I like this, but we need a bigger earring", figuring out the basic logistics of what shapes and pieces would work with those. I put down a lot more designs than were selected, and it's really good. I suppose it's like anything – you come up with a whole scenario, and then you have somebody clever who can edit, and that editing's as much a part of it as having the initial drawings.'
Maryanne adds: 'But also, I think certain elements you came up with we then extended. So we'd subtract one thing from the equation, but add to it. "We want those, but we want long and short. We want that, but can you make them bigger and dangle?" An element we know will work, we'll expand upon. And after Virginia supplied some drafts and specs of these, I took them upstairs to show everyone behind the exhibition, and they said, "Bring it on! Great!"'
After the design and selection stages, Virginia calculates it took around four to six weeks to see the first prototypes and decide on the right finish and stones for the pieces. Lapis and chrysocolla, or Peruvian turquoise, are both showcased in the range, with Sleeping Beauty turquoise featuring in the more delicate pieces.
From prototype, the collection was crafted over the next two months to be ready for the exhibition opening. PUSHMATAaHA jewellery is all handmade by artisans in India, and the individual nature of the pieces is a significant aspect of the range.
'It's important because the pieces in the Afghanistan exhibition are all handmade,' Virginia says. 'And people instinctively know that, they can tell when something's come off a production line somewhere. With these, everything's slightly different. It doesn't matter how much you try and make it the same, it's all different.'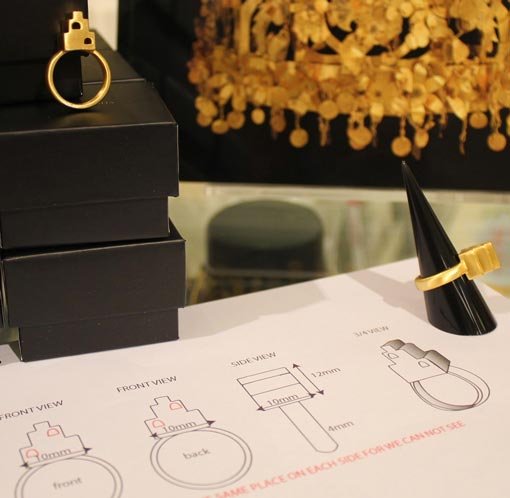 I wonder if there were any of her pieces that stand out for Virginia in particular.
'There was one piece, the little pyramid house ring… The pyramid motif was in the exhibition, but I decided to make it 3D. I was having one of my more wacky moments and I thought "nobody's going to like that", and then Maryanne said "Oh, I LOVE this" immediately.'
She pauses to consider. 'I wish they were a bit bigger, though. I'd like to live in that ring!'
When I ask if Virginia can give a quick rundown of her history as a designer, the answer turns out to be a vigorous no.
'I don't really consider myself as a designer to be honest. I've done all sorts of things from – don't die – supplying incontinence pads to Japan, building nursing homes in Japan, to directing feature films and doing stills photography in feature films. I'm just one of these people who likes to reinvent myself every so often. I suppose the core is trying to make people happy. So design for me, it's about loving and creating beautiful things. I think the reason the human race exists is because we create beautiful things. Otherwise I think we've got a lot to be ashamed of.'
A saving grace? 'It is! I do think we are creative people, and we need – to be corny here – to learn to be kind. And I think that when you look at beautiful things, it's an easier way to be kind. Does that make sense? So I'm not a designer, is the answer. Thanks for the question.'
The creation of beautiful things has certainly been the result of this collaboration, and those words of Virginia's mirror Maryanne's summary of the design relationship: 'We asked the question, but you came up with the answer.'
Previous post: In the frame
Next post: The show goes on

April 17 2014, 11am
by Holly Bennett
Creative and content coordinator