Ai Weiwei: an archive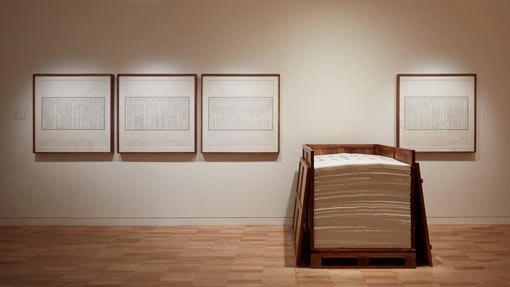 Ai Weiwei An archive 2015, huali wood, Xuan paper, The Gene & Brian Sherman Collection, and Sherman Contemporary Art Foundation, Sydney © the artist
'It's such a wonderful thing, the internet,' says Chinese artist and prolific blogger Ai Weiwei. 'People who don't know me can see exactly what I'm doing.'
From social media to documentaries, architecture to installations, Ai uses a wide range of mediums to encourage his audience to question and confront society and its values.
Putting his life on display is part of his strategy. For the exhibition Go East: The Gene & Brian Sherman Contemporary Asian Art Collection the Shermans commissioned a new work by Ai and he responded by developing An archive, a calligraphic recollection of his blogging and internet activity from 2005 to 2013. He describes the work in this videoed artist statement:
Although they appear documentary and nondescript, the blog posts in An archive represent Ai's ongoing resistance to censorship. Curator Hans Ulrich Obrist has argued that Ai's blog can be seen as 'social sculpture', a term coined by German mid-20th-century artist Joseph Beuys to designate actions and structures within society as art. Beuys' belief in the political and social efficacy of works of art, underpinned by his expanded definition of art that framed everyone as an artist, plays out in Ai's politically charged provocations. 'Everything is art. Everything is politics,' Ai has said.
Armed with his blog and other forms of social media, Ai turns every attack upon him into a work of art that only calls further attention to authoritarian systems that reject open, democratic processes.
Gene Sherman got to know Ai Weiwei in 2006 through the Sherman Visual Arts Residency programme, and the work he created for the first Sherman Contemporary Art Foundation (SCAF) project in 2008 was one of his first international shows.
Says Gene: 'Ai Weiwei is a Renaissance man: artist, architect, activist, educator, editor, performer and more. For me he sits in a lineage that includes Verdi's socially progressive court jester Rigoletto, Voltaire, Mahatma Gandhi, Nelson Mandela and all inventive, brilliant, creative and courageous individuals, whose firmly-focussed moral compass points towards the facts as opposed to accepting fictions engineered by dictators. Ai Weiwei epitomises artistic endeavour for me, whether he is creating monumental installations, blogging, signalling social injustice or critiquing historical events, as can be seen in his work in Go East.'
Go East is presented in partnership with Sherman Contemporary Art Foundation (SCAF), Sydney. It is exhibited across two sites: the Art Gallery of NSW and SCAF in Paddington.
Previous post: Fiona Hall in Venice
Next post: Art Stuff: our blog

July 06 2015, 10am
by Macushla Robinson
Curatorial assistant (until October 2015)