A year that shook the world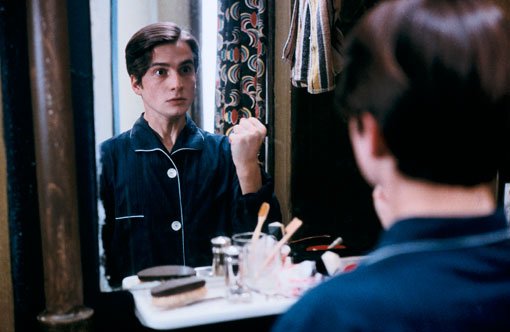 Still from Stolen kisses
To commemorate the golden anniversary of 1968, the Gallery's latest film season offers a genre-spanning, globetrotting snapshot of a year that shook the world.
In this moment of worldwide reinvention, cinema witnessed a parallel overhaul. Under the banner of New Wave movements, exciting filmmaking talents boldly dispersed international cinema's established centres of gravity.
In Latin America and Africa, the first stirrings of Third Cinema decried colonialism; in Eastern Europe, artists rebelled against the strictures of social realism and in South East Asia, the cinemas of Singapore and Cambodia entered their golden ages.
Filmmakers looked beyond national and aesthetic borders: drawing succour as much from arte povera, situationism, and pop art as the now decade-old French nouvelle vague. Bringing together ten landmark films released in 1968, this season offers a global cross-section of a remarkable moment in time.
Cinema '68 (screening 28 February – 6 May 2018) showcases the singular visions of post-revolutionary Cuban cinema, Japanese nūberu bāgu, the Italian spaghetti western and more.
In subsequent decades, cinema has obsessively revisited the legacies of 1968 – think, for instance, of Bertolucci's 2003 feature The dreamers. Yet in the tumultuous year itself, filmmakers were already preoccupied with the project of working through the past. Themes of posterity, transformation and the surprises of memory turn up from François Truffaut's classic comedy Stolen kisses (screening 28 March and 1 April) to Hong Kong feminist trailblazer Tang Shu Shuen's modernist masterpiece The arch (18 and 22 April). Filmmakers not only documented the upheavals that surrounded them; they were active participants who ushered in change. The films across this series register a newfound awareness of the role of cinema in history.
Filmmakers took stock of the present by reflecting on cinematic memories past. On the edge of a decaying Hollywood studio system, this took shape in the figure of Burt Lancaster as a delusional advertising executive in The swimmer (7 and 11 March). Screenwriter Eleanor Perry brilliantly expanded John Cheever's classic story about one man's identity crisis into a broader meditation on the divided mood of homo americanus during profound social upheaval. Lancaster, captured in Technicolour, is shown to exist in a fantasy world where the clink of highball glasses prevails over the din of nationwide protests and riots occurring just outside the frame.
Across the North Atlantic, celebrated iconoclast Dušan Makavejev's Innocence unprotected (25 and 29 April) brings us a faded mid-century matinee idol of a different order: Aleksić the acrobat. In 1942, under the nose of the Nazis, Aleksić directed and starred in the first Serbian talkie, Innocence unprotected. This pioneering melodrama – replete with footage of Aleksić wooing his sweetheart with outrageous daredevil stunts – was banned during the Occupation and literally buried underground. In 1968, Makavejev rediscovered the original and, in trademark collage style, interwove interviews with cast members including a now-aged Aleksić, still triumphantly flexing his muscles. The tragicomic figure of the acrobat stands as an icon for the Yugoslav Black Wave, a short-lived film movement which flourished during a moment of state liberalisation in the late 1960s.
Presented on rare 35mm prints sourced from archives across the world, Cinema '68 is an invitation to revisit a phenomenal year. These stories about time-travel, zombies and lost arts remind us that – even in 1968 – the present moment was never immediately at hand but rather expectant with its future and haunted by the past.
A version of this article first appeared in Look – the Gallery's members magazine
Previous post: Artist interview: Kushana Bush
Next post: When Violet painted Margaret Alice

February 22 2018, 4pm
by Ruby Arrowsmith-Todd
Curator, film