A painting of a painter painting a painting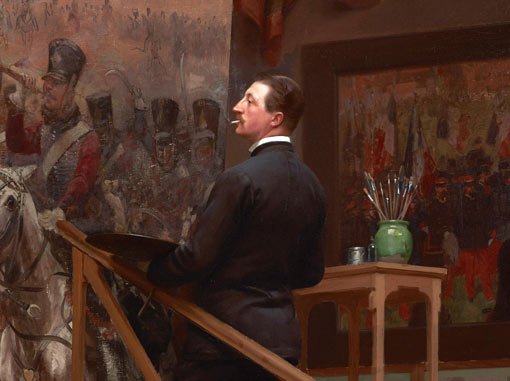 Detail from Basile Lemeunier's Portrait of Édouard Detaille 1891
Yesterday we celebrated a most unusual addition to the Art Gallery of NSW collection – a late 19th-century painting by French painter Basile Lemeunier which we've bought with the financial support of our Gallery members organisation.
The picture shows one of France's greatest military painters, Édouard Detaille, at work in his studio in 1891. In front of him is his vast canvas Vive l'Empereur – which has been in the Gallery's collection since 1893, when it became our most expensive acquisition to date.
Since then, Vive l'Empereur has become one of our best-loved and most significant works, and now it has a perfect companion! If you visit our beautiful Grand Courts, you can see a great painting next to a painting of the painter painting it – an opportunity that is possibly unique in the world.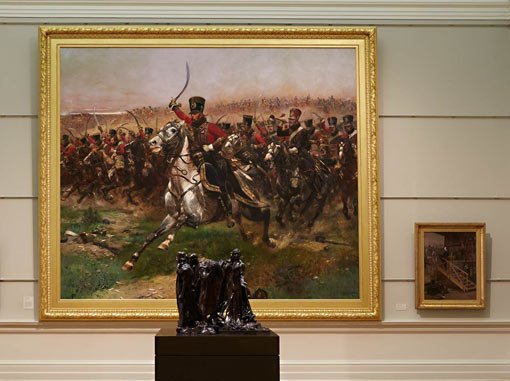 Detaille was a successful academic artist, renowned for his heroic battle scenes. In this thrilling portrait by his faithful assistant and friend Lemeunier, he stands at the top of an elegant set of studio steps. Casually smoking a cigarette, Detaille pauses in his work and contemplates his painting in progress. With immaculate technique, Lemeunier meticulously surrounds the painter with all the props of Detaille's studio and immediately absorbs us in its intimacy.
We discover Detaille's living 'studio-museum', stacked with military artefacts, uniforms, guns and sabres strewn around in close proximity with paint tubes, palettes knives, bottles of various liquids, canvases, drawings in and out of portfolios and so forth, along with photographs, studies and other sketches carefully mounted in a group along the wall behind.
As always, it is only close inspection that reveals such rewarding touches as the cigarette butt flicked to the ground but still smouldering; and only 'in the flesh' will you see blue-golden spark of the new cigarette at Detaille's lips.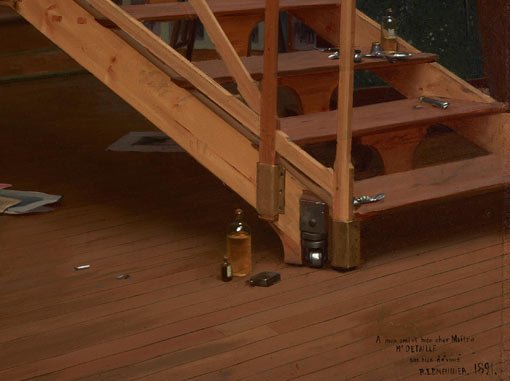 It is only long looking that reveals such details as an intriguing purple taffeta scarf messily left atop of what looks like an easel, and a set of letters tied by a silk ribbon and accompanied by a violet in a small glass vase. These details suggest an absent lover, very probably the famous courtesan Valtesse de la Bigne, a close friend to artists such as Édouard Manet, Eugène Boudin and Gustave Courbet as well as Detaille, and the model for Émile Zola's novel Nana.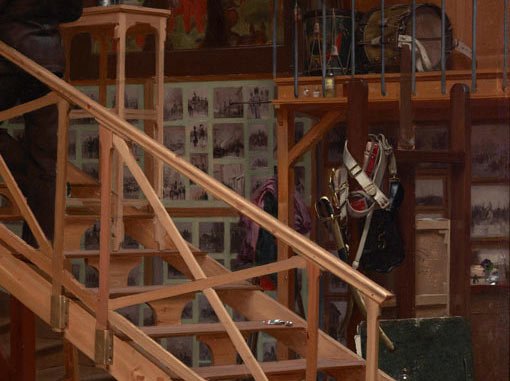 The painting on the wall behind the green pot of brushes is a fragment of Detaille's Distribution of Standards, 14 July 1880, a work that the artist cut to pieces after it met with adverse criticism at the 1881 Salon (the portion he retained is now in the Musée de l'Histoire de France at the Château de Versailles).
Born in 1852 in Normandy, Lemeunier moved to Paris to pursue a career as a painter, where he soon encountered established artists such as Alexandre Cabanel and Henri Cain. The latter introduced him to Detaille with whom he trained, developed his talent and acquired the technique of a committed realist painter. Lemeunier became a successful painter, known for his elegant Parisian street scenes. He participated regularly in the Salon, and exhibited his Portrait of Édouard Detaille there in 1891, winning a third-class medal. Five years later, he painted a second portrait of Detaille in military costume – today held in the Musée de l'Armée, Paris. However, the Art Gallery of NSW's new acquisition is without doubt one of the most impressive paintings of Lemeunier's career.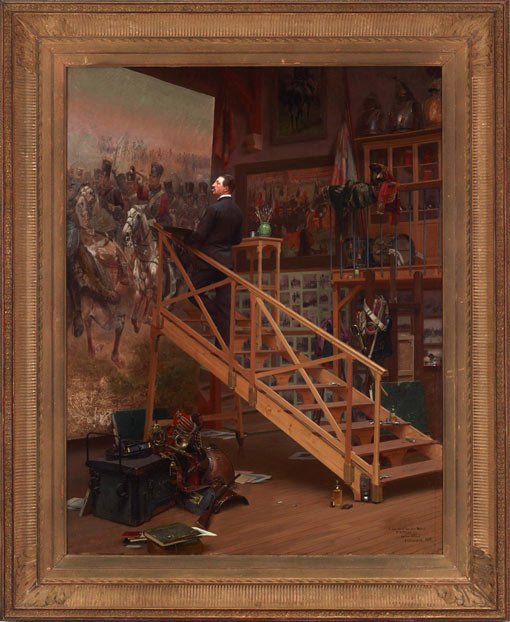 Previous post: Piguenit shines once more
Next post: A Pearce of his art

October 28 2014, 10am
by Anne Gerard-Austin
Assistant curator, European art