Iconic paintings by Tom Roberts, Arthur Streeton, Charles Condor and John Russell feature in Australia's Impressionists, the first exhibition on Australian Impressionism in the UK and the first Australian exhibition at the National Gallery, London.
The works in the exhibition are drawn from the collections of some of Australia's leading public galleries as well as private collections from Australia and the UK, with the Art Gallery of NSW lending 13 of the 41 works on display.
The Art Gallery of NSW has one of the finest collections of Australian Impressionist paintings, unique in that many were purchased from the artists' studios when they were aged only in their twenties – the emerging artists of their day.
The exhibition explores the impact of European Impressionism on Australian art in the 1880s and 1890s, and traces how the art which emerged both referenced the work of European artists and yet was distinct from it.
The Australians painted en plein air (outside in front of their subjects), responding to the specific places they painted, whether they were city streets, rural landscapes or harbour scenes. Preoccupied with local conditions of light and atmosphere, they developed bold and experimental techniques to depict scenes of daily life. They also developed their art within the cultural and political context of a growing sense of national identity in the years leading up to Federation in 1901.
All of the artists featured in the exhibition either studied or worked in Europe at different stages of their careers and were inspired by the paintings they encountered by artists such as Monet and Whistler. Impressionism became an international art movement in the late 19th century, with local variants arising in many countries simultaneously and this exhibition explores both the internationalism of the Australian artists as well as what was unique about their art.
Australia's Impressionists is at the National Gallery, London from 7 December 2016 to 26 March 2017.
Click on a profile to read about that artist and on a painting to read about that artwork.
---
Tom Roberts
---
Arthur Streeton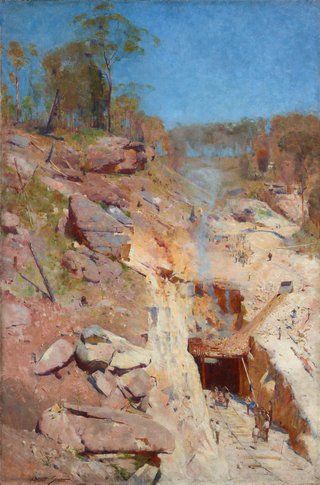 AGNSW collection Arthur Streeton Fire's on 1891
Fire's on is one of the highlight works of the exhibition. Showing the construction of the Lapstone railway tunnel through the Blue Mountains, it vividly depicts the moments after a young navvy was killed by a blast not far from Streeton.
The portrayal of resilience in a sometimes harsh environment became a recurrent theme in Australian art in this period.
This painting is also one of the great depictions of Australian summer heat and glaring light and yet shows in its vertical composition and high horizon line the influence of Japanese art that was also greatly influential on the European Impressionists. In this way it is also located within a global matrix of references.
---
Charles Conder
---
John Russell