This tour celebrates some of the pioneering women artists whose work from the Gallery's collection is currently on display.
15th–19th c European art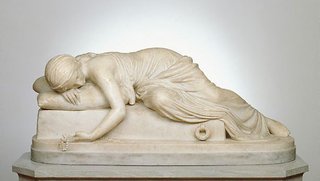 Harriet Hosmer
Beatrice Cenci, (1857)
1221
Note:
Neoclassicism produced a significant number of women sculptors, many of whom were American by birth. Among them, Harriet Hosmer enjoyed perhaps the greatest celebrity, entertaining dignitaries and connoisseurs in her Roman atelier with the practical aplomb of a 'grand maître'.
19th c Australian art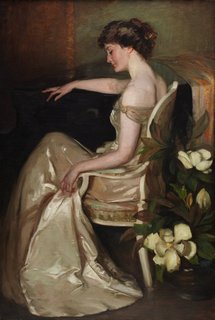 Violet Teague
Dian dreams (Una Falkiner), (1909)
60.1975
Note:
Violet Teague achieved recognition as a fashionable portrait painter in the early 1900s, having studied in Brussels, London and Melbourne. Her painting Dian dreams is an assured study, on a grand scale, of Mrs Una Falkiner, a famous beauty of her time and a student at the National Gallery of Victoria Art School.
Yiribana Gallery

Emily Kame Kngwarreye
Untitled (Alhalker), (1992)
229.1992
Note:
Emily Kam Ngwarray lived in the remote community of Utopia, 230 kilometres northeast of Mparntwe (Alice Springs), where she worked as a camel handler and stockhand. After becoming a professional painter in the last decade of her life, she is said to have produced over 3000 paintings in eight years.
20th & 21st c Australian art