Discover juicy facts and queer stories behind the artworks, artists and their subjects in this tour created as part of Queer Art After Hours at the Gallery on 26 February 2020.
19th c Australian art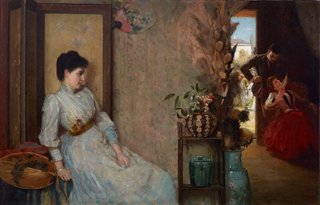 Tom Roberts
Jealousy, 1889
OA37.1960
Note:
The Melbourne journal Table Talk described the subject of Tom Roberts's Jealousy as 'a young lady seated in a recess, becoming the voluntary or involuntary auditor of a flirtation which is being carried on by a rival round the corner, with the listener's own lover'. While the critic's decision not to identify the genders of the 'rival' and the 'lover' was most certainly heteronormative, it is worth pondering other possibilities. Indeed, the painting's original title – One, not easily jealous, but, being wrought, perplex'd in the extreme – came from Shakespeare's Othello, the 'rival' being a man, the 'lover' a woman. Roberts painted Jealousy in his studio, which was praised by Table Talk as being 'most picturesquely arranged' in the fashionable Aesthetic style. The Aesthetic movement, popularised by Oscar Wilde, was embraced by Melbourne's artists, at least until news of Wilde's arrest in 1895 reached Collins Street. '[Melbourne's] pawnbrokers absolutely refuse to advance on velvet coats', observed the Sydney Bulletin in May 1895. Roberts married in 1896, shortly after his 40th birthday.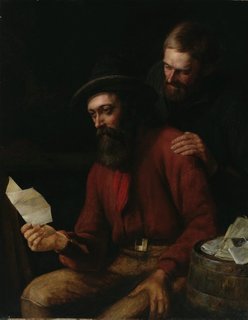 attrib. William Strutt
Gold diggers receiving a letter from home, circa 1860
OA16.1964
Note:
The Australian Gold Rush of the mid to late 1800s provided unexpected opportunities for queer people. Transgender people could begin a new life on the goldfields that was true to their identity. But there were risks. Exposure could come at a heavy cost. This was the case for Edward De Lacy Evans, a young Irishman who arrived in Melbourne in 1856 and mined the Victorian goldfields before settling down as a farm worker near Bendigo. Evans married several times. His 'somewhat effeminate face and figure', according to the contemporary press, 'at times excited comment', but this was largely dismissed until 1879 when Evans, having broken down over evidence of his wife's infidelity, was medically examined and his biological gender made public. Although Evans had a brief moment of fame, working on the travelling show circuit in an attempt to raise money to leave Australia, his mental health never recovered from the scandal and he died in Melbourne's Immigrants' Home in 1901.
19th c European art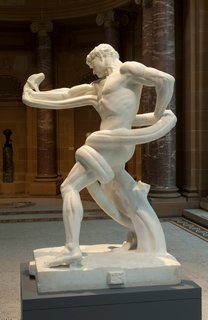 Lord Frederic Leighton
An athlete wrestling with a python, 1888-1891
183.2017
Note:
In the golden age of the posed 'tableau vivant', an Australian body builder, Clarence Weber, made quite a career from live performances and picture postcards recreating famous statues of athletic male nudes. In 1912, Weber posed for a photograph as Leighton's Athlete wrestling a python. The image made its way to London where a leading physical culture advocate, Monte Saldo, published it in his book How to pose, identifying it as a photograph of Leighton's original model. Leighton's model was, in fact, Angelo Colarossi. Weber wasn't even born when the original bronze was cast and was a nine-year-old living in a bayside suburb of Melbourne when this marble version was carved.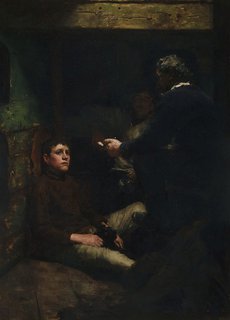 Henry Scott Tuke
A sailor's yarn, 1887
881
Note:
Henry Scott Tuke was a prolific painter of the male figure. An enthusiastic nude bather, he was best known for his paintings of young men frolicking by the Cornish seaside. Based in Falmouth, Tuke painted A sailor's yarn on board his newly acquired floating studio, an old French brigantine, Julie. This painting was not a popular purchase when acquired by the Gallery in 1889. The press critics thought it as boring as the sailor's yarn. The Illustrated Sydney News wrote: 'a work of some merit, and tells its story sufficiently, but it belongs rather to the class of "pot-boilers." Its technique is good, but it is not altogether satisfactory in expression, and a not inconsiderable proportion of it is sheer padding.'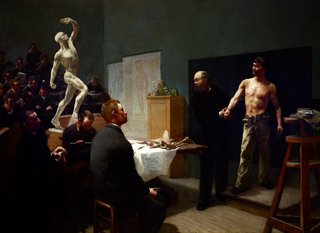 François Sallé
The anatomy class at the École des beaux-arts, 1888
728
Note:
Prominent Sydney artist and teacher Julian Ashton wrote enthusiastically about this painting for the Daily Telegraph: 'What breadth and simplicity. You don't need a name for it; you know at once that it is an anatomy class. The great, cold bare room, the rows of students, and the sergent de ville in his cocked hat keeping order. But none of this obtrudes when you look upon the old professor and the subject of the demonstration. You see at once that though the professor has done this over and over again, it still has a fascination for him; he is full of enthusiasm as he demonstrates simply and emphatically the course and attachments of certain muscles, while the subject, used to the scene, complacently allows himself to be handled to illustrate the professor's remarks. This is what indeed may be called an historical picture.'
19th & 20th c European art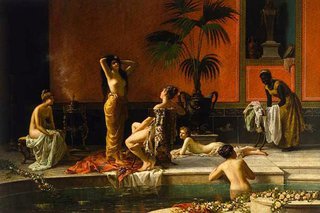 Niccolò Cecconi
Pompeian bath, circa 1890?
6222
Note:
'Just because it's been around for centuries, doesn't mean it's cool to be a creepy old man. Stop watching women sleeping; stop watching women having baths. Go away.' — Hannah Gadsby, author and comedian
20th & 21st c Australian art