Shared memory
This artset is dedicated to art that illustrates the role of the art gallery or museum in society. The greek origin of the word museum translates to house of the muses where the arts are enshrined, studied and preserved. Looking at the Art Gallery as a home for preserving the history of the arts we see that what we're really preserving are responses to life at particular moments in time. In other words, stories and histories about our societies are created here. So what does the art stored inside the gallery say about us and our history?
These beautiful sculptures are for me guardians not only over the artist herself (being representative of her great-grandmother, grandmother and mother) they are also guardians over the collective cultural memory of all Australians ensuring that stories endure and that they continue to enrich and inform our individual and collective histories.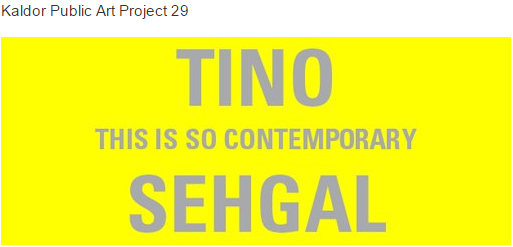 Uploaded image
How do we collect objects that aren't material? How do we keep histories that can't be committed to paper? Tino Sehgal's work illustrated this point frustratingly well - you can't find good quality pictures or videos of this performance work because he doesn't allow it! Even writing about it proves tricky, but here goes: The performance consisted of interpreters dressed as security guards dancing around the atrium singing 'This is so contemporary' to unwitting passers-by. This was a moment in time and for the artist is supposed to comment on museum as collectors of history! Should this work be considered an object to acquire? Is it worth remembering?
History now and then
Such an important work which looks at the reworking of older paintings and photographs to address major issues of our past. Here questions about Australian history are raised to readdress the experience of past generations of Aboriginal people. One work in a given moment of history being addressed decades later by another artist is similar to the reworking that occurs in the art gallery or museum, constantly speaking, struggling and even arguing with the past through the present.
Where history happens
Display cases can be works of art in themselves as in this example. They provide the frame or pedestal that transform the way we understand the objects within. This work is a very useful tool for understanding what art gallery teams and artists create together inside an exhibition space.
I think the wrapping of the Atrium of the Art Gallery of New South Wales is such a great idea - much better than the coast! It calls attention to that first zone we enter when we come into an art institution and the change in our mind-set from our day to day when we're rushing about for study, work or family. The wrapping makes me think of a construction site or a work in progress. And this is what an art institution truly is, a constant building site of cultural history.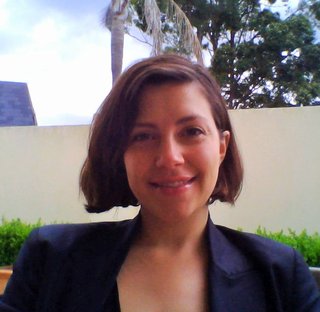 Uploaded image
I'm Alexandra and I'm currently completing my Master's in Art Curating at the University of Sydney. I've spent a bit of time over the last few years in Paris and have worked in advocacy & symposia coordination with Bibliothèques Sans Frontières / Libraries Without Borders. I work casually at the MCA & the Sydney Uni art collection. Focus areas for my current research include performance art and environmental ecology. I love a good debate and I don't believe silence is golden. Whenever breaks from dissertation writing allow, naps and reading - usually together - are very high up on the priority list.