Poetic reflections on Shadow catchers: David Brooks
Print this set
By the Art Gallery of NSW
David Brooks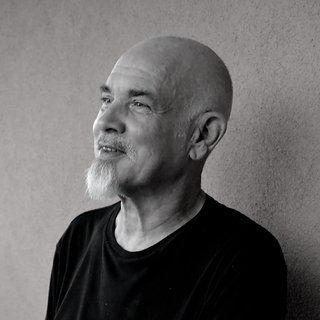 Uploaded image
David Brooks started as a photographer but shifted his focus to poetry. For the past 20 years he has been the co-editor of the Southerly journal. David is a vegan and human rights activist and is an honorary associate professor in Australian literature at the University of Sydney. He is the highly acclaimed author of nine titles which include poetry, essay and fiction.
David Brooks reflects on how he approached his poetic response to Spencer Finch's 56 Minutes (after Kawabata), Spring (2004) from the exhibition Shadow catchers.
I made an initial set of notes, shaped them into a poem of sorts, a draft. It came to fifteen lines. I toyed with them, rearranged things so it would come to fourteen lines, a sonnet. Not a very good one, I might say, and I've never been much interested in such poetic formalism, but hey, it's the kind of thing poets do, if only to tighten things up a bit. And then an idea struck me. The '56 minutes' in Finch's title refers to the time period the sequence covers. Nine photos, seven minutes between them, eight intervals in all: 8x7=56. As a point of idle curiosity I divided 56 by 14, the number of lines in a sonnet. Four times exactly. So, four sonnets, one line (as it were) for each minute.
In the long run, the four sonnets didn't quite do it. It seemed to me I was just getting started. So many voices were crowding in upon, or rising up from, Finch's sequence, that there seemed an alternative, a shadow, to everything I said. There was Finch's voice, there was Kawabata's, there was mine (if I were to be honest, and it would be inevitable anyway), there were those of the characters in Snow country, there were the 'voices' of the mediums themselves (poetry, photography), etc, etc. How to catch these shadows? For each sonnet I had written, it seemed to me, there was at least one sonnet I hadn't. And so the idea of four extra sonnets – shadow sonnets – appeared. And of arranging them in such an interlinear fashion (roman and italic faces, different type sizes) that they could remain distinct and yet their qualifications and supplementary informations – their intrusions – be suggested.
There's more I could say but I'll leave it at that. That, and the fact that, when I finally got to see the photographs full-size I discovered that the door I had thought closed was in fact open. Aha. Good.
This is an excerpt from David Brook's reflection. For the full comment: redroomcompany.org/projects/shadow-catchers
---
The Tableland
High on the tableland,
in a shallow valley, by the entrance
to an abandoned diamond mine
amongst discarded machinery and
empty oil drums, a broken
aerial, long past redemption, hums
in the stiffening breeze
above the pillaged cabin
of a great earth-mover
beside a darkened tool-shed,
rusted water-tank
and the tiny lean-to over
a latrine on a clearing where,
in an ancient caravan,
the old caretaker and a pair
of visitors drink bourban
and, with stones for money, play
lazy poker late into the night, the dove-
white bowl of the moon low above them
as big as half the sky.
---
Snow Country
A woman's eye floated up before him. He almost called out... But he had been dreaming, and when he came to himself, he saw that it was only the reflection in the window of the girl opposite. Outside it was growing dark, and the lights had been turned on in the train, transforming the window into a mirror.
– Yasunari Kawabata, Snow country (1934-48)
I
Nine photographs, each taken seven minutes after
Finch has hitherto exhibited two sequences each
the previous, a total of fifty-six minutes in all, starting
of seven photographs of the same view entitled
with bare trees in a darkening landscape, closing
42 minutes, Winter and 42 minutes, Summer,
in upon a door. Happenstance? A mere flirtation
as if there were not just a sequence but a
with a whim of light? But why mention Spring? Why
sequence of sequences and something within them
'after Kawabata'? Is the sequence itself a mirror? And
would not let him go, adding eventually another two
what then? And when is a door not a door?
images like extra carriages heading through
I thought, straight away, when I first saw,
a bare, late-winter landscape toward a dark tunnel.
of how, on a train in China twenty-seven years ago,
Freud said that to board a train is to abandon all
I found myself over and over imagining
control of one's life, and the history of the decades
walking out, at some unscheduled stop or another, on one
following him has only confirmed the link. Can we
of the long paths between rice paddies, toward
keep such things at bay? Can Finch? Is he trying
a distant village, into another life. What
to tell us something? That it's all metaphor?
was that about? or When is a train not a train?
What is the significance of an open door?
II
So here is time, for those who want it, time
His father died when Yasunari was three, his mother
and the theory of time, parallel time, quantum
a year later, his grandmother, with whom
time, forked time, time paused, time
he'd gone to live, died when he was eight, his
sidelined, wandering, a poet in Australia
grandfather when Yasunari was fifteen, and his older
writing of photographs taken by a man
sister, whom he'd seen only once in several years,
in America sixteen years before in response
when he was eleven. Mishima called him, as Yasunari
to lines written by an author in Japan
already called himself, the Master of Funerals.
seventy years before that, each approaching
No surprise then that he presided
with their different pasts and places – to be read
at Mishima's, or that, in the weeks
or viewed by different audiences each
before his own suicide, Yasunari went back
responding from their pasts and places –
one last time to the work in which, eleven
the simple image of a window, bare tree, door:
years before he met him, he might have seen himself,
multiple, opalescent, symphonic, a layered
in naming his dying character Yukio,
time perhaps not seen quite so before.
to have brought about that death too.
III
When you stare so long through the window of a plane
'This finger', teasing erotically, 'This finger
or house that the light outside weakens and the light within
has remembered you', but this was only not to say,
grows stronger, there's a time when you begin
in a gesture that could represent the way
to see the world through your own face, or, rather, see
in which the early photographers would prepare
the face through which you view the world. So, anyway,
a sheet of glass to reveal the shadow there
it may have been when Shimamura, in the window of a train,
so that the dead might linger
saw Yoko tending to Yukio and so took up once more
amongst the living, or love, let's say,
that process of cold, exploitative flirtation
maintain its desiring gaze long after
which saw the young Komako's transformation
its own erosion, it had been with that finger that he'd
into geisha, Yoko's eventual death by fire,
wiped away the mist on the carriage window to display
and Kawabata, the novel's author, come again
another's, Yoko's, gaze. 'Remembered
and again to the story, as if, all along, it had encoded
me!' Komoko exclaims, 'You have
something about himself – a regret? a failure? a desire? –
remembered me!' before taking his finger,
he could not in any other way explain.
leading him away.
IV
Kawabata speaks of the afterlife, the nowhere we all go
The nights drag on, and the days
(nowhere, he says, now here) forty-eight years after
aren't long enough
walking into the bathroom, closing
one is forgotten
the door and turning on the gas. Two hundred
but cannot forget
nights, he says, concerning the death of Yukio Mishima
desire absconds
who had committed seppuku two years before: two
then returns like a winter storm
hundred nights I had nightmares. When the second
and there is no salving
spring came, a cruel ghost, it promised nothing but time. The master
crows lament, sheep
and challenger, mentor and protégé, fatherless
implore from the bare fields, yet the sun
father and surrogate son, victor
breaks through cloud
and the man he'd beaten to the greatest
creating such mountains, yet the birds
literary prize of all. At seventy-two, he says,
whisper secrets beyond imagining,
I could hardly breathe anyway, all those cigarettes,
even rats
and then the Parkinson's, and, relentlessly, regrets.
know the hidden pathways of the earth.
---
Donovan's Glasses
At 12.30, half an hour late, Donovan Leitch comes in
for his photo-shoot with Lewis
wearing his crazy floral shirt. I've
lost my glasses! he says. But you don't
wear any, says Lewis. They're new, says Donovan, and
pink. I had them in my hand. We'll have to call
the cab company. I'll
do that, I say, not wanting any more delay, while
you get ready, and I go
down to the phone at the end of the hall.
They put me through to Lost Property. It takes
a while to explain. They'll trace the job, they say,
and get a message to the driver
but it might take a while before he can check
behind the seats, etcetera, though it's
more likely someone's taken them already.
When I get back, Lewis is adjusting the lights
and Donovan's in front of the mirror
with his back to us and elbows
spread like the wings of a duck. It's al-
right, he says, turning, with his fingers
around his eyes, looking for all the world
like Amelia Earhart in her
aviator's goggles, about to set off
for Australia,
They were in my hands all along! One
eye peering out as if he's
half a century away already
wondering what it's all about.