Wonderful weaving: card loom technique
Print this set
By Victoria Collings, Art Gallery of NSW
Do you love to make things?
Artists love to create. Some artists design and make textiles using threads and fibres woven together to make special cloths or tapestries.
Be inspired by woven textiles from the Gallery's collection to create your own wonderful weaving.
Woven textiles are created by interlacing threads together, usually on a device called a loom.
Simple looms can be made from cardboard by cutting slits at regular intervals on opposite ends of the cardboard.
'Warp' threads are threaded on the loom first, then 'weft' yarns are interwoven between them.
To create your own woven artwork artwork you will need:
Card loom
Thread or string to make warp threads
Plastic needle or darning needle
Wool
Fabric strips
Feathers
Scissors
Sticky tape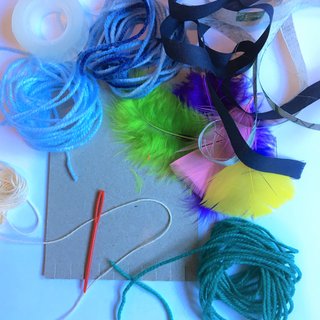 Uploaded image
Place the warp thread through the first slit on the card loom and leave a good length at the back and sticky tape it to the cardboard.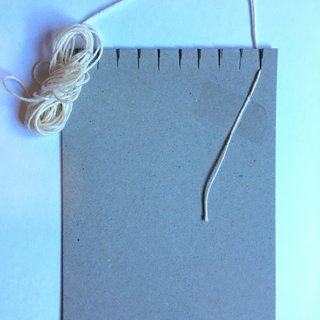 Uploaded image
Pull the thread down the front to the first slit at the bottom and thread it through to the back.
Pull the thread across to the next slit, bring it through to the front and pull it to the top.
Repeat the process along all the slits.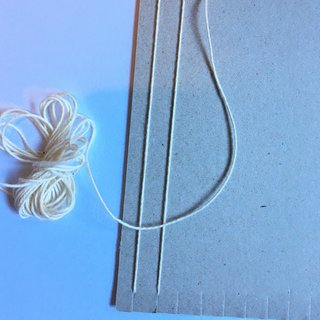 Uploaded image
When you have wrapped the thread through all the slits, sticky tape the end to the cardboard.
These white threads are called the warp.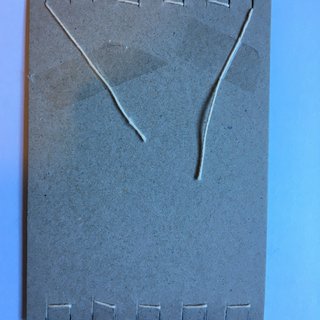 Uploaded image
Tie a piece of wool to the end thread and pull it under and over all the warp threads to the other side.
Go over and under the warp threads in the opposite direction.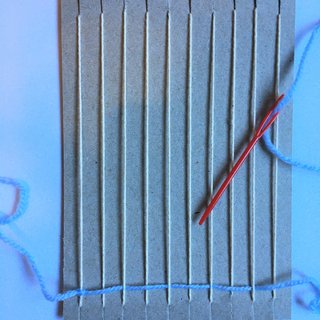 Uploaded image
Keep going over and under, reversing the pattern for each row, and push each row down gently.
To add new colours, tie the yarn to the end warp thread when you finish a row.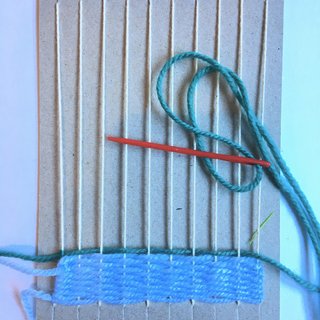 Uploaded image
You can weave fabric strips or feathers in using the same technique of going under and over the warp threads.
It's a good idea to use wool either side to help the fabric or feathers stay in place.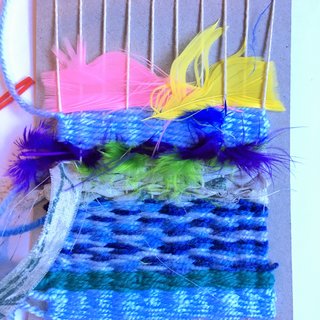 Uploaded image
Keep going all the way up your card loom, under and over in the opposite directions until it becomes too hard to thread any more wool between the warp threads.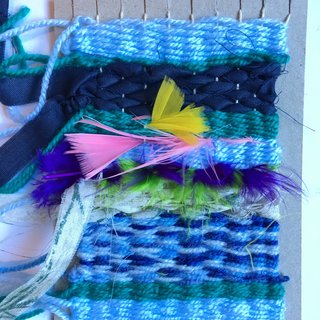 Uploaded image
When you are finished, carefully lift the loops of warp threads off the slits - you can use the needle to help.
Gently push the wool so the loops move into the weaving.
Tie the ends of the warp thread into the woven wool.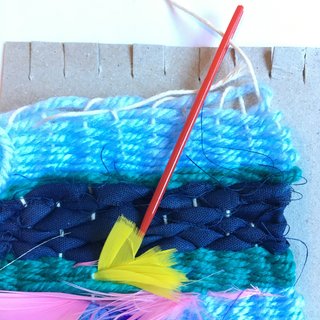 Uploaded image
You could leave your woven design with the extra wool and fabric hanging down.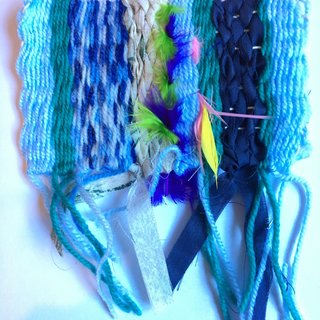 Uploaded image
Or you could tie any loose ends into your design by knotting or threading them with the needle into the weaving.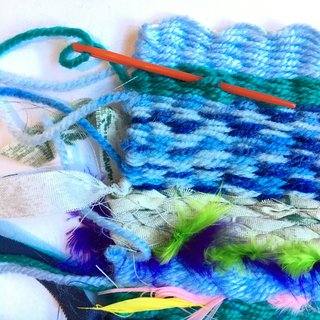 Uploaded image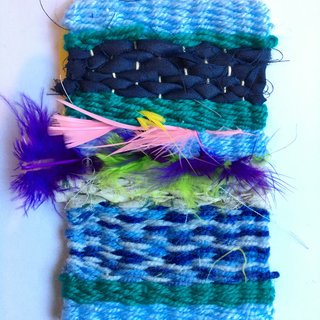 Uploaded image
There you are, a wonderful woven textile of your very own.
The sky's the limit, the bigger your piece of cardboard, the bigger your weaving.
Perhaps you could make a wall hanging or even a rug!