20th-century Australian art: Colour and light: early modernism in Sydney
Print this set
By the Art Gallery of NSW
The interwar decades stand out as one of the most distinctive periods in Australian art history. Artists began to experiment with shedding naturalistic detail and intensifying their colour to bring their work in line with the modernity of the new century. By the end of World War I in 1918, Australia was one of the most urbanised nations in the world and Sydney was its largest and fastest growing city. With its light-filled harbour and thriving commercial centre, Sydney was a fertile ground for the development of modern art.
Colour, in all its sensuous, psychological and spiritual dimensions, was a central concern for artists. As Roland Wakelin put it in 1919, 'a painter in the modern sense' is one whose 'chief medium is colour'. Grace Cossington Smith, Norah Simpson, Roland Wakelin and Roy de Maistre experimented with colour, light and form, creating an important connection with contemporary international developments. While one strand of modernism sought a universal language of abstraction, by the 1920s Margaret Preston was arguing for a distinctly national art conveyed through a form of reduced and decorative realism.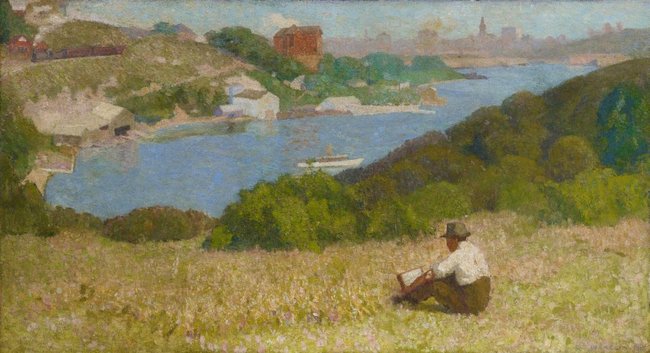 AGNSW collection Roland Wakelin Down the hills to Berry's Bay (1916) OA18.1961
'It was about the year 1913 that the first glimmerings of what is now called 'modern art' came to us in Sydney... Colour was the thing it seemed - vibrating colour, and there were new ideas in composition - unorthodox... We commenced to heighten our colour, working in stippling touches, and to make severe cubist drawings' - Roland Wakelin, 1928
With its broken brushstrokes of pure vibrating colour, this painting reveals Roland Wakelin's admiration for E Phillips Fox's painting The ferry and for the modernist approach of the post-impressionists encouraged by his teacher Antonio Dattilo-Rubbo. The simplified form and accentuated arabesque of the shoreline foreshadow the earliest abstract paintings in Australia. Wakelin's radical approach, however, caused a furore among the Royal Art Society's hanging committee in 1916.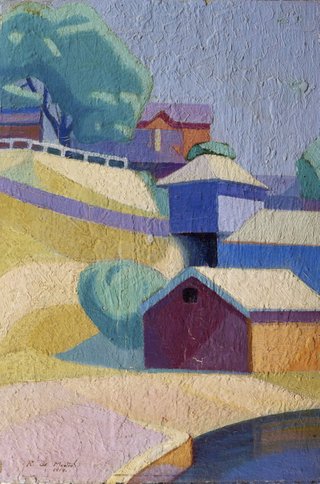 AGNSW collection Roy de Maistre The boat sheds, in violet red key (1919) 260.2013
From around 1917, Sydney artists Roy de Maistre and Roland Wakelin began exploring the power of colour to connect art and music. They experimented with colour to produce synaesthesia, the condition in which the stimulation of one sense leads to an automatic, involuntary response in another. These experiments culminated in de Maistre and Wakelin's joint Colour in art exhibition in 1919 featuring small, colour-music 'syncromies' that prompted the first wave of abstract painting in Australia. While based on images of local scenes around Sydney's harbour, their works were intensely coloured, radically simplified and anti naturalistic.
This work is one of only four paintings known to have been included in this seminal exhibition. It demonstrates de Maistre's new dealings with colour and simplified form - taking colour beyond descriptive towards constructive and decorative uses.
---
Australian tonalism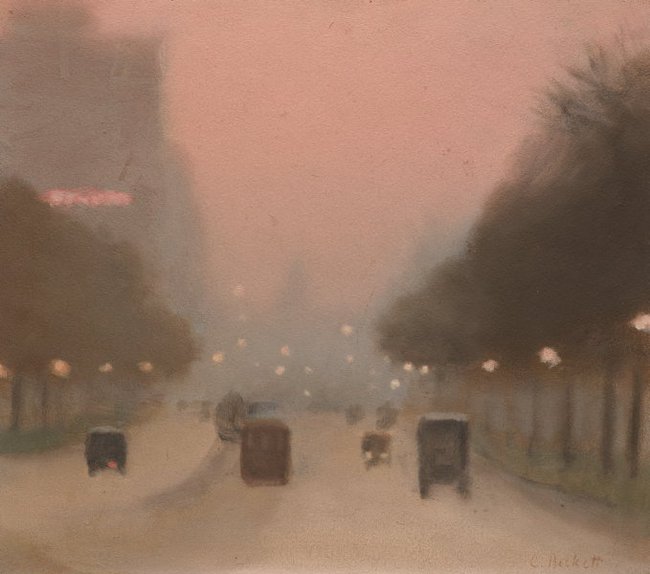 AGNSW collection Clarice Beckett Evening, St Kilda Road (circa 1930) 197.2013
This painting beautifully demonstrates Clarice Beckett's signature subject of the city's soft-focused modernity. Fusing urban electric glow with the ambient luminosity of twilight, Beckett explores the limits of representation while using colour for potent atmospheric effect. The city is enveloped with a rosy-toned veil while darkened box-shaped cars retrieve Beckett's composition from a misty abstraction.
Beckett's preference for early evening or morning subjects was not for simple poetic effect. Instead, as Evening, St Kilda Road demonstrates, she was drawn to the technical challenge of painting the essence of her subject within the fleeting moment; of observing light effects and developing delicate tonal nuances that blurred the terrains of reality and illusion.
The tonalist painting movement, popular during the 20th-century interwar period in Australia, was pioneered by the artist and teacher Max Meldrum in Melbourne.
Meldrum argued that painting was a pure science and developed his theory of tonalism accordingly. He believed that tone was the most important component in painting, followed by proportion, with colour the least interesting factor, and that this was the order in which a work should be painted.
Artists should train their minds to focus first on the 'tonal mass' of the subject and then build up the painting's surface with the other elements. There was also to be no preliminary drawing, therefore the work would be spontaneous and responsive, producing an illusion of the subject rather than a realistic reproduction. In this way, tonalist works are characterised by their soft, almost hazy, atmospheric appearance.
While Clarice Beckett is perhaps the best-known practitioner of Australian tonalism, a number of artists experimented with the movement during the interwar period, including Roland Wakelin and Roy de Maistre, who paused their radical experiments in colour theory to produce a small number of still life and portrait paintings adhering to tonalist theories in the early 1920s.