Young Archie winners then and now
With the winners of the tenth Young Archie competition announced, we're curious to hear from some past winners to find out what they're doing now, how winning impacted them, and what advice they might have for other artists aged 5 to 18 who are thinking of entering.
These artists all won their age category, for a portrait of someone special to them.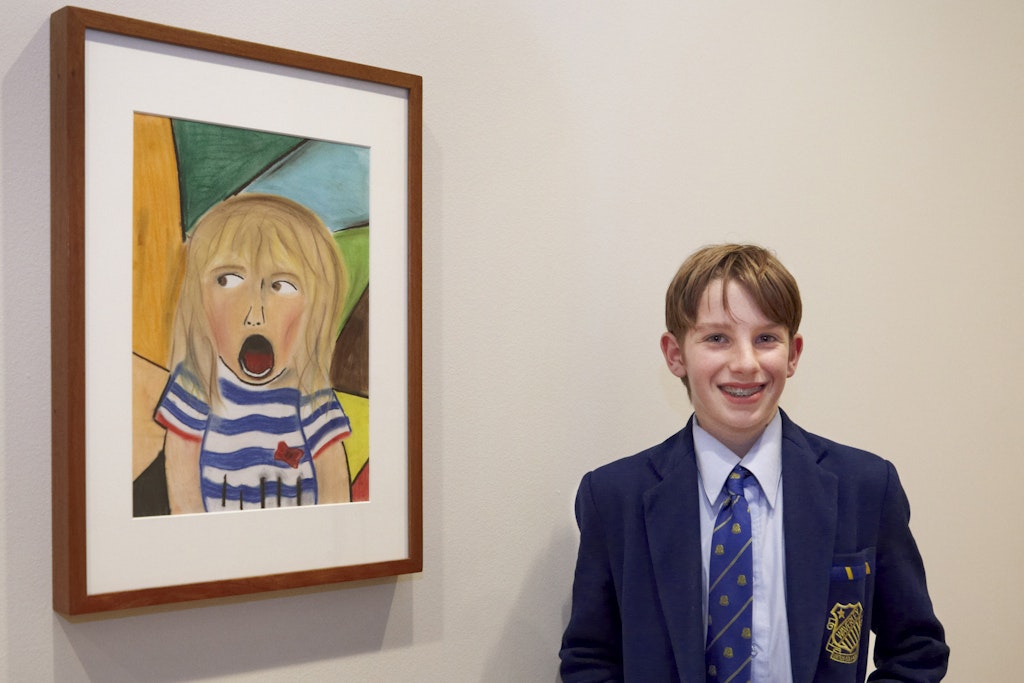 Max, who won the 13–15 age category in 2013, aged 13, is about to complete a Bachelor of Film. He says: 'Art, painting and crafts still hold a deep place in my heart, and its uses come through in storyboarding and concept art pieces for my upcoming projects.'
Although Max found the attention that came with being one of the inaugural Young Archie winners overwhelming at times, he has a different perspective a decade later. 'I can see now how throwing myself in the deep end and participating in something I usually wouldn't due to my inherent shyness somehow launched me into a more confident mindset when it comes to my art and my passions.
'I would encourage all young artists to push themselves into the most uncomfortable places possible. For me, submitting my art for the world to see was a frightening experience, but exposing yourself to public opinion as well as pitting your talents against others' is a great way to determine your style and talents.'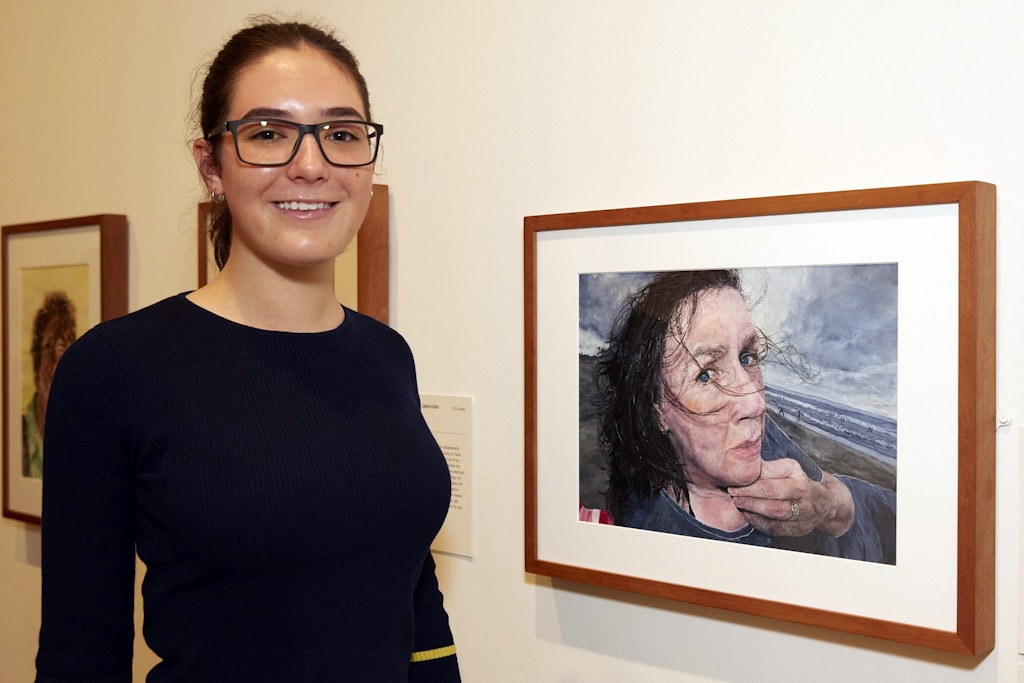 Jessica is the only person to have won two Young Archie awards, both times in the 13–15 age category: the first in 2017, aged 14, and the second in 2018. She is now studying a Bachelor of Fine Arts; exhibiting, planning and curating art exhibitions; and experimenting with her practice 'in order to grow beyond portraiture'. She's also aiming to submit her work into the Archibald Prize in 2023.
She says that winning the competition had a massive impact on her and made her realise that art was the pathway she wanted to follow. 'It gave me exposure to so many wonderful artists and spending some time with [artist judge] Abdul Abdullah and, as a result of the Young Archie, Guy Maestri gave me insight into studio life and how people are pursuing this passion in a diverse way to make a living.  It made me realise that my dream was possible.' 
Her advice to those thinking about taking part? 'Enter – you might discover, like I did, that you can make your love of art into a career.'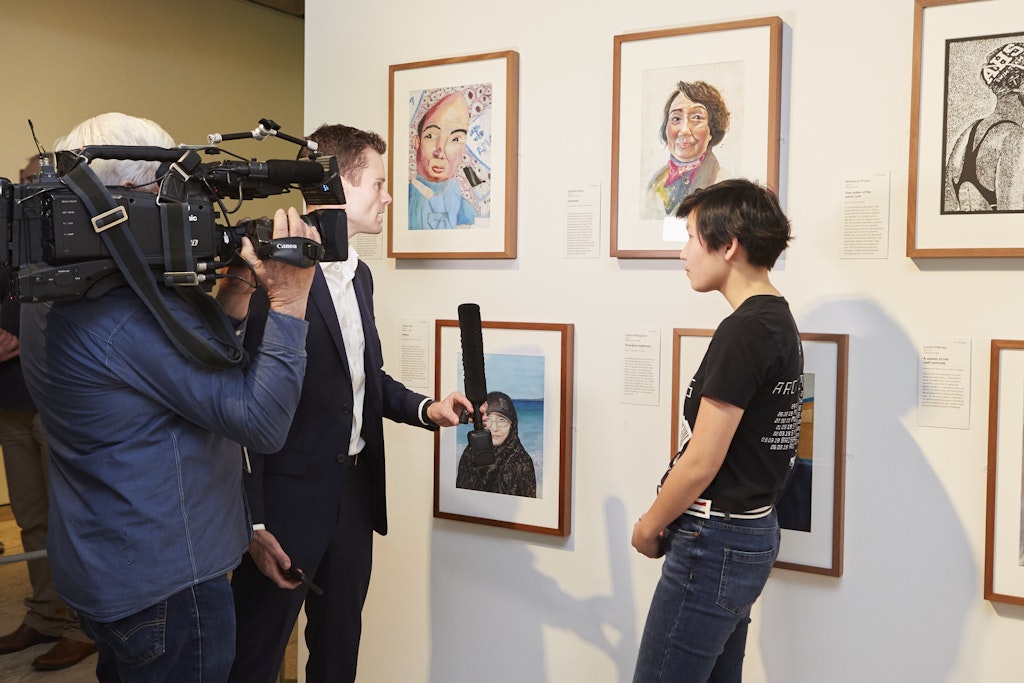 Currently in Year 12, Celeste is following an art-oriented pathway, having chosen visual communication design and art as her focal subjects. 'Outside of school, I try to use the last of my brain power to finish digital drawings as I want to expand on my skills to one day create my own visual stories,' she says.
Celeste won the 13–15 age category when she was 15. 'Watercolour was not a medium I had experience in, and realistic portraiture was not part of my style or subject matter, besides doing charcoal life studies.' Nevertheless, she had an underlying confidence in her work. 'I just thought my art was somehow, by some alignment of a timeline, capable of somehow winning a competition.'
Of the benefits of entering, she says: 'Participating in the competition broadens your scope. In the conceptualising and development of the piece, you are thinking as an artist, which enhances creativity and other skills. Having free reign of any medium and style can be enjoyable. The artwork can also be a monumental addition to your folio, which is helpful if you are looking towards art pathways after high school.'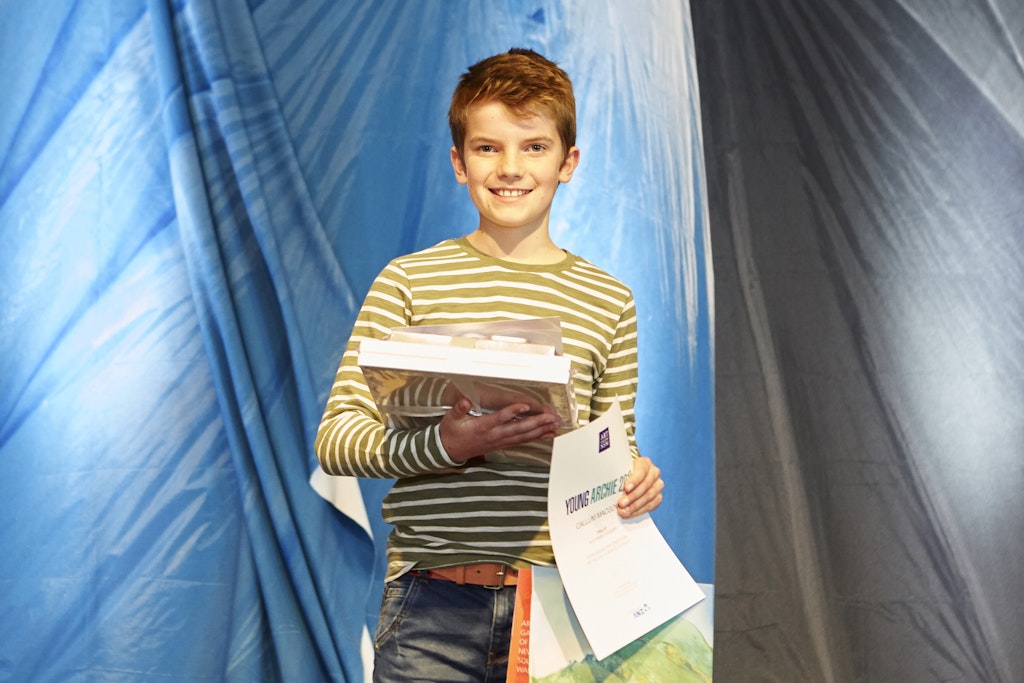 'Leading a life which does not have creativity as a focus seems pointless,' says 14-year-old Callum who, in 2019 at age 11, won the 9–12 age category.
Callum is now home-schooled and, like Max, has developed a deep passion for film and screenwriting and is studying all aspects of filmmaking. 'Of course, I will always keep the skill of sketching and painting with me and I think I will always love developing artworks,' he says.
'Like in music and writing, drawing and painting is for me like a continual layering of ideas that synchronise like a Shepard's tone scale. It is a lot to do with that feeling that makes you think "that's just right" in your head. And I have adopted this sort of concept that naturally flows in my artworks nowadays.'
He says: 'I think it is quite hard for kids around my age to see what they love or get enough of it because of all the pressure that young people deal with in the education system sometimes. So, I guess from my subjective point of view, if you can see past all that noise, having a moment of clarity every now and then can help to distil things and maybe even lead to you finding what you really love. And if that is art, the Young Archies is certainly a great way to get in a friendly welcoming community of artistic people, as well as getting your name out there.'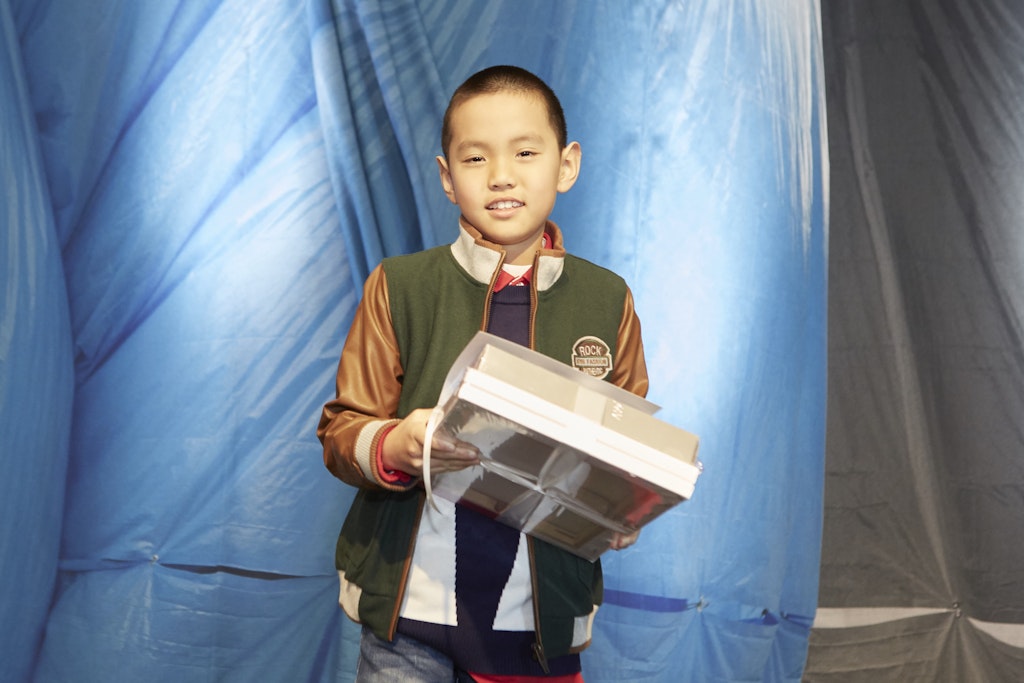 Another 2019 winner, in the 5–8 age category, Matthew is now in Year 5 and says of his interests: 'I like writing, reading, math, playing Rubik's Cube, sports (riding my bicycle, tennis, table tennis and badminton); however, drawing has been my favourite thing. I am attending art class once a week and I keep creating artworks.'
His advice to anyone thinking of entering? 'Drawing is fun, drawing can express my thoughts and ideas ... and participating in the Young Archie competition is a good way to learn from other young artists.'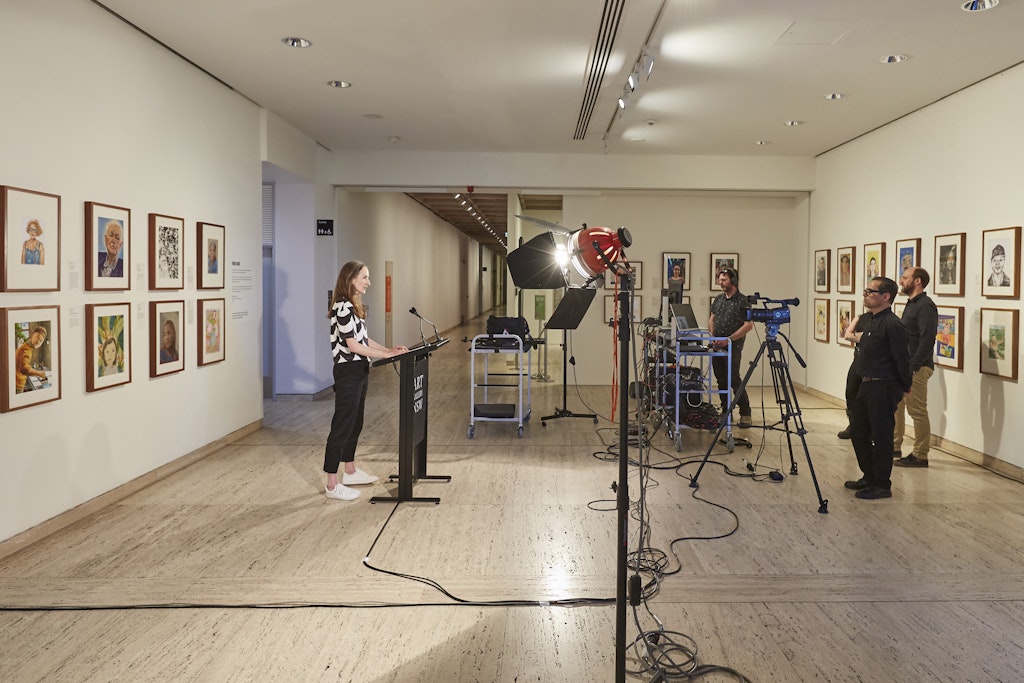 Gabrielle is in Year 5 now too. She says art 'is a time when I feel creative and make dreams become reality'. Her other love is Latin dancing, in which she also competes.
'I usually drew pictures privately without anyone knowing since I didn't have the confidence for it,' she recalls. 'But now, after I won the 2020 Young Archie award [aged 7, in the 5–8 age category], I feel braver and more confident.'
What would she like other young artists to know? 'I want to tell them to never give up, be confident, positive about their art and keep trying new ways to improve their art.'
Also a 2020 winner, in the 13–15 year category, Lily says Young Archie 'opened my mind to the fact that, although I am surrounded by talented artists of all kinds, it is still worthwhile to have the confidence to enter a work into a competition. It has helped me look at art from a confident rather than introverted position.'
Now 17 and still at school, Lily has continued to pursue her love for art. She says she has 'also grown a great passion for music, culture and diverse stories, which has greatly inspired and expanded my artistic ability to not just convey a picture, but also a meaning.'
Her advice to entrants: 'Do not underestimate the artist statement. Because when a story touches someone's heart, the art just acts as its vessel of execution. Don't be afraid to experiment. I know I was.'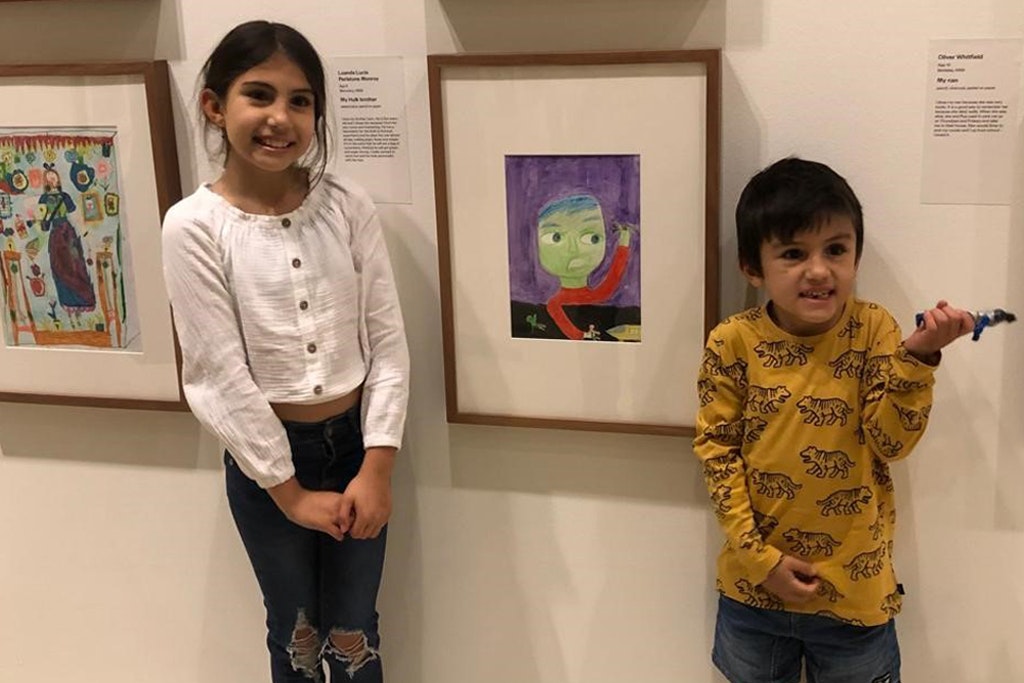 Although enjoying school – she's now in Year 5 – Luanda says she's more passionate about art class. As well as dancing, acro, piano and singing, she spends her time creating posters and flyers for her dad's business and her mum's music events.
She says of her 2021 win (in the 9–12 age category, for her portrait of her then five-year-old brother): 'It showed me that I can be really good, if I just try and participate. It really touched my brother, to the point that now he is also doing art class and he submitted a painting to this year's Young Archie. Art bring us together. We now share the passion for it. There is not one day that we don't do some sort of art. I'm now looking with my parents for a high school that focuses on arts so I can keep exploring and creating.'
Luanda has great advice for potential Young Archie entrants – and for all of us really: 'Let yourself be inspired by everything, have fun, participate and don't be afraid – you can do it if you really try.'
Entering Young Archie 2023
Entry forms and information about the 2023 competition dates will be available online at the end of January. In the meantime, there's nothing to stop you getting started on your artwork!
You can read the 2022 entry conditions as a guide.
Just remember that your work must be:
on paper (NOT board)

unmounted and unframed

no smaller than A4 (210 × 297 mm) and no bigger than A3 (420 × 297 mm).
It can be vertical or horizontal, and you can use any art materials or combination of art materials you like (eg paint, pencil, pastels, paper collage) as long as the artwork is two-dimensional.
Most importantly, it must be a portrait of a person who is special to you – someone who is known to you and who knows you and plays a significant role in your life. Who will you choose?
Young Archie 2022 winning works and those of all the finalists can be seen for free at the Art Gallery of New South Wales until 28 August 2022, displayed outside the Archibald, Wynne and Sulman Prizes 2022 exhibition
Read other Young Archie stories