The Way We Eat at Home: Yumi Stynes
TV and radio presenter Yumi Stynes reveals some kitchen magic with her favourite recipe for the humble cauliflower.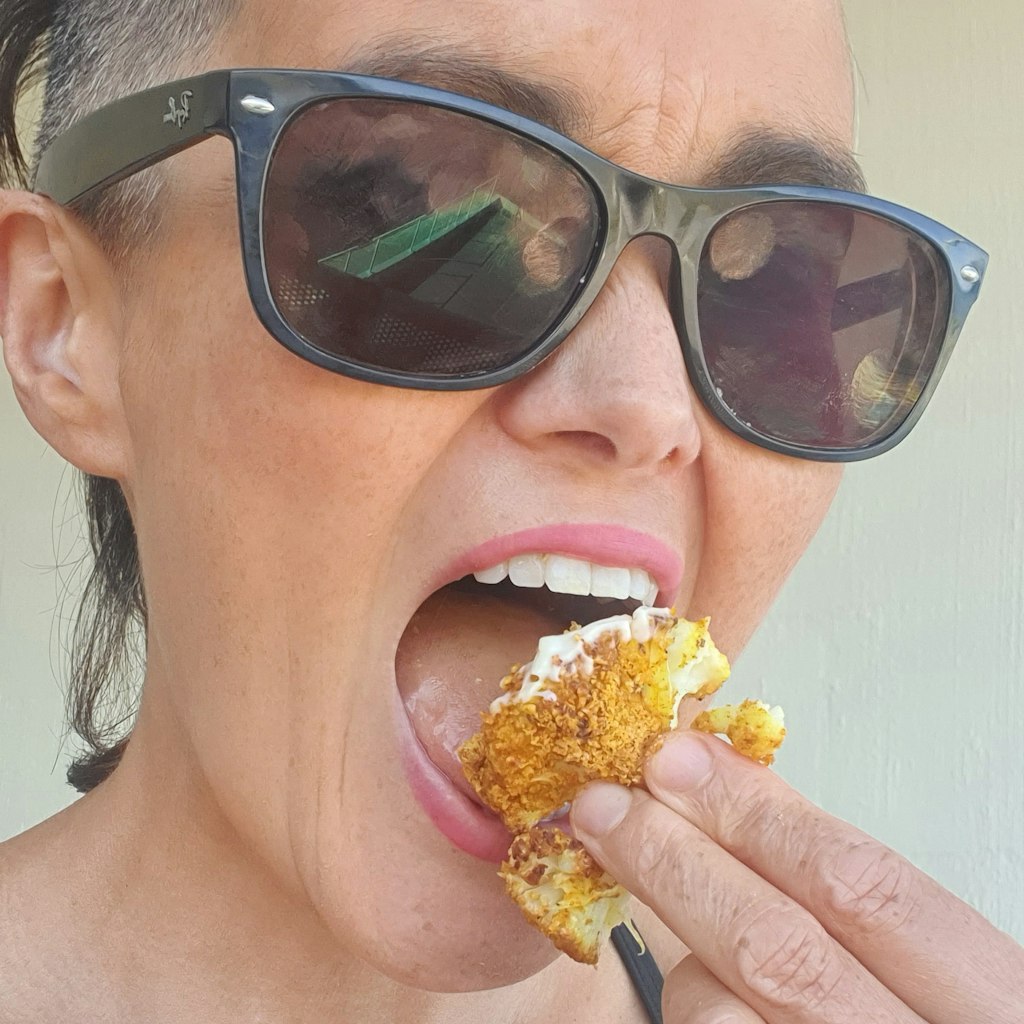 Karaage cauliflower! The name is ridiculous because karaage in Japanese refers to the deep-frying technique of cooking. But most people associate karaage with a specific type of delicious, deep-fried chicken in Japanese cuisine that is served with Kewpie mayo and Bull-Dog sauce.
This type of chicken is a favourite in our household but there are always reasons to improve on perfection!
In our home, we buy pre-made sachets of crumb coating for the chicken. This saves me a world of pain in food prep – and my whole motto in the kitchen is 'Zero F*cks'! The problem with suggesting others do this is 92% of all white Australians cannot find the sachets in the Asian grocer. (They're there; they just can't find them.) I also remember what it was like living in an area without an Asian grocer. So for the sake of inclusivity, I have a full recipe for the crumb coating that is pretty simple – but if you can buy it pre-made, definitely do it!
Also, for the sake of inclusivity, planet love and general deliciousness, I make this recipe with CAULIFLOWER, not chicken. Cauliflower is one of the truly brilliant vegetables, IMHO. I always like to supply lots of vegetarian food to my loved ones because … well, frankly, we prefer it. (Not counting the mayo) this recipe is accidentally vegan, and also gluten free.
Karaage cauliflower
Ingredients
1 big, gorgeous head of cauliflower
2 cups almond meal
1 cup tapioca flour
4 teaspoons each of the following: ground white pepper, garlic salt, sweet paprika, ground turmeric, chilli power, cumin powder
½ can coconut cream
Kewpie mayo and Bull-Dog sauce, to serve (optional)
Method
Pre-heat the oven to 200°C.
Cut the cauliflower up into nugget-sized pieces. (You can also use the leaves and stem, cut up as you see fit.)
Spread the cauli over two trays and pop both in the oven and set a timer for 20 minutes.
Mix up the remaining dry ingredients (not the coconut cream). Using a sieve or a food processor is best because the almond meal often has lumps.
Split the crumbing mixture into three. One third can stay in the bowl you mixed in, the other two should go into two seperate ziplock bags which you can label 'Cauliflower Magic' and drop around to friends who are isolating, quarantining or just in need of a pick-me-up. I mail mine because all my friends are far away from where I am at the moment. #sadface If you want, you can hang on to your spare Cauli Magic powders for next time!
Check your roasting cauliflower. You don't want to cook the hell out of it because it's going back in the oven. See pic for inspo/guide. Pre-cooking it makes it soft and creamy and releases a delightful nutty smell.
Coat the now-cooked cauliflower pieces in coconut cream, then coat in your magical powder. You should have enough to coat the pieces all over. Roast for 30 minutes or until looking charred and golden.
Serve with Kewpie mayo and Bull-Dog sauce.