The Way We Eat at Home: Liu Xiaoxian
Artist Liu Xiaoxian's 2009 artwork 'The way we eat' inspired the title of our exhibition. Here he shares a springtime recipe to delight your tastebuds and lift your spirits.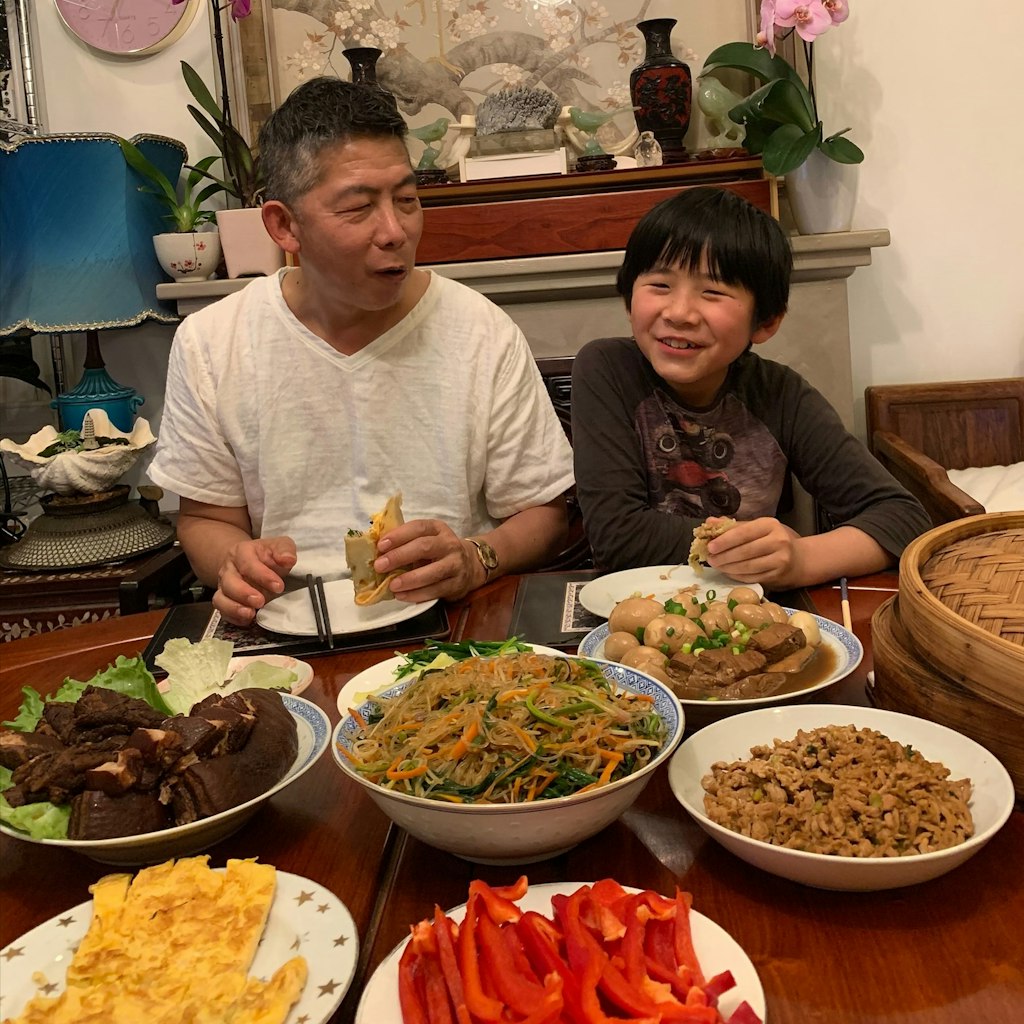 This is a traditional Beijing dish called chao-he-cai or 'spring stir-fry', which is usually wrapped in pancakes called bao-chun-bing or 'spring wrap'.
In the Ming dynasty (1368–1644), it was already recorded that people in springtime had customs of making dishes such as these as well as eating radish called yao-chun or 'a bite of spring'. When I was young, my mother would cook spring wraps for us, but China was poor then, during the Cultural Revolution, so Mum's spring wraps lacked ingredients such as meat and egg. It is springtime in Australia now, so hopefully this dish will lift up our spirits, especially after such a long lockdown.
Spring stir-fry
This stir-fry is traditionally served with a big omelette on top to cover the whole dish, with an auspicious name: jin-yin-man-tang or 'gold-and-silver full house'.
Usually, the dish is wrapped in pancakes to make rolls, with one end wrapped up – just like having Peking duck. I made the pancakes myself, but they can be replaced with the soft wraps found in supermarkets. Both the homemade or purchased wraps need to be steamed for 10 minutes before serving.
People often add other cooked meat to the wrap, such as braised meat, shredded chicken or tripe, which is why I also had pot-stewed pork belly. You can try adding your favourite dishes to your wrap. 
Ingredients
1 piece pork tenderloin (about 300–400g)
2 teaspoons cornstarch
Chinese five-spice powder
black pepper
5 eggs
small bunch garlic chives
half a bunch English spinach
1–2 carrots
450g soybean sprouts
4 spring onions
50g rice vermicelli
cooking oil
ginger, shredded
1 teaspoon sugar
salt
soy sauce
Chinese cooking wine
sesame oil
sweet bean sauce (tian mian jiang) and pancakes, to serve
Method
Cut the pork into long, thin strips, about 5cm in length. Sprinkle with the cornstarch and a dash of five-spice powder and pepper. Mix it all well with one egg white.
Cut chives, spinach and carrots into strips about 5cm long. Pinch the roots and heads off the sprouts; only use the middle part. Cut one spring onion into small pieces for the stir-fry and the remaining into 7–8 cm pieces for later serving with the sweet bean sauce.
Soak the vermicelli in warm water till soft, drain, then cut into 10–20 cm lengths.
Heat the oil in a wok, add ginger and spring onions before putting in the pork to stir-fry. Add sugar, a pinch of salt, and 1 tablespoon each of soy sauce and Chinese cooking wine. Keep stirring about 2 minutes until meat changes colour, then set aside on a plate.
Heat more oil, add carrots and sprouts. Stir and add the cooked pork strips, spinach and vermicelli. Keep stirring, then add some more soy sauce, cooking wine and a bit of sesame oil to taste. Add chives last and stir until well mixed. Put on a plate and keep warm.
Use the remaining eggs to make a omelette. 
To serve, spread a bit of sweet bean sauce on a pancake, then add a couple of strips of spring onion, some of the spring stir-fry, strips of omelette and other cooked meat.  Wrap it all up in a roll and enjoy.