The Way We Eat at Home: Jason Phu
Artist Jason Phu's mixed media installation in 'The Way We Eat' uses mandarin peels as an art medium. Here, he shares a delicious dish with a flexible process and a taste for creativity.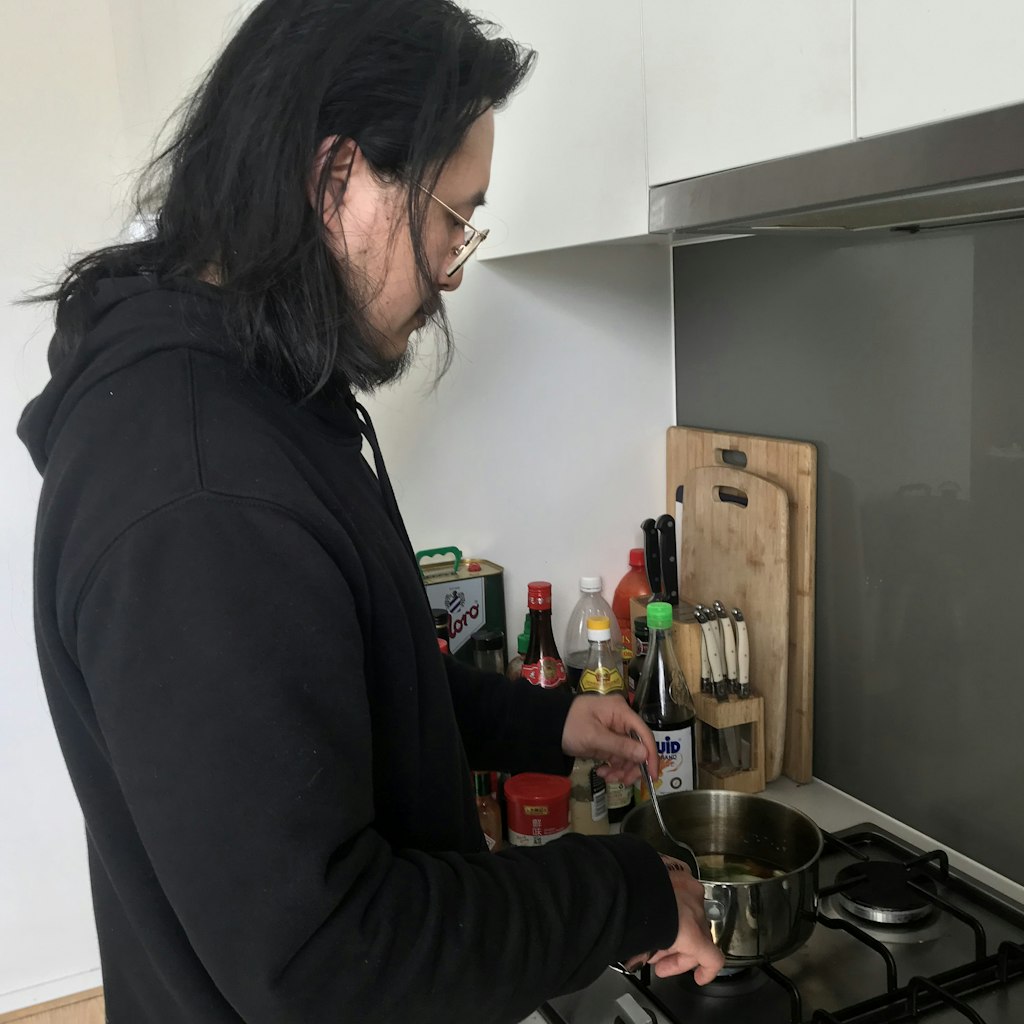 Whatever Soup
乱七八糟汤
Time taken: between 10 minutes and 10 hours
You can make this soup out of whatever's in your fridge really as long as you have some soy sauce for a soup base. You could literally boil dried shiitake, tofu and add soy sauce and this would be done. It's also nice to go to your local asian grocer and pick out stuff you might like to eat on the day. I'll show you what I made today and what other things I usually add. It can be a bit hard thinking of things to cook in lockdown and we're all feeling a bit lazy so I thought this recipe would be light and replenishing but also nimble enough to become heavier and stocky if needed.
I'm going to use bokchoy, dried sliced (cause I'm lazy) shiitake mushrooms, dried tofu (dried bean curd sticks), soy sauce, chicken stock, sesame oil and some pepper and spring onion. I'll have some salted radish pickle on the side as well.
Usually people will soak the mushroom in some hot water in a separate bowl but I just chuck it into some boiling water along with the dried bean curd (people also put in silken or hard tofu instead). Let it boil and soften. As it's bubbling away slice up some spring onion and cut up your bokchoy, I like to just cut the root off the bokchoy and leave it big and leafy. When your beancurd and mushroom have softened add soy sauce and some chicken stock or msg (don't listen to the fools, msg is good for your soul), turn off the heat and add your bokchoy, this keeps it a bit crunchy. Serve in a bowl, garnish with the sliced spring onion, pepper and a little bit of sesame oil. There's no real measurements for any of these, just add a little bit at a time and taste as you go. If I'm feeling a bit heavy I will ease up on the soup base ingredients and have it tasting almost like flavoured hot water, if I need a bit of a kick up the bum I'll be a bit more heavy handed and add a splash of chilli oil. I usually have some pickles in a little bowl on the side.
If you're feeling like a heavier meal I'd add some vermicelli or pulled noodles (you can buy packs of these in the fridge of your asian grocer) or last nights cold rice, if you're going to add rice at the end I'd crack an egg into the soup as you're cooking and stir through.
If you ate this the night before and you don't feel like eating the same meal, heat up the soup on the stove, add some black rice vinegar and starch and enoki mushrooms and maybe some leftover bbq duck from the chinese butcher for a hearty meal (or any other meat).
I don't mind a bit of lettuce in here or some goji berries or a block of frozen spinach. Sliced carrot adds a bit of sweetness, some seaweed a bit of umami. I will sometimes add a dash of fish sauce for a salty zing or some miso paste to mellow it down or a spoonful of some sort of chilli for a bit of a sweat out, Lao Gan Ma brand is good.
But like I said just boil up some water with some mushroom and tofu and some soy sauce and you're good to go as well.