The Way We Eat at Home: Guo Jian
Artist Guo Jian's intricate photographic collage features in 'The Way We Eat'. Here he shares a favourite dish from his hometown in China, full of colour and flavour.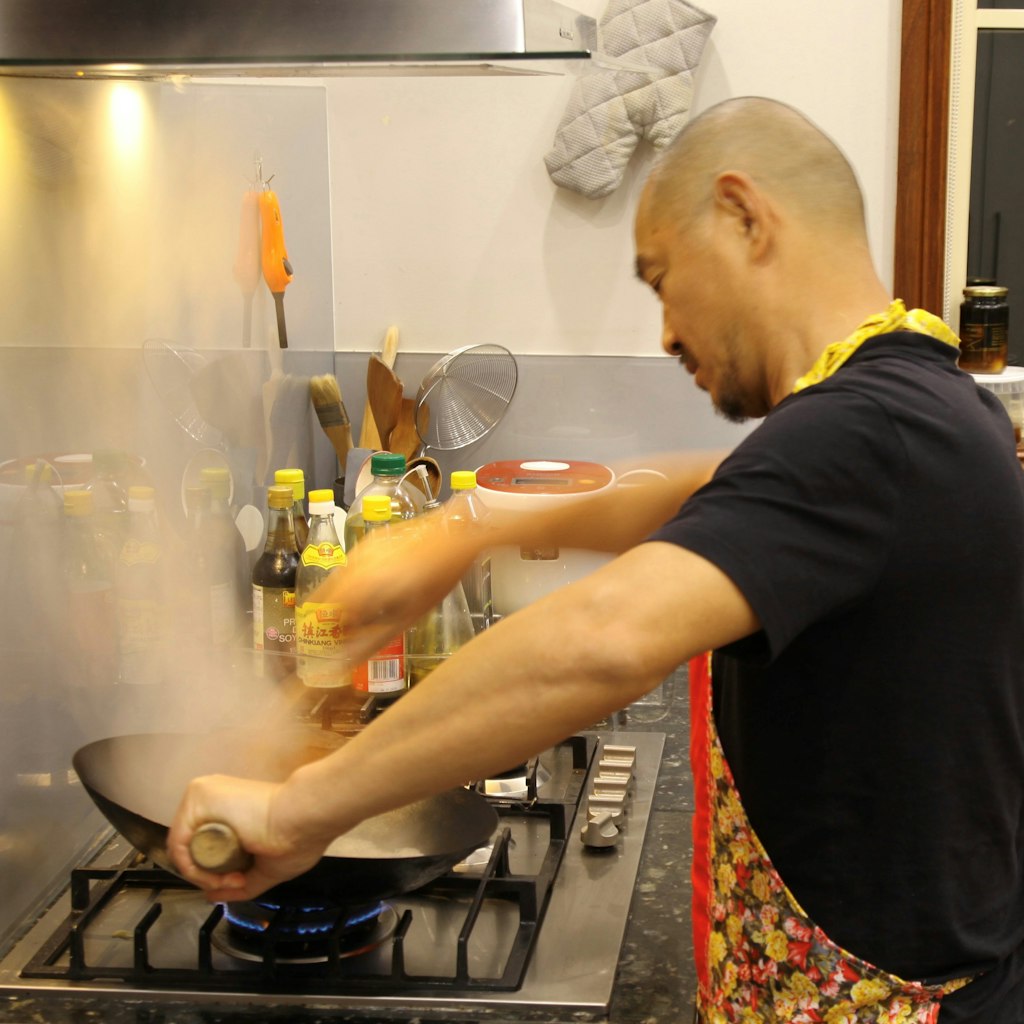 This is one of my favourite dishes from my hometown in China and I know how to cook it without thinking. Its spiciness, together with a drink, perfectly reduces stress.
Ciba spicy chicken
Half a chicken would be just right for two people. If you prefer chicken meat without bones, you can buy breast and thigh fillets from the supermarket.
The more chilli, the better the dish looks. Dried chilli can be found in Asian grocery shops or in Chinatown. The chilli from Thailand, which is a little longer than an index finger, is more suitable as it is less spicy.
As the spicy chicken is a rich dish, serve it along with steamed rice, a simple pumpkin soup (made from pumpkin boiled in water) and other dishes.
Ingredients
large, palm-sized piece of ginger
3–5 heads of garlic or 15–20 cloves (the more the better if you prefer a stronger taste)
handful of dried or fresh red chillies, about 10
1–2 spring onions
½ leek
small bunch of green vegetable such as bok choy
½–1 chicken
about 1 litre cooking oil
about ½ cup cooking wine, white wine, red wine or vodka
salt
light soy sauce
sugar (if you like sweetness)
Method
Cut ginger into thumb-size chunks. Smack garlic cloves with the side of a knife for easy peeling. Put chilli, ginger and peeled garlic into a mortar or a blender; crush them into pieces, but not too fine. 
Cut spring onion, leek and green vegetable into pieces.
Cut chicken into pieces, but not too small. Stir-fry the chicken in a wok over high heat. Add cooking wine and slowly stir until it evaporates. Then add 1 teaspoon salt and 2 teaspoons light soy sauce, and continue stirring until almost all the fat in the meat has been rendered. Put the chicken into a large bowl.
Wash and dry the wok. Pour a large amount of oil (about 1 litre) into the wok and heat until just smoking. Sauté the mixture of chilli, ginger and garlic in the wok till fragrant. Add about 1 teaspoon salt, 3 tablespoons light soy sauce and ½ teaspoon sugar – or to taste – before returning the chicken to the wok. Continue stirring for at least 3 minutes until the meat is thoroughly flavoured. Then add the spring onion, leek and green vegetable and stir for another half a minute. Transfer to a big bowl or plate (draining off some of the excess oil, if desired).
Pour yourself a glass of wine or beer (or allow yourself a couple shots of spirit if you prefer). Now you can enjoy the hot and delicious spicy chicken!