The Way We Eat at Home: Claudia Chan Shaw
Broadcaster, designer and author Claudia Chan Shaw shares the recipe for one of her favourite go-to comfort foods.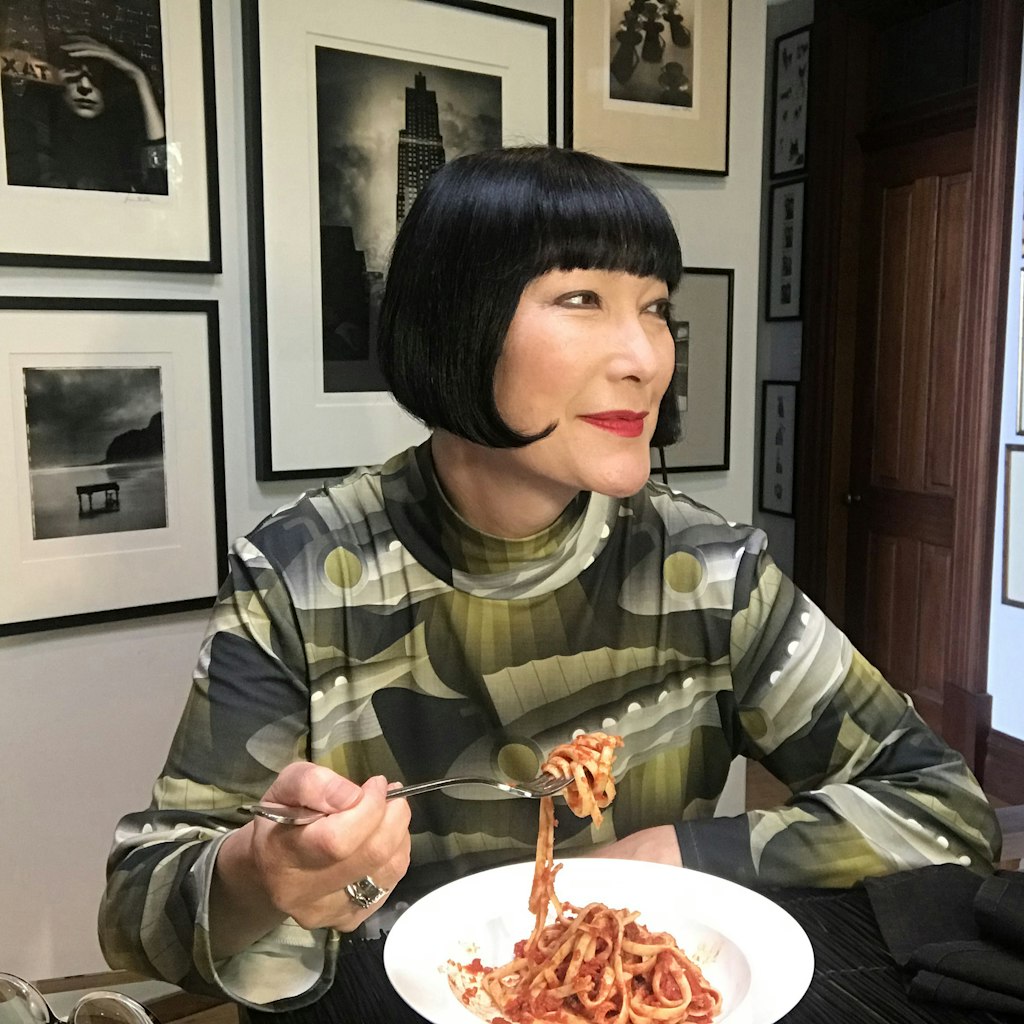 Puttanesca sauce is the first proper pasta sauce I learned to make. I have always loved any sauce that is tomato based and, given my Chinese heritage, the dish also suitably satisfies my love of noodles. The combination of just a few ingredients delivers a surprisingly complex infusion of salty, spicy and tangy flavours and is one of my favourite go-to comfort foods.
As with so many Italian pasta dishes there is a story behind the name.
One of the stories is that 'puttanesca' comes from the Italian word puttana meaning 'prostitute'. It is said that the sauce was so quick and easy to prepare that the ladies of the night in the Spanish Quarter of Naples could cook it quickly and effortlessly between client visits.
In these times, linguine alla puttanesca is so perfect as 'lockdown' food. It is a dish that can be made straight from common ingredients found in the pantry, so I don't need to go shopping. You simply need packet pasta (you can also use spaghetti, tagliatelle or fusilli – really any pasta you have in the house), tomatoes (canned), black olives (bottled), capers (bottled), salt-cured anchovies (bottled), garlic and chili (bottled or dry), and a few optional fresh ingredients like parmesan or flat-leaf parsley found in the refrigerator or garden. 
It is so quick and easy. Spending so much time at home during lockdown I've found that my comfort foods have become more and more important. While I've been trying new recipes, I always come back to the old favourites.
Linguine alla puttanesca
Serves 4
Cooking and preparation time: 30 minutes total
Ingredients
2 tablespoons olive oil
6 anchovies
3 garlic cloves, chopped
2 teaspoons capers
2 tablespoons pitted black olives, halved
2  x 410g tins crushed tomatoes
Tabasco sauce
⅔ of a 500g pack of dried linguine (or spaghetti)
salt
chopped flat-leaf parsley and grated parmesan cheese (optional)
Method
Heat oil in a generous frying pan over medium heat. Add anchovies, crushing them to a paste in the oil with a wooden spoon. Add garlic and capers, then olives. Stir in the tomatoes and simmer on low to medium heat to reduce for about 20 minutes then add a few splashes of Tabasco sauce to taste.
Meanwhile bring plenty of water to the boil in a large saucepan, add salt and immerse the linguine, stirring occasionally to prevent sticking. Cook until al dente.
Drain pasta (reserve some pasta water in the pot). Add pasta to the sauce and stir through. If the sauce is too thick add some pasta water.
Serve immediately – add chopped flat-leaf parsley if you have it – with parmesan on the side.
We served it with a fennel, baby spinach and radicchio salad (with extra virgin olive oil and balsamic vinegar dressing) and used the green fennel fronds instead of parsley.  Accompanied by 'a nice little chianti'.