Saving art from obsolescence
Each November there is World Preservation Day, which seeks to promote a deeper understanding of the issues and concepts unique to the conservation and management of digital collections.
Anyone who has ever encountered a corrupted hard drive, or been unable to open an old document, will already be familiar with the fragility of digital material. Digital objects require active management to prevent data loss and to keep up with changing technology. This is especially the case for time-based media artworks such as video, film, sound installations and software-based art. As artists continue to experiment with the latest digital and interactive technologies, these works will become more complex in nature and require active care.
The Art Gallery of New South Wales has a strong and ever-growing collection of time-based media artworks. Notable examples include works by Japanese collective teamLab, Australian duo Haines and Hinterding and a new acquisition by British contemporary artist Ed Atkins. Due to their reliance on technology, works such as these are vulnerable, with technological obsolescence an ongoing issue. To ensure they are preserved into the future, Gallery staff must consider numerous ethical, theoretical and technical conservation issues and challenges.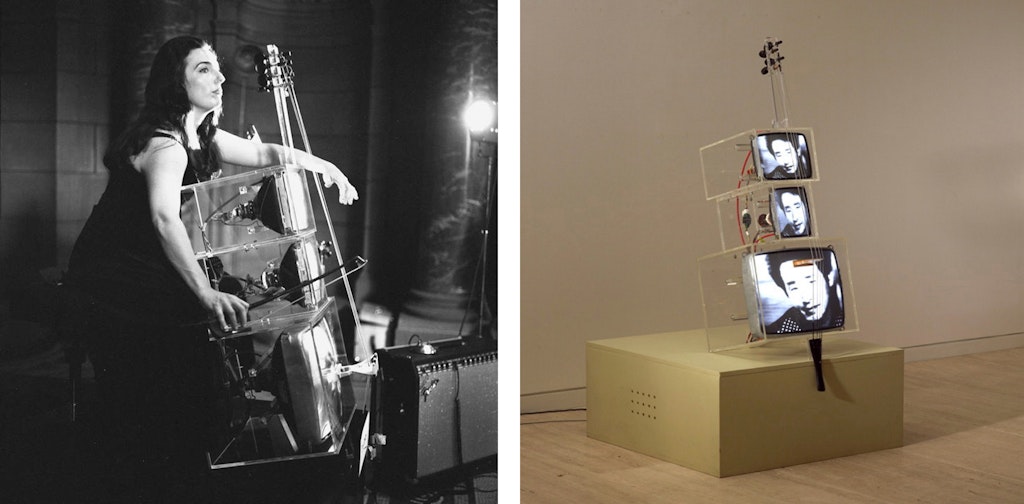 An example of a time-based media work that presents significant conservation challenges is TV cello by artist Nam June Paik, which brings together music, performance, synthesised video and electronic feedback. In 1976 Paik and cellist Charlotte Moorman collaborated on a performance for the fifth Kaldor Public Art Project, which fused video art and performance art in the entrance court of the Gallery. The object played by Moorman was acquired by the Gallery in 2011 (a gift from the John Kaldor Family Collection).
The artwork consists of three monochrome Cathode Ray Tube (CRT) televisions that sit in a transparent synthetic polymer resin (Perspex) sculpture with an attached cello bridge, tailpiece and strings. The sculpture rests on a large wooden plinth, which contains the electrical wires, power boards and media playback technology.
TV cello requires ongoing conservation care, due to the nature of the materials and the technology used by Paik, which is now nearly obsolete. While the artwork is still functioning with the original CRTs, the hardware is becoming increasingly difficult to maintain and will require conservation intervention in the near future. Any decision to change technological components is taken very seriously by the Gallery, considering the implications for an authentic representation of the work. Any changes will be carried out in consultation with Paik's estate and the Gallery's curatorial team to determine how the work can change to ensure that it is still functional, while also maintaining both the artist's intent and the aesthetic qualities of the work.
The National Art Archive at the Gallery also presents many digital preservation challenges. It holds the archives of hundreds of artists, galleries, art organisations, curators and collectors, as well as the Gallery's own administrative records, dating from the 1870s to the present day. Included in its collections are a vast array of media formats, including video, film and photographs. Many of these formats will need to be digitised in order to maintain access, and the resulting digital files will then need careful ongoing management to ensure their preservation. In addition, the National Art Archive is increasingly collecting archives created in digital formats, which present their own digital preservation issues. The development of new processes will be needed, as well as investment in digital preservation storage and infrastructure.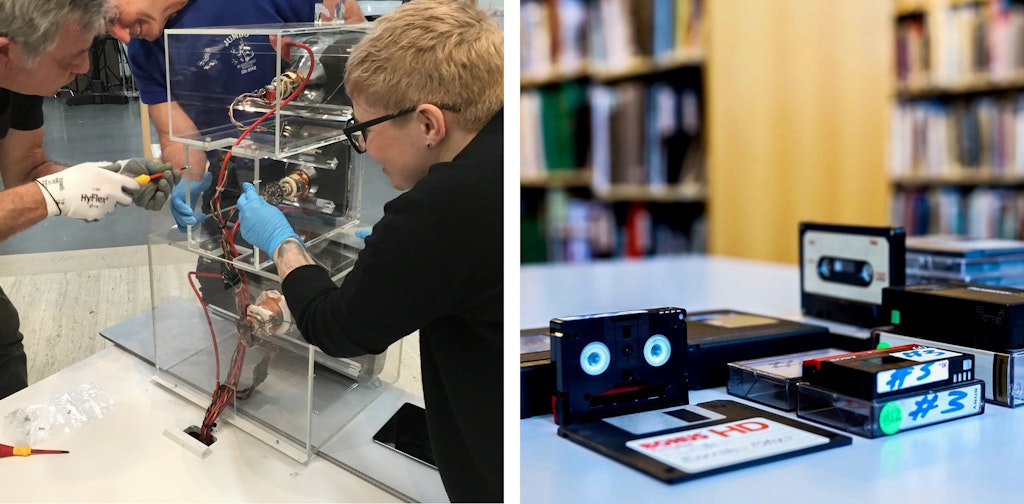 An important part of the Gallery's approach to addressing these challenges is to share experiences and information with other institutions. In June 2019 the Gallery hosted a symposium and workshop on time-based media art preservation and collection management in Australia and the Asia-Pacific region. Titled 'Towards a flexible future', these events sought to bring attention to the significant risk of loss – of both artworks and art history – that could occur without sufficient care for vulnerable and highly significant time-based media art collections.
Featuring keynote presentations by conservators and curators from the Tate, London, and the Art Gallery of NSW, as well as presentations by notable Australian artists Daniel von Sturmer and Agatha Goethe Snape and media history experts Bernice Murphy and Stephen Jones, the half-day symposium asked audiences to question what it means to collect and make time-based media artworks, and how museums can best support contemporary art practice in all its forms. An intensive workshop was then held for 30 participants, who collectively represented 15 major cultural institutions in Australia, New Zealand and Hong Kong actively managing time-based media art collections. Across a series of specialist sessions, speakers presented on topics including the history of media art in Australia, collection management strategies, acquisition processes and legalities, digital preservation practices and infrastructure, methods of installation and display, and the importance of working collaboratively to care for time-based media artworks.
Digital preservation is a relatively new and complex area that museums and galleries are grappling with both nationally and internationally. Through dedicated projects such as the time-based media art conservation project, the digitisation program and other research partnerships, the Gallery is committed to establishing best-practice digital preservation systems, policies and processes to maintain ongoing access to all digital objects in our care.