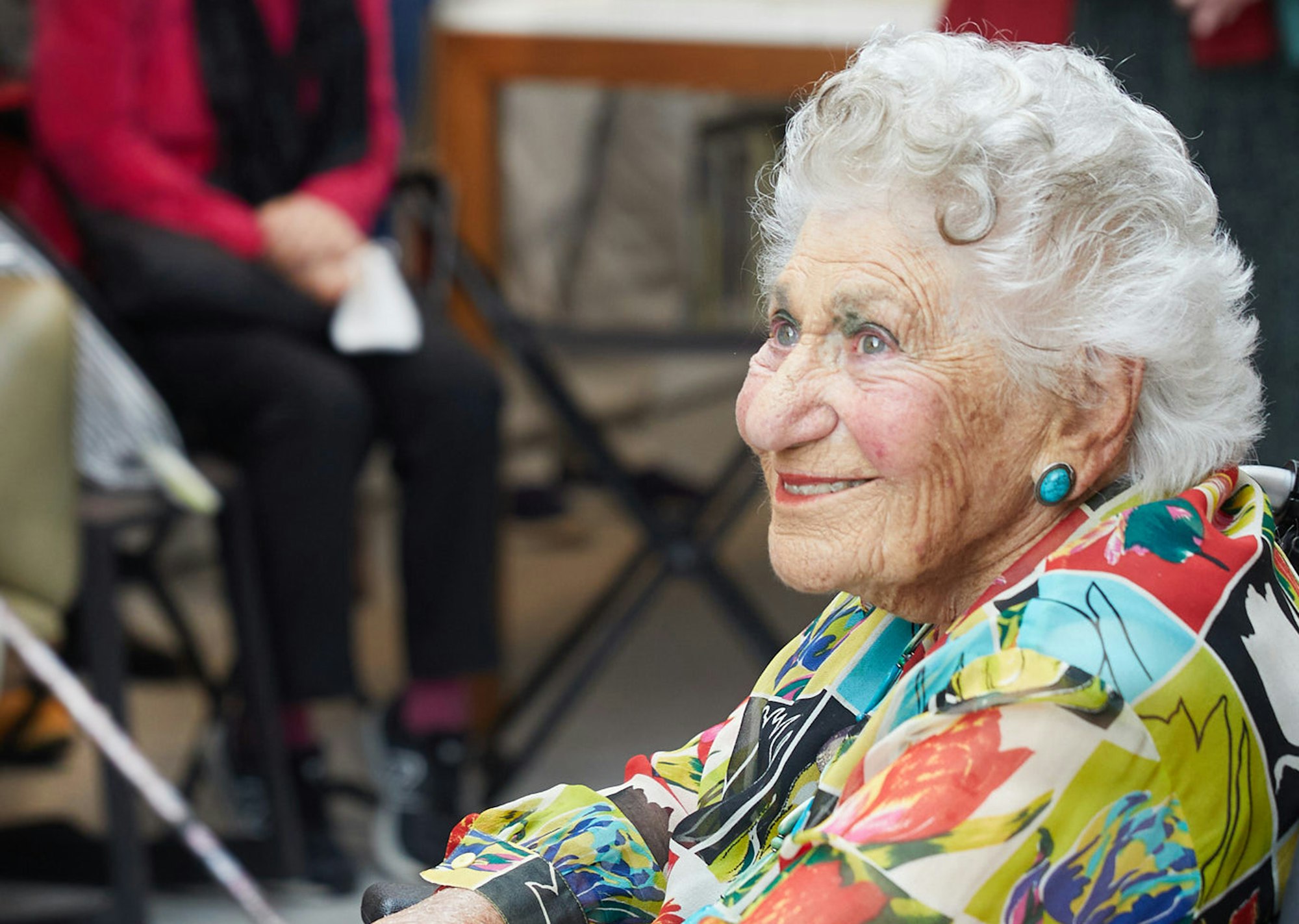 Light and supple in form but strong and enduring like stone – the qualities that distinguish Ruth Faerber's celebrated cast paper works  could well describe aspects of the artist's own character. On 9 October 2022, we toasted the 100th birthday of this pioneering Australian artist, whose intuitive and agile approach to artmaking is matched by her implacable commitment to it over eight decades.
The Art Gallery of New South Wales holds several works by Faerber in our collection, and her personal archive is now part of our National Art Archive. She's been represented in the Archibald, Wynne and Sulman Prizes with 19 works between 1955 and 1997, winning the 1980 Pring Prize for best watercolour by a woman artist. And we've benefited from her generosity as a donor to the Art Gallery, with her gift of works by John Olsen, Earle Backen, Grahame King, Donald Friend and William Kentridge.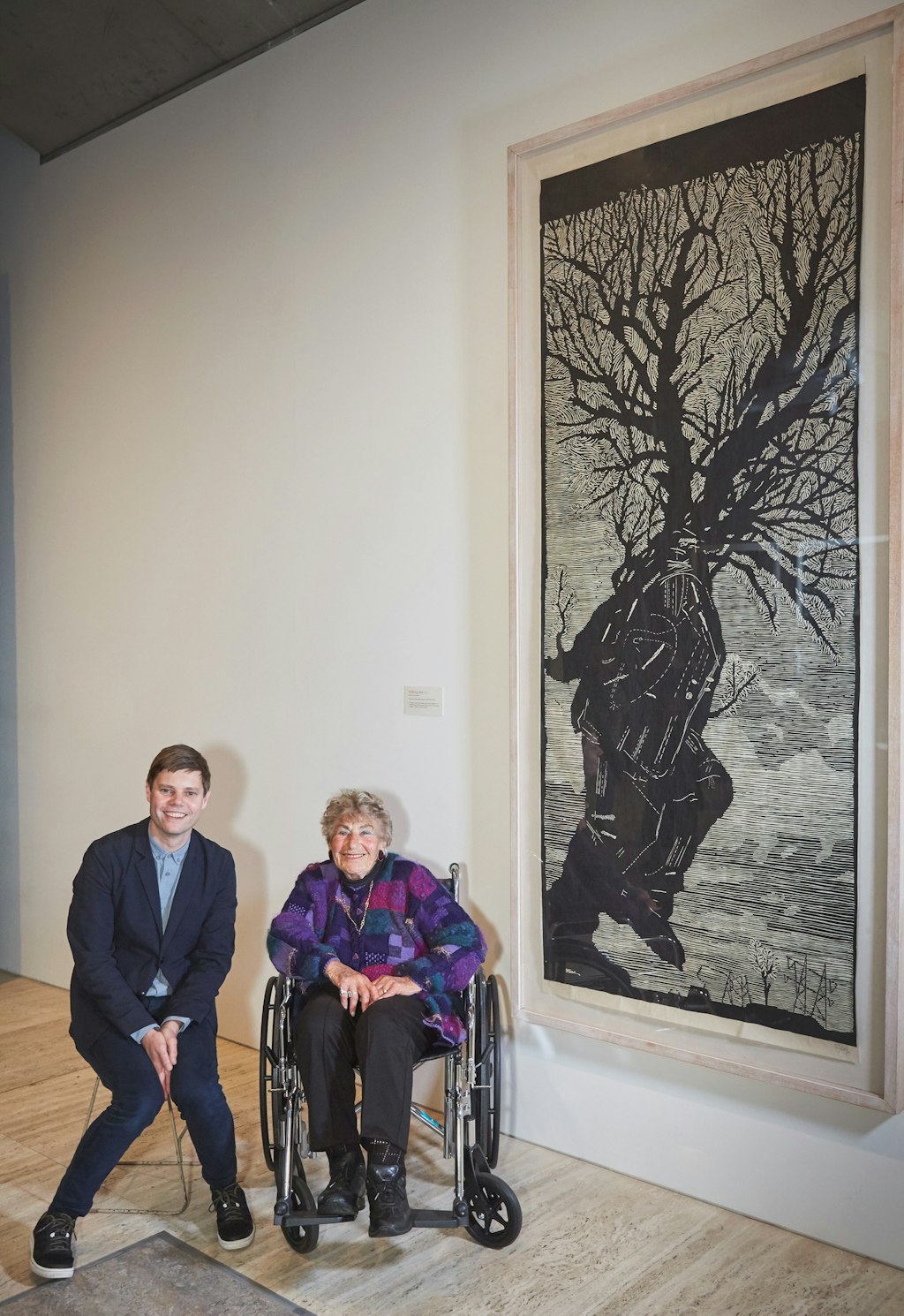 Ruth Faerber's creative calling came early in her life. Born Ruth Levy in Sydney in 1922, she was inspired by her high school art teacher Gladys Gibbons, herself an artist and printmaker. Intent on becoming an artist, Faerber enrolled in Peter Dodd's Commercial Art School on Bathurst Street. Unknown to her parents, the small school exposed the then 17-year-old to the roiling currents of modernism, through Dodd and his artist associates Frank Hinder and Justin O'Brien. Eager to apply her new practical skills, Faerber found employment during the Second World War at the Market Printery, where commercial print production gave her a grounding in the processes that would define her later career.  
For Faerber, an art education was never complete, and over the decades she took classes at institutions including the East Sydney Technical College and University of Sydney. A formative experience between 1944 and 1947 was the tuition of Desiderius Orban at his art school on Rowe Street, near Martin Place. A Jewish–Hungarian artist who had fled the Nazis, Orban mixed with Pablo Picasso and Georges Braque during his younger years in Paris. He brought to his students an awareness of contemporary European art, introducing them to cubism and the art of Paul Cézanne and cultivating an unorthodox attitude of experimentation. His ambition, he once said, was 'to change his or her outlook not only in art but on life. I try to guide them in the direction of freedom'. This was a direction Faerber was always oriented to, and the lessons with Orban sharpened her trajectory.  
After marrying Hans Faerber and having two children – Esther in 1948 and David in 1952 – Ruth Faerber continued developing her work. Early on, the family garage became a studio; later, she paid 10 shillings a week to use a commercial print workshop on Sussex Street while her children were at school. She remembers being turned away from the School of Printing and Allied Trades because women weren't accepted, but when Joy Ewart – another former student of Orban's – set up the Workshop Art Centre in Willoughby in 1961, Faerber's love of printmaking and its capacity for invention through alchemical processes was finally able to flourish.
The centre hosted the only open-access studio in Sydney for lithography, a medium Faerber was drawn to for its textures and uncomplicated directness. She recalled in an interview with the Art Gallery's Steven Miller for the National Art Archive that among her group of fellow printmakers abstract expressionism was the dominant trend, and they 'went quite mad' making 'wonderful, sort of slothy gestural things'.
In the 1960s and 70s Faerber rode a wave of growing interest in the graphic arts in Australia, a phenomenon supported by European émigré artists, who brought with them a strong tradition of printmaking. She held various exhibitions, was actively involved with the Sydney Printmakers group and became a member of the Print Council of Australia.
'I have witnessed quite a lot of changes,' she told Steven Miller, reflecting on this period of her life. 'Not the least in Sydney has been the expansion of the number of art galleries and opportunities to exhibit, especially for women artists in the newly founded art societies which emerged at that time … It was a very exciting time because the Contemporary Art Society began in that period. The Sydney Printmakers began in that period. The Print Council of Australia inaugurated in Melbourne. And the mushrooming of many art centres in the suburbs in Sydney presented exciting learning experiences to normally homebound housewives. I was certainly lucky. It was a heady time to be an artist.'
A successful scholarship application to the Pratt Center for Contemporary Printmaking sent her to New York in 1968. It was considered a bold journey for a mother at that time, even though her youngest child was now 16, and she was talked into shortening the residency from six to three months. Faerber was impressed by how modern technologies were being absorbed into the art coming out of New York. She went on to pioneer innovations in Australia, including the integration of photos into printmaking and the use of spray paint.
Wanting to make her own printing paper, in 1980 she signed up for the first professional papermaking workshop in Australia at Hobart's new Jabberwock paper mill, part of the Tasmanian School of Art. After laying down a sheet of wet paper the wrong way and finding it dried into an irregular shape, she changed the course of her practice, deciding she could make artworks 'not on paper but in paper'. She started casting paper pulp in her own moulds to create both one-off and editioned reliefs. Her modelled impressions of abstract shapes had the appearance of bas-relief in weathered stone.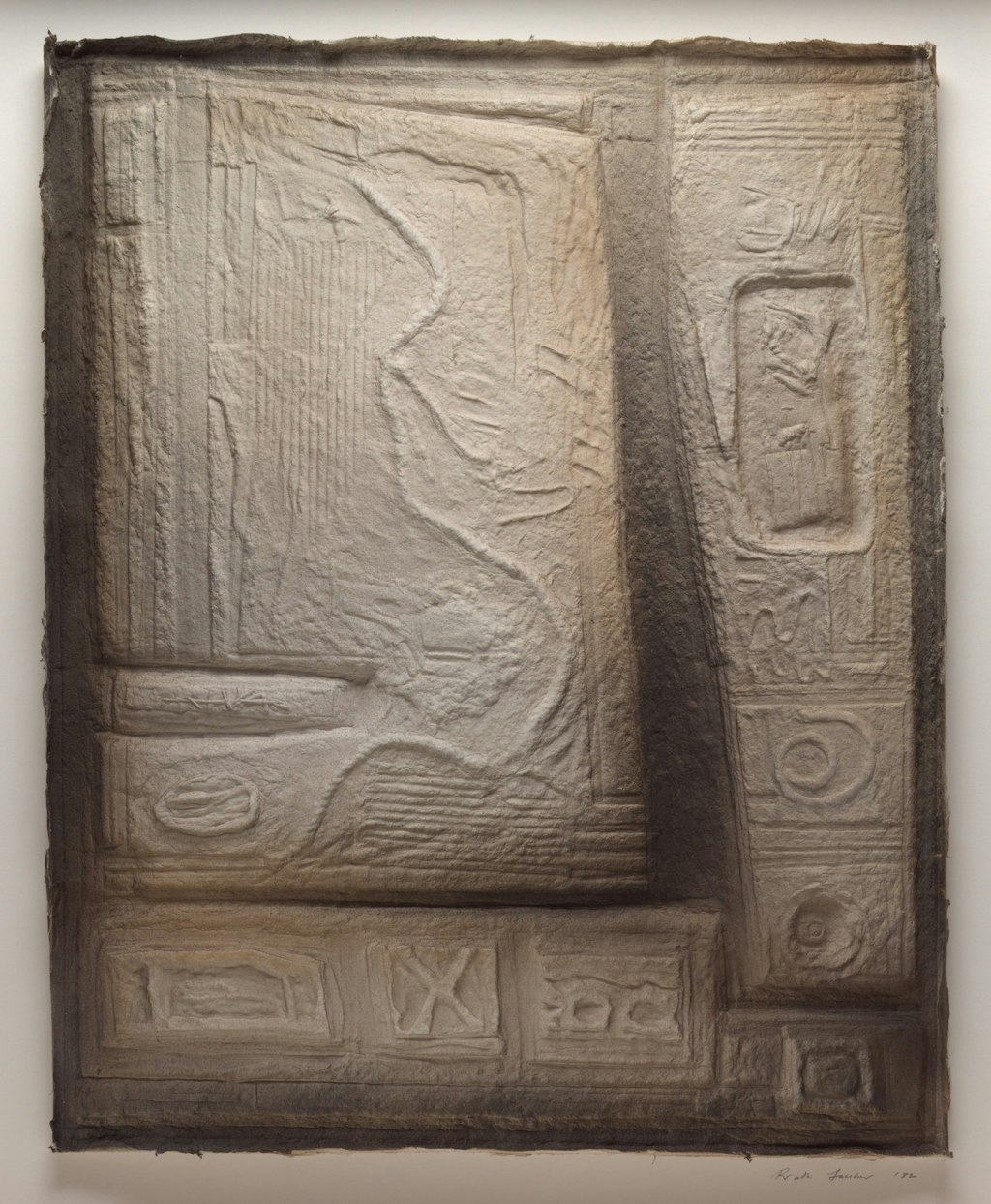 Faerber soon began tinting the shapes with earthy pigments to create deep shadows. This had the effect of making the protruding elements look luminous, like an ancient carving under firelight. Works such as Excavation 3 in the Art Gallery's collection were inspired by an interest in archaeology and travels to places like Pompeii and Jerusalem. They were also borne out of a concern for political issues, such as war and nuclear proliferation. Faerber felt that by invoking a sense of the eternal, she could draw attention to humanity's common roots and bonds across time.
Considered highly innovative in the realm of paper arts, Faerber's cast paper reliefs became the focus of her practice for three decades. It was an artform she truly made her own, coupled with subject matter that drew indirectly on her family roots. In an article in Craft Arts International in 1995, she said, 'Although I am not an observant Jew in the orthodox sense, I still retain strong links with the tradition that I was exposed to as a child. There is a connection to the ritual and music of the Synagogue; perhaps a romantic melancholy in Jewish liturgy which I think comes through … '
Paper is an apt material for Faerber to work with so extensively, given its use over thousands of years transmitting knowledge within and across cultures. Faerber places her art within this great chain of transmission, connecting us to the origin stories we all share, whether we're 100, or are just coming into this world.