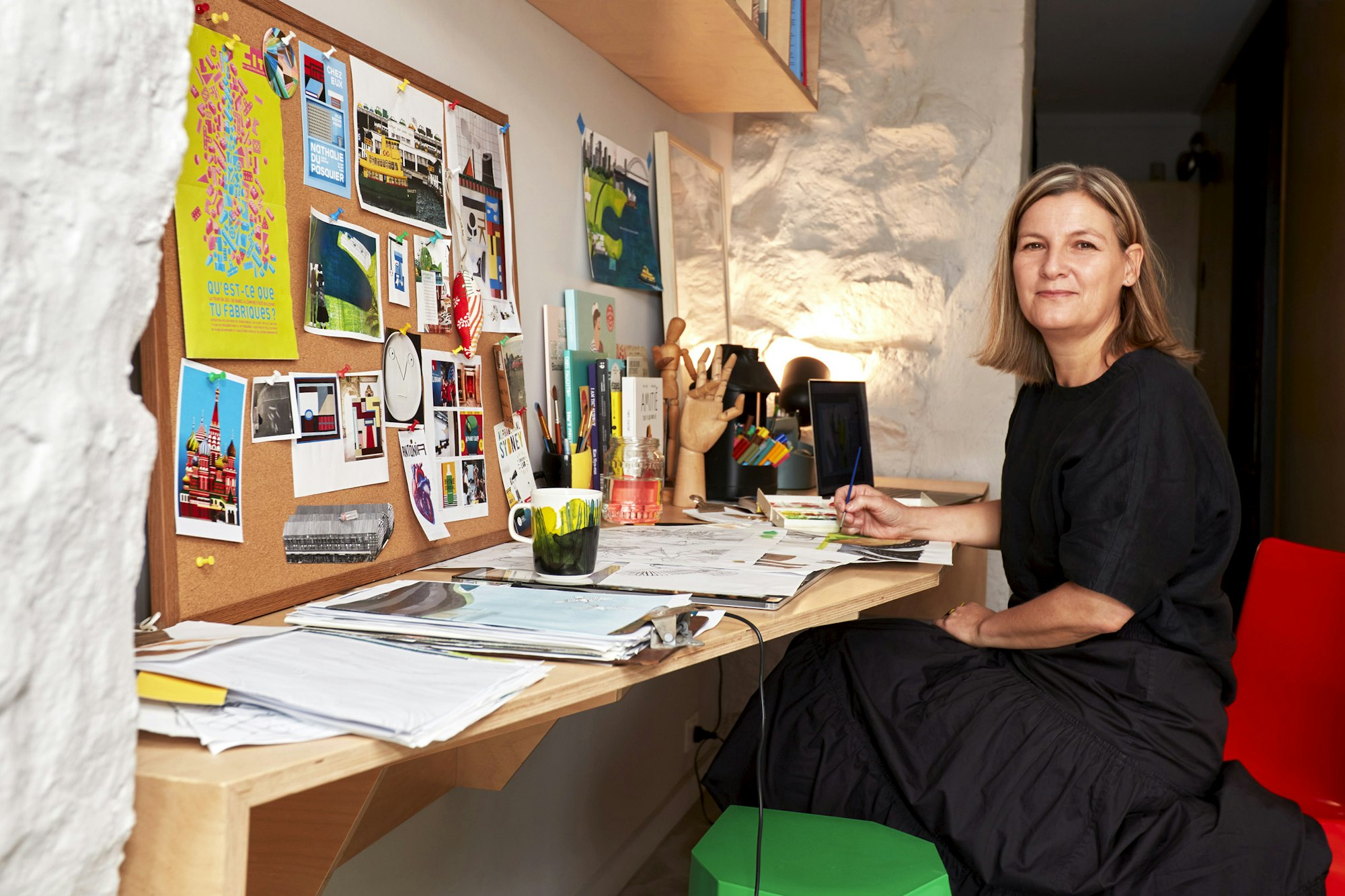 A picture book by Antonia Pesenti tells the story of the Art Gallery, its location, buildings, architects and art.
If the past is another country, then locating the future comes with challenges of its own. And when architect and illustrator Antonia Pesenti was commissioned by the Art Gallery of New South Wales in mid 2021 to create a picture book about the Sydney Modern Project – the Art Gallery's transformation to a two-building museum campus – lockdown was looming and the site in question was a hole in the ground.
'I was lucky because the Gallery was within my 5km zone, so I spent lots of time walking around the site, imagining what it was going to be like,' says Pesenti when we meet at the Victorian terrace house she shares with her family.
Tiresome as lockdown was, it gave Pesenti – who also runs a Redfern-based multidisciplinary design practice, Studio Fable – the opportunity to focus exclusively on what became This place, at her place, which is where she prefers to conceive her books anyway.
'They feel quite private, and it's a shared studio space in Redfern so I'm happier to be working on them here,' says Pesenti, who has six picture books under her belt, including the bestselling Alphabetical Sydney 2013, which she co-authored with her friend, the playwright Hilary Bell.
Working from a downstairs room with whitewashed stone walls and a leafy outlook, Pesenti created the illustrations in pencil and gouache.

'I had a series of ideas about the Gallery extension that became the basis of the drawings,' she says. 'I made a sketch version of the book first, which helped with the storytelling and sequencing of the drawings. The final version is hand-drawn in lots of separate components, then brought together digitally and mixed with photos.'
Pesenti composed the gently lyrical text, which features the refrain 'This place …', after completing the illustrations. 'There's no character, apart from a sulphur-crested cockatoo – he's the only thing moving through the book. Essentially, it's a series of observations,' she says.
Pitched at adults and children alike, the book benefits from Pesenti's clean, linear style, which she acknowledges is a function of her architectural training. It also showcases her talent for depicting urban landscapes in distinctive ways, not least thanks to her eye for viewpoint and composition.
'Even though I had people from the Gallery feeding me information, it's quite different to imagine a building before it is built. I think it makes the book a bit more unusual because they are really dreamlike versions of the spaces.'
Pesenti's illustrations include some of the Art Gallery's newly commissioned major works, such as Francis Upritchard's monumental bronze figures and Yayoi Kusama's giant flower.
'There is an order to it, but I didn't draw them in order,' she says. 'When I'm drawing, I'm wholly concentrated on solving that visual problem, and then once that's done I can take another one and start again.'
Ultimately, the book is as much about the location and surrounding environment as it is about Pritzker Prize–winning Japanese architects SANAA's new building, public art garden and integration thereof with Walter Liberty Vernon's neo-classical structure.
Once lockdown ended and the building began to take shape, Pesenti undertook several walk-throughs, enabling her to fine-tune her illustrations. For her most recent site visit, she didn't even need to wear a hi-vis jacket and hard hat.
'It was wonderful to be in there free, walking around,' Pesenti recalls. 'It feels so light and open and connected to the site.'
A favourite space is the underground Tank, accessed via a striking white spiral staircase, or a lift. 'The space has been left quite raw and then you've got this incandescent white stair glowing in the corner – it's stunning,' she says.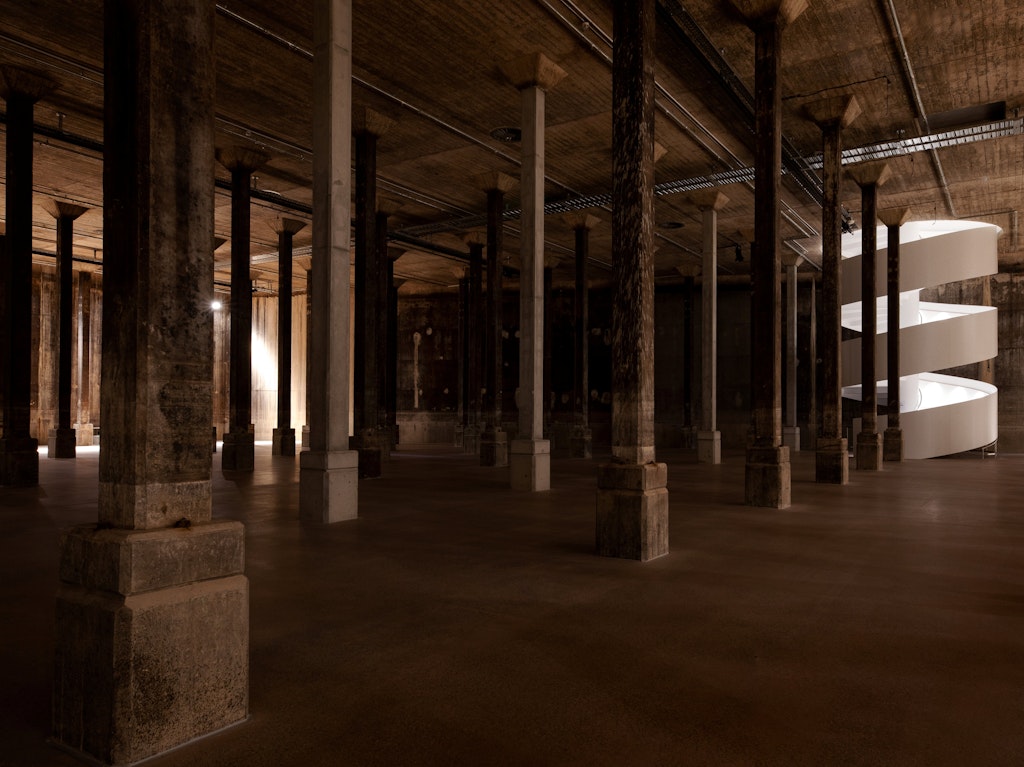 Born in Switzerland in 1970, French-Australian Pesenti came to Australia with her parents and sister at age three, growing up in Sydney, and later, on the South Coast. After studying architecture at the University of Sydney, she relocated to France and spent eight years working for an architecture firm based in Paris.
'In my spare time I began drawing aspects of the city – shopfronts, markets, streets. I also became interested in picture books. France has a rich culture of illustration, and the picture books there are incredible,' she says.
Returning to Sydney in 2003, she started sketching aspects of the city, 'I couldn't believe these great big ibises were walking around and everyone was completely ignoring them,' she laughs. 'I showed my drawings to Hilary, who'd also just returned from a period of living overseas. We came to realise we were both looking at the city through the eyes of people who'd been living elsewhere.'
That shared feeling of the once-familiar rendered strange eventually became the publishing success story that is Alphabetical Sydney, which turns ten next year and has now been adapted for the stage. Having premiered at Riverside Parramatta in March 2022, the production, for which Pesenti co-designed the sets, will have a season at the Sydney Opera House in 2023.
'I love working on book projects,' she says. 'You can fit a whole world of ideas into this one object, which is quite democratic and accessible, and it allows me to work out what makes a place so specific and where the poetry is.'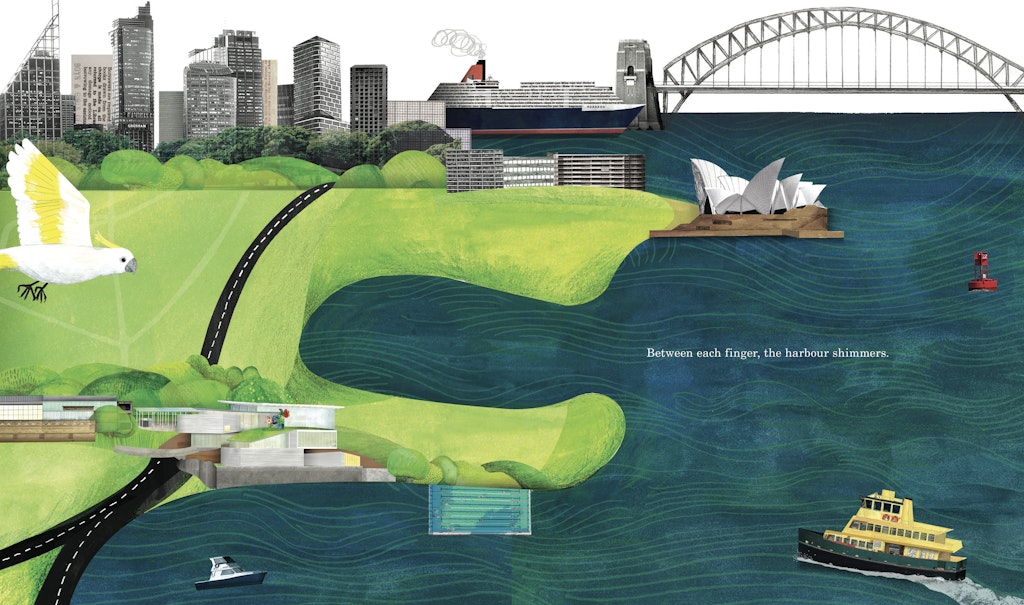 When Pesenti's in need of inspiration, she knows where to go. 'I'm at the Art Gallery of New South Wales all the time. I really feed off museums and art galleries. If I'm stuck, I go and look at how someone else is thinking and working and solving their problems,' she says.
Now, with This place on sale and the new building completed and open to the public, Pesenti is elated, but also a little sad that it's over.
'The Gallery placed so much trust in me. They said, "We are commissioning you, but that's all. Beyond that, it's your project." I wanted to honour that, because it doesn't happen often, particularly with books,' she says.
'How amazing to have been given run of the place and have people believe I could pull it off, because I was drawing something that wasn't even there.'
This place is available from the Gallery Shop
A version of this article first appeared in Look – the Gallery's members magazine