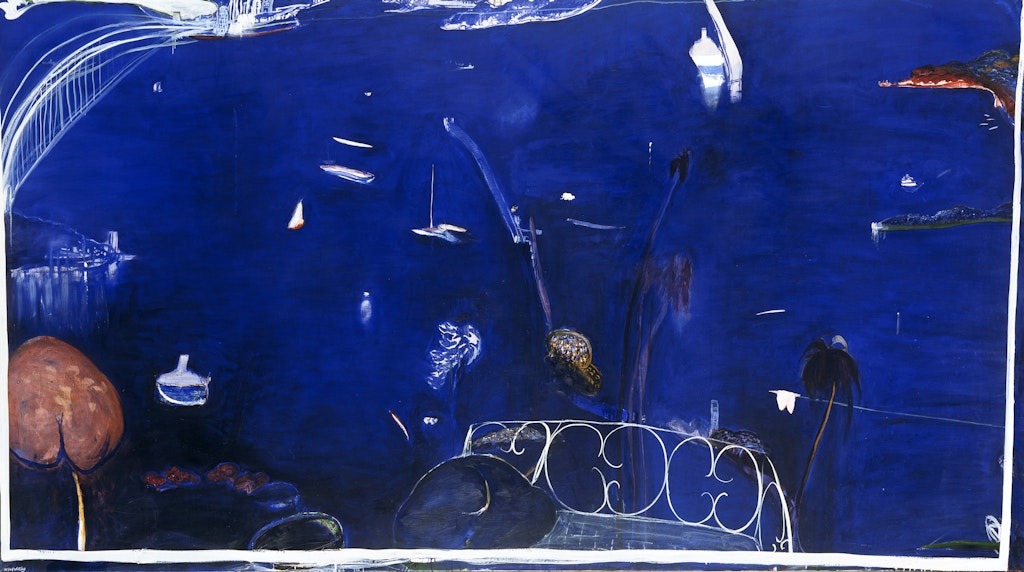 One of the lesser-known aspects of Brett Whiteley's art-making is his practice in ceramics.
Blue-and-white ceramics are one of pottery's best-known and enduring products. Invented in China, this decorative style has inspired makers worldwide for hundreds of years. Following in the long, historical tradition of blue-and-white ware, Whiteley's ceramics consist solely of these colours.
A new exhibition, Brett Whiteley: Blue and White, examines the connections between Whiteley's work across various mediums and the use of the colour blue.
This exhibition, held at the Brett Whiteley Studio in Surry Hills from 28 April 2022, takes a focused look at Whiteley's ceramics and the importance of the colour blue in his practice, from the sweeping blue lines which follow the forms of rounded ceramics, to the rich deep blue of the Sydney Harbour paintings for which he is famed.
Broadly speaking, blue-and-white refers to ceramics decorated with cobalt blue pigment on a white body, usually applied with a brush under the glaze. First appearing in the Tang dynasty (618–906) it was later refined by potters at Jingdezhen, which became famous for its porcelain. Makers in the Middle East, Japan, Vietnam and Korea have all produced their own variations of blue-and-white ware.
From the 16th century, large quantities of blue-and-white porcelain arrived in Europe. As the trade expanded, many Chinese objects echoed European shapes and patterns, and export trade ware of blue-and-white to Europe and North America became extremely popular. The Whiteleys had their own collection, with Brett's wife Wendy Whiteley recalling that there was always blue-and-white ware in their home.
Whiteley's recognisable iconography – sex, nudes, religious imagery, portraiture and nature – span various mediums, enabling the exhibition to trace and amplify these themes through a targeted display of ceramics and related prints and drawings. These are augmented by select paintings, many of which feature depictions of blue-and-white ceramics.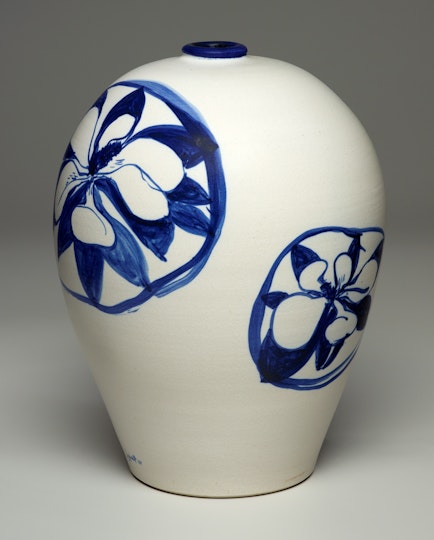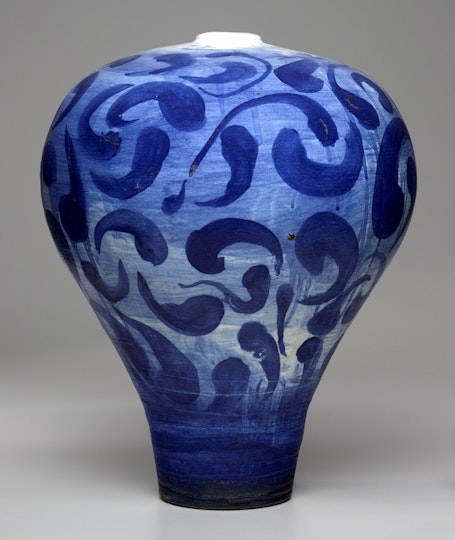 From the 1960s, there was a great resurgence in Australian studio ceramics, with potters such as Les Blakebrough, Peter Rushforth and Alan Peascod coming to prominence. Around this time, some artists not traditionally associated with ceramics, such as John Olsen, also dabbled in the art form.
Whiteley's ceramics, dating from the 1970s and 1980s, were primarily thrown by others, with a small number of hand-formed works made by Whiteley. He used rounded, organic thrown forms by potters including Harriett Collard, John K Dellow, Shiga Shigeo and Derek Smith, built to his specifications, and then applied his painted decoration in a rich blue.
Collard threw ceramics for Whiteley throughout the 1980s. For the first commission she recalled that Whiteley had planned to paint nudes for an upcoming exhibition (Recent Nudes in October 1981) but when he arrived at her studio in Leura, in the Blue Mountains west of Sydney, he was so struck by the cherry blossom tree outside her window he decorated the works with cherry blossoms instead.
Dellow was commissioned by Whiteley three times, mostly for large works, and recalls watching Whiteley decorate one of the vessels he threw. 'It was a joy to watch,' Dellow said of Whiteley's visits to his studio in Katoomba (also in the Blue Mountains). Dellow recalled that some of the larger pots Whiteley requested were tricky to throw, due to their narrow bases and wide upper sections. These he made in a three-step process; throwing the bottom and top sections separately and then joining them in the middle.
'Some he did really quickly.' Dellow recalled one pot Whiteley completed in just 30 seconds. 'He was very confident with the brush.' For those works, Dellow said Whiteley used an unmixed cobalt oxide specially prepared for brushwork by manufacturer Cesco.
Known for his excellent draughtsmanship, Whiteley's confidence with ink and brush is on display in a series of spare blue ink drawings, Conversations with Joel and fragments of Anna, of his friends, the artist Joel Elenberg and his then-wife Anna Schwartz. An accompanying vessel, Portrait of Anna and Joel 1980, shows how Whiteley translated these drawings from the two-dimensional into the three-dimensional.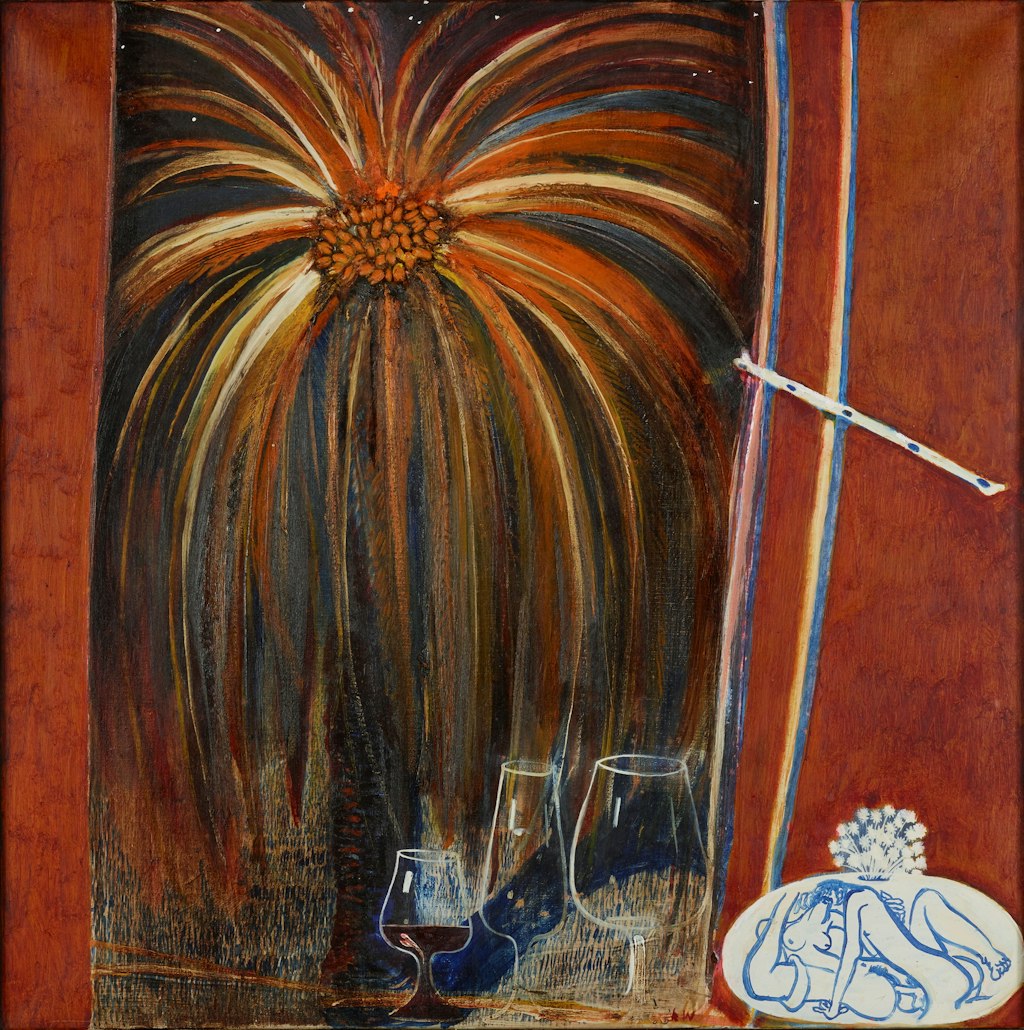 Several works in the exhibition are devoted to sex and nudes – some of Whiteley's most celebrated subjects. The erotic vase in the painting Palm and erotic vase, Lavender Bay mid-1980s is echoed in the bowl Erotic lovers and other erotic vessels, demonstrating how this preoccupation spanned mediums.
A veritable menagerie is on display, with several works featuring birds, in flight or at rest among branches. Whiteley's fascination with birds translated to numerous sculptures, ceramics, drawings, prints and paintings, to capture them in all their guises. The delicately painted Wren on branch 1981 is particularly beautiful and hints at Whiteley's interest in Japanese art. Whiteley's trips to the zoo inspired numerous animal works on display, including a cheetah, baboon and hippopotamus.
Among the most potent works in the exhibition, the large painting The balcony 2 1975 coalesces all of Whiteley's concerns in one work – from his fascination with the 'ecstasy-like' ultramarine blue of the water, to the bird flying across the work leaving a trail in its wake, it is one of Whiteley's most evocative harbour paintings.
For Whiteley, ceramics were another dynamic means to express his artmaking. He viewed the objects as more like sculptures than functional ceramics, unconcerned, for example, with making his vases able to be used. Instead, his interest lay in the shape and decoration of his vessels to convey his artistic expression.
A version of this article will appear in the June/July edition of Look – the Gallery's members magazine